Report on Climate Action and The Wellbeing Economy: Greener Kirkcaldy Annual Gathering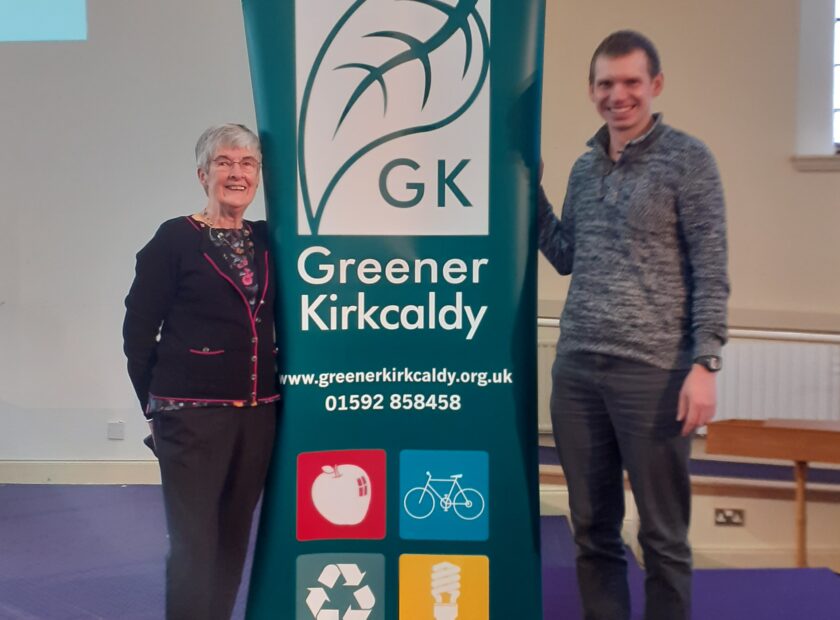 Media Volunteer Karen attended our Annual Gathering and AGM in January and reports her experience in this blog.
Greener Kirkcaldy's 2021 Annual General Meeting held on Saturday 22nd January 2022 in the spacious Old Kirk was a hybrid event in person and at home. 
A breakfast of bacon or vegan haggis rolls or oat pots, plus a choice of teas or coffee, awaited the lucky folks who attended in person. The bacon roll with ketchup hit the spot. 
Long-standing members and new ones, like myself, sat down to enjoy our choices and have a chat about climate change and the walled garden activities held at Ravenscraig Walled Garden and a Greener Kirkcaldy cookery skills workshop. 
Chair's Introduction
Christine May, the Greener Kirkcaldy Chair, introduced the community organisation and what it stands for: 
community skills training

tackling climate change

meet needs and goals in our community 

tread lightly on our planet
Formed in 2009, Green Kirkcaldy (GK) started operating in 2010. It's independent but works with many other businesses communities and all over Fife. The charity also offers event space.
In 2021, employees and volunteers provided 10,650 takeaway Community Meals managed by GK's food team, including professional chef, Iain McLellan. 
A new takeaway menu was posted each week on the GK Facebook page. Everybody in the Kirkcaldy community is welcome to pop along and pick up a meal. You can donate whatever you feel is right. 
The Lang Toun Cycles Shop opened in November 2020 and continued to develop throughout 2021. The community shop offers long-term electric bikes to help people get to work. You can try one out for a month for free. So that you know, 80% of people who try the bikes end up buying one! You have to pedal to get the bike to move, and your pedalling powers it.
Ravenscraig Community Training Garden is a walled garden with individual allotments and shared plots.
Kirkcaldy Walking Festival 2021 saw eleven walks take place during the summer and a car-free week was held in March 2021.
Cosy Kingdom, part of Greener Kirkcaldy, assists people who need help with their energy bills and give advice on how people can make their homes warmer. They can provide items like thermal curtains, too. The energy advice service offers practical solutions and gives low-energy LED bulbs to replace the energy-guzzling bulbs that many folks currently have.
The Lang Toun Cycles shop received start-up funding from the government. The High Street cycle shop loaned 181 electric bikes and refurbished 286 bikes.
The Lang Toun Larder and Community Fridge gives people a low cost way to add to a weekly shop of good food and reduces reliance on other services. Just £2 per week means you can pick up staples like milk, bread, margarine, cereals, fresh fruit and veg to supplement your weekly shop.
Greener Kirkcaldy invested time and management in climate change and received updated funding.
Investments included training and viability and town centre regeneration (Love Oor Lang Toun). You may have heard of them; they had a stall at the artisan market last year. It's a community interest company (CIC). You can find their Strategy 2021 – 2023 PDF here.
The Climate Action Fife project will continue as a top priority in 2022. GK has secured funding for the No One Left Behind project delivered with partner Brag Enterprises. And training and employability tutor accreditation from the Royal Environmental Health Institute of Scotland (REHIS) for two staff. Greener Kirkcaldy now has its sights on an SQA accreditation for its training centre.
Guest Speaker
Lukas Hardt, Policy and Engagement Lead at the Wellbeing Economy Alliance Scotland (WEAll Scotland), presented on the wellbeing economy and climate action. Lukas and his team look at ways to deliver social justice on a healthy planet. He asked, "why do we need to change our economy?"
His reasons include: 1-in 4 children growing up in poverty in Scotland. The 20 richest people squeeze work from the 1.6 million poorest people and create the gross GDP with natural riches extracted from the planet. 
Lukas and Scottish WEAll stand for nature, participation, connection, and dignity.
He said, "it's a 1000 piece jigsaw puzzle." 
Lukas took the audience through his four Ps for Change.
PURPOSE, every decision guided by the national performance framework and the four ps. The WEAll budget and Greener Kirkcaldy are part of

third sector work

.

PREVENTION. Society is trapped in cycles of pain to fix what we repeatedly break.

PREDISTRIBUTION; wages and incomes reflect on social value, smaller gaps between the highest and lowest paid, universal basic income to look after people who aren't paid. Lukas wants to change the economic system through knowledge and narrative and go against the traditional Gross Domestic Product path. GDP includes both positive and negative products and services a country produces in specific periods. The poor are hit hardest by rising inflation, and Lukas believes local currencies could help with such challenges.

PEOPLE-POWERED by meaningful participation and community organising, and actively including marginalised voices. For example, Cosy Kingdom helps with leaky homes because leaky homes equal fuel poverty. Supermarkets squeeze providers, which means local suppliers can't compete. Lukas wants to give people enough income to buy locally.
World café style conversations
Attendees had the opportunity to share their ideas in small groups on what we'd like to happen in the coming year for Greener Kirkcaldy. GK reps took notes.
A musical interlude
Following a short break for delicious GK kitchen baked oat cookies drizzled with chocolate and a hot drink, Holly Roseanna of the Passing Sages performed one of her father's songs about climate change, as well as two of her own. The young woman delivered a haunting melody and meaningful words in her song Eden based on her feelings about Tentsmuir Forest.
Coming up 
The Big Green Dream Holiday Competition for 10 to 14-year-olds.
The Return of Sit-down Community Meals – There will still be a takeaway option.