Kirkcaldy Walking Festival 2021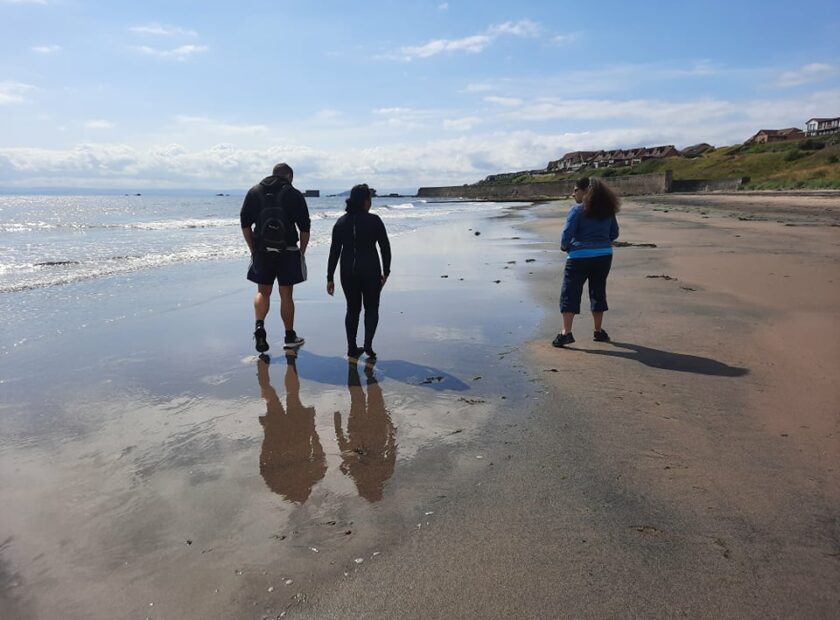 After a year's hiatus, the Kirkcaldy Walking Festival returned for summer 2021 and we have never been so glad to be able to bring you an in-person event! With our newfound sense of freedom, we brought you 11 walks over the week.
The Walking Festival is a celebration of Kirkcaldy, local organisations, active travel and being fit and healthy.  We want to encourage people to connect with their home town and its people and discover the varied routes and experiences it has to offer.
In total 132 people attended walks during the festival week.  A huge thank you to the individuals and groups who organised walks – Tony Wilson, Kirkcaldy Civic Society,  Seafield Environmental Group, Home-Start Kirkcaldy, Active Fife, Fife Out and About Walking Group and The Dance Shack, we really couldn't do it without you.
We kicked off the festival exploring the beach at Seafield, looking for local wildlife and geology. Everyone had a great time looking for fossils, with the highlight being the discovery of ancient crinoid fossils.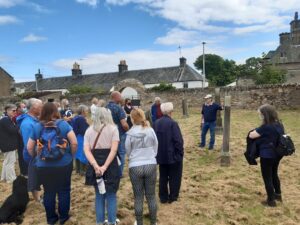 The Pathhead Walk led by Kirkcaldy Civic Society was very well attended with walkers visiting many fascinating sites in our historic town (such as Pathhead Feuars' Graveyard pictured below) and learning about the areas industrial past.
Seafield Environmental Group had some fantastically creative ideas for this year, including splashing in the sea to celebrate our local seal population on their Fun Beach Walk. The participants were fascinated by the marine life along the shore, such as jellyfishes, crabs, seaworms, and various kinds of seaweeds which all led to the discussion of various environmental issues. They even spotted a seal near the beginning of the walk. But the sighting of the day (week?) had to be the dolphins seen leaping as the group walked along, with walk leader Sally, joking "they seemed to be joining us".  In short, it was a day full of sights to see, things to learn, and much to discuss.
Their Step, Stroll & Snap walk focused more on terrestrial sights, focusing on coastal plants and local history. Attendees had fun taking photos of wildflowers and trying to work out the species. Which of these wildflowers can you identify?
Home-start Kirkcaldy's walk in Beveridge Park took place on a gorgeous sunny day and was attended by 10 adults and 9 children. The kids had a great time hunting down the items on their scavenger hunt sheets and were rewarded with a wee toy as a prize.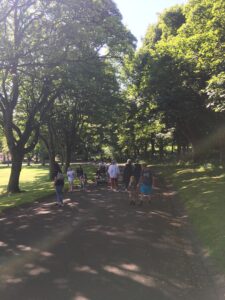 Bums Off Seats, Active Fife had a well-attended stroll around Ravenscraig Park on a beautiful sunny day. Some regulars attended, as well as a few new faces brought in by the Walking Festival.
The festival concluded with our two longest walks, with The Dance Shack leading an exploration of Kirkcaldy's woodland and Fife Out and About Group climbing the Binn between Kinghorn and Burntisland.  Amby of the Dance Shack reported a fantastic morning walking and was delighted to see the return of a walker who had joined the same walk two years ago. They have shared their route so you can do their walk too (and to prove that they actually walked so far!).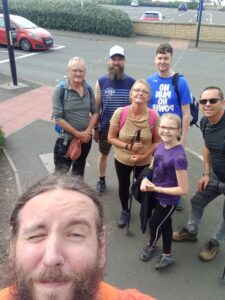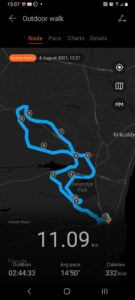 Fife Out and About's walk was a great success and despite a worrying forecast, they didn't get a drop of rain! The walkers enjoyed some stunning scenery along the route which took in Pettycur Bay, the Binn Village, Kinghorn Loch and stunning views of the Forth.
Thanks to everyone who took part. See you all again next year!
|