We would like to see a future where everyone can afford to eat good, healthy and sustainable food. We hold various cooking workshops and courses in our Lang Spoon Community Kitchen at 8 East Fergus Place to help people improve their cooking skills, reduce food waste, and eat local, seasonal food. You can come along every Wednesday for our Community Meal Takeaway to pick up a meal and eat at home. Also, our Community Fridge and Lang Toun Larder redistribute short-dated food.
We run 'grow your own' workshops teaching people to grow their own vegetables, fruit and herbs, as well as weekly volunteer sessions, and family-friendly events at our Community Training Garden at Ravenscraig Walled Garden.
Upcoming events
Tuesday 7th December : 6:00 pm
-
8:30 pm
News & Blog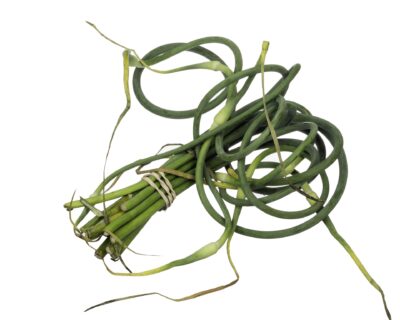 Our Community Food Team Manager Ger shares a Garlic Scape Tempura recipe in her latest blog. 
Jul. 16, 2021