Smart Cooking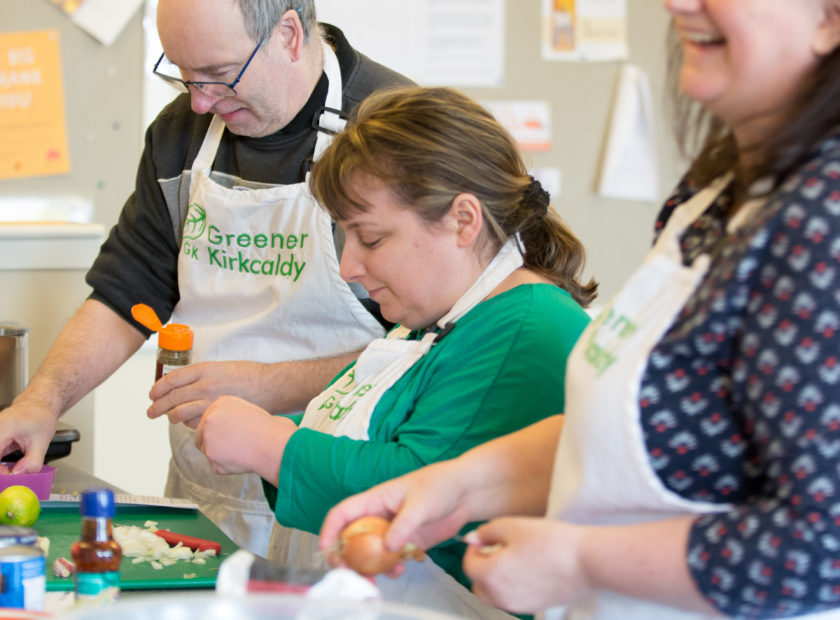 Our next Smart Cooking course will start on Friday 31st January 2020 and run every Friday from 10.30am to 12.30pm until the 20th March. This course is free but booking is required as spaces are limited. Please contact Jackie by email jackiea@greenerkirkcaldy.org.uk or phone 01592 858458.
Smart Cooking is an 8-week basic cooking skills and household budgeting programme, delivered in partnership with Fife Council's Community Food Team. Participants learn how to cook healthy and affordable meals and make the most of food expenditure, how to manage a household budget, and how to manage their energy use and bills better. This course is unique in that participants can access varied support and advice in one programme.
Classes are small, friendly and fun. You don't need to bring anything, we'll supply everything and you'll get food to take home. The course is suitable for beginners and anyone wanting to develop cooking and budgeting skills. Sessions include:
Practical cooking
Food, shopping, and meal planning
Food storage and using leftovers
Managing household bills and budgets with Citizens Advice & Rights Fife
Energy saving in the kitchen and home with Cosy Kingdom
We also run specific courses for some groups and organisations. For more information or to put your name down for future courses, contact Jackie Arreaza – email jackiea@greenerkirkcaldy.org.uk or call 01592 858458.