Kirkcaldy Car-Free Week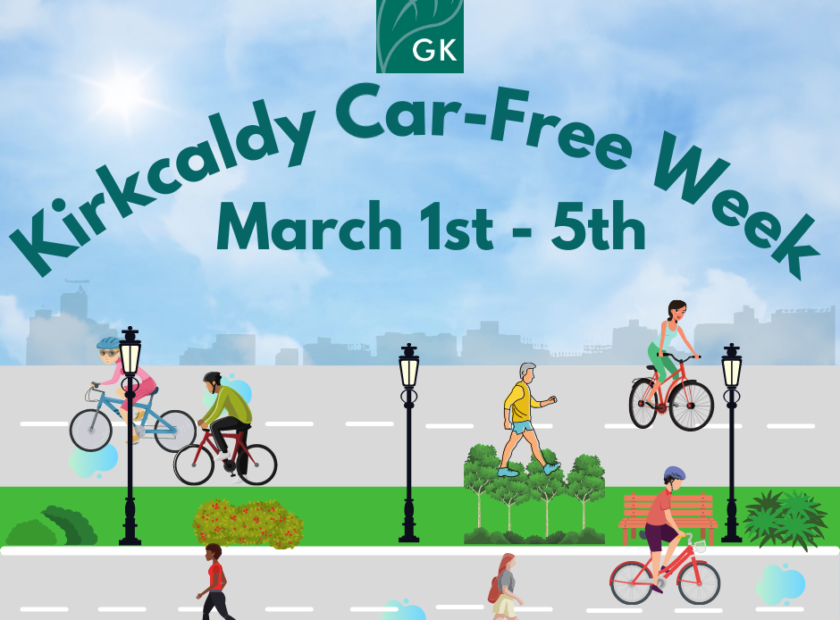 Kirkcaldy Car-Free Week will run from 1st – 5th March 2021. The week aims to encourage people to walk and cycle for short journeys instead of driving, and to imagine what Kirkcaldy could look like if less space was dedicated to cars.
Have you ever wondered what Kirkcaldy would look like if the roads were quieter, and more public space was dedicated to people instead of cars?
Are there journeys you would like to make on foot or by bike, and would happily do so if the roads were quieter or there were traffic-free routes? Would you like more greenspace in your neighbourhood in place of some of the parking spaces? We'd love to hear your thoughts and ideas.
Events
During this week, we will be running a series of events and activities to spark your imagination as to what Kirkcaldy could look like with more car-free spaces, and help support you to cycle more. Booking is required for all events.
Kirkcaldy Re-imagined – Tuesday 2nd March, 7.30pm – 9pm (online) – Hear from speakers about how public space can be used when places are redesigned to prioritise people over cars
Streetlife: Feetlife – Wednesday 3rd March, 4pm – 4.45pm (online) – Kids online art activity
Dr Bike – Friday 5th March, 10am – 4pm (Lang Toun Cycles) – Free bike repairs
Car-Free Kirkcaldy Competition
Imagine what your street (or another specific location) in Kirkcaldy could look like without any cars. What would you like to see in your town? Let your imagination go wild.
There will be two categories – Under 16s and 16+. We will share the winning entries online, and each winner will have the choice of prizes between a £30 Kirkcaldy Gift Card, or a selection of goodies of the equivalent value from Lang Toun Cycles. The best entries may also be used in future marketing and reports.
Send us your ideas on this by Wednesday 3rd March, to susan@greenerkirkcaldy.org.uk, telling us which category you are entering. You can send us: a photo of the area you're talking about, along with a description of what you'd like to see there; or a video describing the changes you'd like to see; or a picture you've drawn of your dream street.
|