Seven things you need to know about litter picking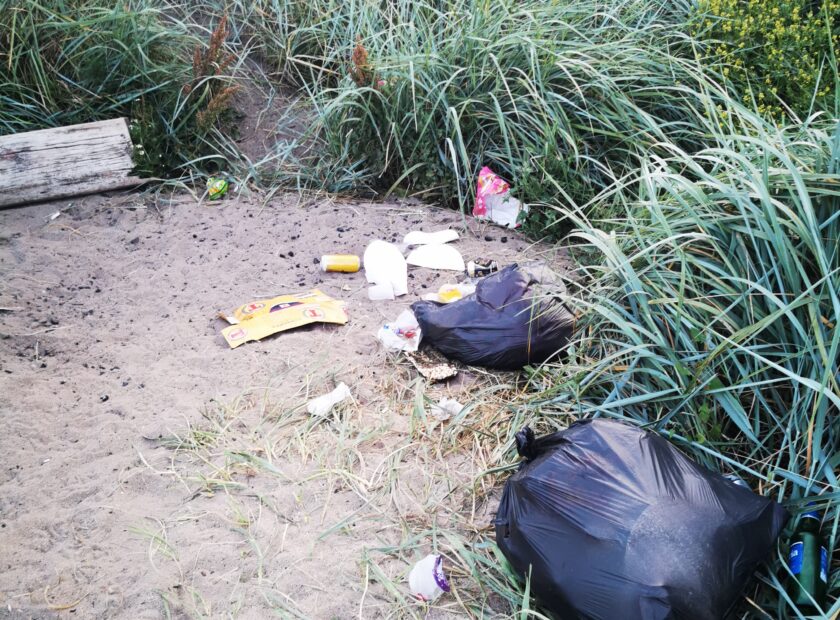 Our Media Volunteer Audrey talks about seven things you need to know about litter picking and how it can affect the environment in her latest blog. 
A summer of staycation-ing is an easy pill to swallow when we are blessed with a stellar set of beaches here in Fife.
Whether it's the runners, the swimmers, the sandcastle builders, the dog walkers, the sunbathers, the yogis… it's a joy to see our beaches being appreciated as they deserve.
But the unfortunate side effect of our indulgence is the eye-watering volume of rubbish being left behind on our beaches. For any Fifer proud of what we have here on our doorstep – it's unthinkable.
Sadly, not everyone holds the same view.
In one 24-hour period a team of Fife Street Champions volunteers filled 32 bin bags with rubbish found lying on Seafield Beach, Kirkcaldy. There was anything from Pimp My Prosecco to multi-packs of Monster Munch.
And at Burntisland beach a volunteer filled an astonishing 13 bags, containing 7 pairs of shoes, a dozen pairs of socks, hats, shorts, over thirty beach toys, 3 toy buckets, a water gun, a toy fishing net and some inflatables.
That's barely even a drop in the ocean.
This year so far, Fife Street Champions volunteers have collected over 10,000 bags of rubbish that would otherwise have been left to drift around in our countryside.
It's easy to get upset about this – I sometimes do. But to me, this shows how the collective force of many individuals doing their bit can make a remarkable difference overall.
As a follower of Greener Kirkcaldy, I imagine it's unlikely that you litter. You may even do some litter picking.
So my appeal to you is this:  Whoever you are, wherever you live – whether you have five minutes or five hours. If you are able to, please consider litter picking.
Here are seven things you need to know:
There are groups you can join.
Fife has many friendly litter-picking Facebook groups. I'm a member of Fife Street Champions (find them on Facebook). It's a very good idea to join one. You'll find advice on equipment to use and council support available. There's information on group picks. Members share stories and encouragement. And they also share handy safety tips which is very important too.
It's easy to do.
Whenever you go for a walk, take a bag with you. Once that's filled, that's one less bag of waste ruining our environment. You can get cheap litter grabbers from B&M. Mine was £3. Don't forget some gloves.
Litter-picking is addictive.
"Once you start, you won't 'un-see' litter", I was told. Never has a truer word been spoken. There is also something deeply satisfying, relaxing even – about taking a chilled meander around your favourite beauty spot, cleansing it of any evidence of human interference.
It's a bit like a treasure hunt.
Yes, there are some pretty unsurprising finds. But every now and again you'll find something pretty fascinating. A Simon Cowell Greatest Hits CD, a creepy dolls head, a Freddo wrapper from back when they were 10p, a crisp packet from the '80s. That kind of thing.
Don't be nervous.
The first time I went litter picking, I worried people would make cheeky comments. I didn't need to worry at all. There are lots of passing "thank yous" and many great conversations, including a woman who helped for a bit and told me all about the raves she used to attend on Ravenscraig beach in the '90s! My favourite was a teenager at Seafield who stopped what he was doing with his friends to chat and help.
If you are a bit nervous, go with a friend, join a group pick, or choose a time or place that you feel safe in.
Tell people.
At first, I didn't like to tell people I was litter picking, because I didn't want to come across that I wanted to be congratulated for it! But now I'm coming round to the idea that it is actually very important that we do tell others. How else will we normalise it and encourage others to do the same?
You really will be making a difference.
If people see litter in their environment, they are more likely to also litter. So, if you clear up an area, you are effectively pressing the 'reset' button, making it more difficult for people to 'break' the cleanliness.
As well as making everything look better, litter picking has environmental benefits too. Litter that is recycled or correctly disposed of prevents wildlife from getting hurt. It also prevents their habitats from being disturbed and prevents plastics from breaking down and entering the food chain as microplastics.
One question I'm often asked is this: "Why must we litter pick when we aren't actually tackling the root cause? Shouldn't we be educating people not to litter in the first place?" Of course – that is vitally important. By being visible, we are doing just that – our very presence, and being vocal about it, will encourage others to reconsider their actions. As the litter pickers of Fife have shown – it all adds up!
Please, the next time you have a bit of downtime – go and make a difference – you won't regret it!
|