A morning at the Grow Your Own Feeding and Watering Workshop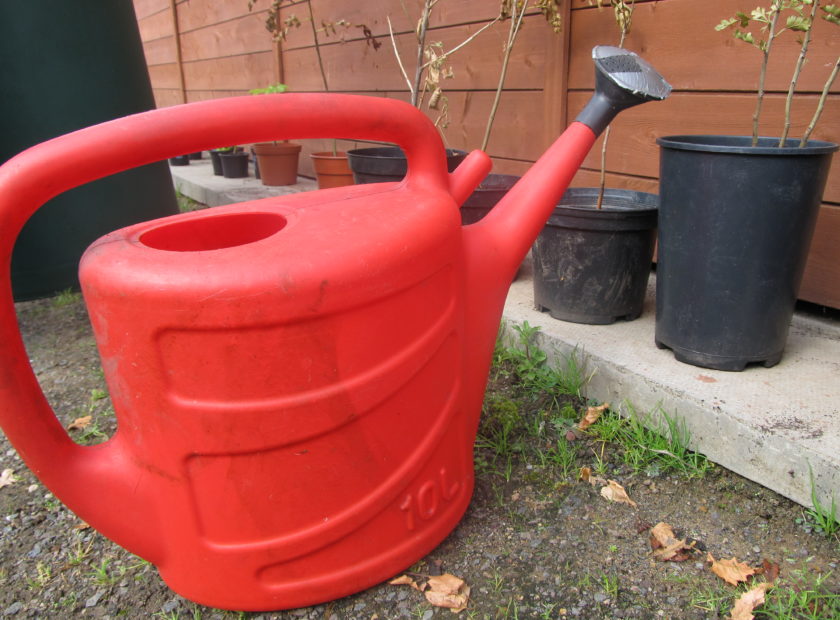 Greener Kirkcaldy held it's penultimate Grow Your Own workshop of the season on Saturday 22nd August – focusing on watering, feeding and compost making.
Mags Hall led the session on a warm, sunny morning, which saw a large turnout of keen gardeners eager to learn something new that could help them with their gardens. The folk were taught the benefits of adding nutrients and minerals to the soil so as to assist growth and produce as healthy plants as possible. Essential to this is the creation of organic compost or, as an alternative for those without space, the production of home made liquid feed.  In addition to liquid feeds that can be bought commercially, the use of comfrey and nettles for home-made feed was also demonstrated. As curious and as strong smelling as it was, vegetables and plants thrive upon it.
We were also taught different watering techniques they may like to use, like watering from below, above or using capillary matting if you're going away on holiday. The perils of overwatering and underwatering, and the way this inhibits the growth of plants, were illustrated.
Methods of composting were also shown, including the New Zealand method. This involves three partitions and allows turning of compost and depositing into each new section. There was also a more common method using plastic bins for smaller gardens. Mags also told everyone what should and should not be put into the compost pile – people should be wary of putting weeds, citrus peelings, and self-described 'biodegradeable' bags into their compost, as it is hard for these materials to be adequately broken down.
We then tried several activities, including watering exercises, to test each method, and preparation of liquid feeds. Tea, coffee and biscuits were also enjoyed during the tea break.
The last Grow Your Own Workshop: Pruning and Winter Preparation is on Saturday 12th September, 10am – 12pm at Ravenscraig Walled Garden. Find out more here.
People listening intently to Mags words of wisdom about watering. 
Mags demonstrating the capillary matting method of watering. Ideal if you're going a way for a while and can't water your plants.
Varieties of compositing bins, for use in smaller gardens.
The New Zealand method of composting, suitable for larger spaces. 
The final product of the composting process.
|