European Week for Waste Reduction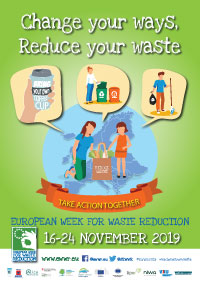 It's easier said than done when it comes to tackling waste reduction, but how do you encourage people to take action?
The European Week for Waste Reduction (EWWR) is an annual event which raises awareness about sustainable resource and waste management and offers a comprehensive guide on everyone can get involved.
It encourages public authorities, private companies, civil society and citizens to take part and has been a successful initiative over the past several years.
This year's theme is 'Waste education and communication for behaviour change' and revolves around the '3Rs';  Reduce waste, Reuse products, Recycle Material.
The high increase in waste has produced a European emergency. Household waste has doubled in weight since 1970 and contributes to nearly half of emissions resulting in climate change. This is down to the non-sustainable methods we use to produce and consume products.
The EWWR aims to show that natural resources are limited, and various projects have been successful in highlighting this plight.
One example is from a Catalan town which created a campaign to reduce the waste produced during breakfast time in primary school while also promoting healthy habits. There were workshops and social media hashtags which made the experience fun for children and overall saw reduction in waste and positive feedback.
Meanwhile, businesses such as the Glasgow Film Theatre ran competitions and engaged with the public about waste prevention measures. This level of awareness encourages everyone to act – the main supermarkets are currently taking steps to reduce waste.
It's been mentioned in previous blogs that disposing more material to landfill creates environmental problems in the long-run. Twenty to fifty million metric tonnes of waste and electronic equipment (WEEE) is disposed of each year, while the UK alone chucks away 2 million functioning PCs into landfill. It may be good scenery for a dystopian sci-fi landscape, but it ain't helping the planet.
By reusing products it not only eliminates the need to keep producing new appliances, but it also offers socio-economic benefits.
Reselling and collecting material is labour intensive, therefore it offers employment opportunities, and the Waste & Resources Action Programme (WRAP) estimates that re-use of a selection of waste streams brings benefits of £720m to the economy.
EWWR has shown how communities getting together to promote the practice of reusing can produce positive results. In Spain, a town implemented a 'Bikes for Life' campaign which employed disabled people and distributed repair bicycles to disadvantaged groups.
Reducing waste should be on top of people's priorities, followed by reusing products.
Failing that, recycling is the next best option. It reduces the need to consume natural resources, cuts carbon emissions and reduces landfill.
EWWR encourages communities to think of ways to increase awareness such as movie competitions and games. A local primary school in England made a short film encouraging recycling good practice.
Tackling the 3 R's is, of course, a collective effort which a lot of the case studies during EWWR demonstrate. Let's Clean Up Europe! is an initiative by EWWR which calls on everyone to work together and solve the littering problem.
One success story is when Javier Ruiz Rojas created the 'Junk Hunters' which made cleaning up a fun and educational activity. It also aimed to improve our woodlands and natural surroundings and protect the environment and wildlife from harm.
Implementing these actions in everyday life
Not only does the EWWR raise awareness but also makes the whole process fun. It encourages people to socialise and in turn builds up collective action which is needed to tackle environmental issues. The EWWR site offers a vast array of resources and links to get you prepared for the big week!
Facebook https://www.facebook.com/ewwr.eu/
Twitter @2EWWR
|