End of 2021 at Ravenscraig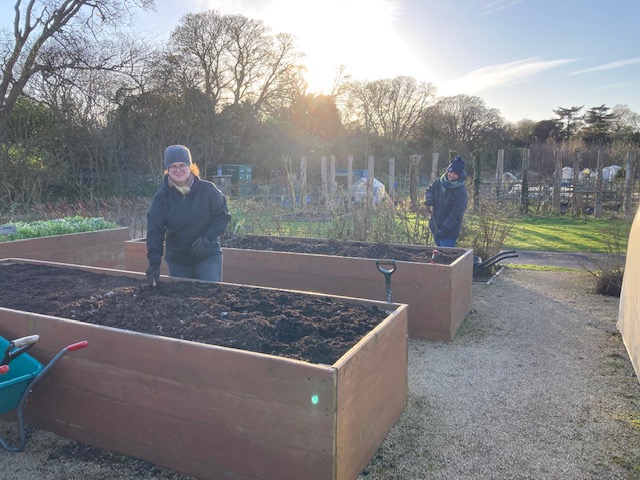 The winter months are quieter at Ravenscraig. We will continue to have our volunteer sessions, but right now we are taking a break to recharge our batteries and get ready for another growing year in 2022. We'll return in January with some planning sessions for our volunteers to agree what we'll grow next year and how we'll develop the plot and orchard.
The sessions have more of a maintenance feel about them at the moment, with our volunteers tidying up, covering over the growing beds, and topping up the raised beds in the polytunnel. It's a chance to stand back and observe the plot and the orchard, to identify the changes over this season and work out what needs done to prepare for next year.
It's always surprising that some flowers and herbs continue to thrive even in the cold months. Last week I spotted some lovely cosmos still blooming in the wildlife border, and the catmint and rosemary in the herb spiral have tiny blue flowers appearing. The calendula is still going strong and brings a bit of colour and cheer to the plot.
Our green manure is growing well in the raised beds – this will remain in place over the winter months to protect the earth and will be dug into the bed in spring to provide nutrients for our plants next season.
We have a winter pruning workshop scheduled for January with Appletreeman Andrew Lear. Andrew will talk through the principles of pruning fruit trees and participants will have the opportunity to put this into practice in our orchard. Booking for the workshop is now open. January is a good time to prune your apple and pear trees while they are dormant and to ensure that any dead or unhealthy growth is removed.
Recipe
This month's recipe makes the most of the delicious root vegetables in season at the moment. Use what you have in the garden or in storage and adapt it to suit.
Roasted root vegetables with green pesto
A variety of root veg – squash, turnips, parsnips, potatoes, celeriac (whatever you have available)
Leeks and/or onions
Olive oil
Seasonings – salt, pepper, chilli, cumin dried herbs, sesame seeds to taste
Chop the root veg into evenly sized pieces – approx. 2-3cm chunks. You can peel or leave the skin on according to your preference.
Peel and cut the onion into quarters, and slice the leek into 3cm lengths.
Place all a bowl, add 1-2 tablespoons of olive oil and your choice of seasoning, then mix well. Place on a large baking tray so that they are well spaced out. Then bake at 200 degrees C for around 20-30 mins until golden and crisp.
Green pesto
A large handful of soft green herbs – you can use the traditional basil, parsley, coriander, rocket, or a mix
2 tablespoons of nuts or seeds – you can use walnuts, hazelnuts, sunflower seeds, or pine nuts
1 tablespoon of olive oil – you may need more depending on the consistency you prefer
Seasonings – salt, pepper, chilli to taste
Toast the nuts or seeds in a pan over a medium heat for 5 minutes until golden. Keep an eye on them as they can burn quickly.
Place in a blender (or use a bowl and a hand blender, or a mortar and pestle) and blitz until smooth. Taste and adjust seasonings and add more olive oil if needed. You can add a tablespoon of grated parmesan at this stage if you prefer.
Drizzle the pesto over the roasted roots as they come out of the oven and serve straight away – delicious!
|