The Best of Seasonal Scottish Vegetables- Cauliflower and Sprouts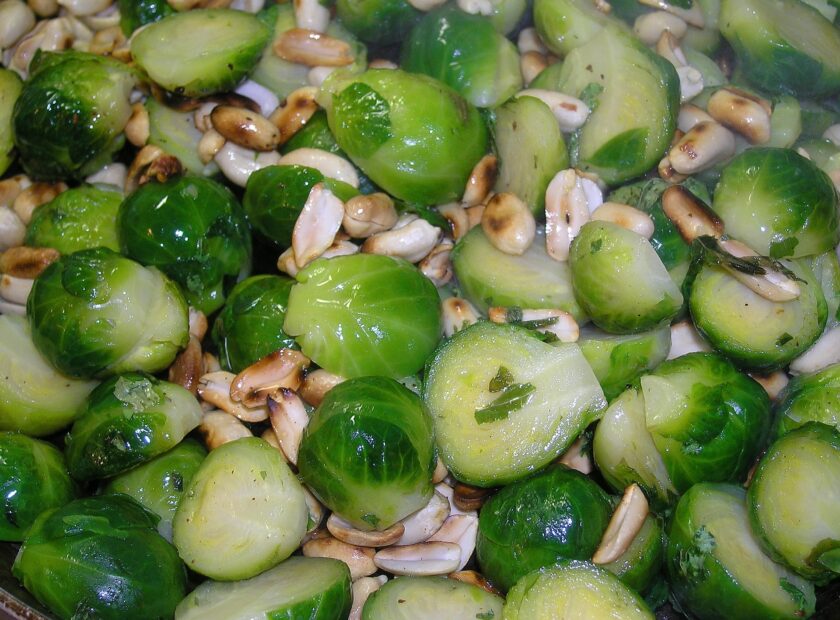 In this blog we look at recipes, that can add a new lease of life to Scottish seasonal vegetables.
In Scotland we grow about 14,000 tons of Brussel sprouts in a year. This super veg is regarded by a lot of people as something that is only eaten with Christmas dinner. The good auld sprout is very versatile and can be cooked in many ways and in a stir fry, curry, slaws, bubble and squeak for example.
Asian Style Sprouts
Ingredients:
300g Brussel sprouts
2 Cloves of garlic
1 Tsps. ginger puree
1 Lemon
Sesame Oil or Vegetable Oil
4 Tbsps. soy sauce
1 Tbsp. sesame seeds
Chilli flakes to taste
Method
Prepare the sprouts by cutting a little off the bottom to help remove the darker outer leaves.
Bring a pot of salted water to the boil, add the prepared sprouts, replace the lid until boiling and then remove the lid.
Remove the sprouts from the water after 3-5 mins, then run under cold water to cool them.
Place in a colander to drain of excess water, then cut in half.
Heat a frying pan or wok on a high heat.
When hot, add sesame oil, then the halved sprouts (carefully as the hot oil may spit) and cook until the sprouts start to colour (2-3 mins).
Add the chopped garlic and ginger and combine well. Keep the heat high.
Add a squeeze of lemon juice, soy sauce and mix. Remove from the heat.
Check the sprouts are cooked with a knife. If not add a little water to wok and continue to cook on low until cooked to your liking
Taste for seasoning adding salt, chopped red chilli and more lemon juice to your taste.
Sprinkle with sesame seeds and enjoy as a vegetable side dish or as part of a main dish.
Similarly, the cauliflower is also not used as much as it should. We get superb quality cauliflowers in Scotland. Often, it's just boiled and swerved, without taking advantage of this great vegetable. Marinating cauliflower increases its flavour really well. It is used a lot in certain regions of India as a key ingredient in vegetable curries. Middle Eastern flavours are also great, with aromatic marinades adding to the cooking method. Roasting cauliflower is a good way to intensify the flavour of the vegetable and the marinade.
Harissa Cauliflower Steak with Moroccan Style Couscous
Ingredients:
1 Cauliflower cut into thick slices. The centre slices is the best.
Marinade – 70ml Olive oil; 1tbsp harissa; lemon zest; 1tbsp smoked paprika; salt and black pepper. You can vary quantities according to taste. Mix together.
Couscous
Ingredients:
½ Cup of couscous
½ Cup boiling water
1 Red onion diced
1 Green pepper diced
½ Courgette diced
1 Tbsp. tomato puree
smoked paprika
Zest of one orange
Olive oil
Chilli (optional)
Method
Slice the cauliflower thickly (about 1 ½ inches thick) see above. You can use any leftover cauliflower you are not using for soup or roasting.
Coat both sides of the cauliflower with the marinade and leave for 2-3 hours, turning occasionally.
Put the couscous in a bowl. Mix the tomato puree, olive oil, orange zest and smoked paprika together. Stir this into the couscous. Add the boiling water, mix and cover for 10 mins.
To finish the couscous, add the diced vegetables some olive oil, and taste for seasoning. If the couscous is still a little hard, add a splash of boiling water mix and either leave for a few more minutes or microwave for 30 seconds. The couscous should be light and fluffy.
Pre heat oven to 180c.
In a frying pan (on a medium heat so as not to burn the spices) sear the cauliflower steak. Be careful not to break it. Gently turn so that both sides colour.
Transfer to an oven tray and cook in the centre of oven for 10-15 mins, turning carefully occasionally. The cauliflower is ready when a knife goes through the central stalk easily.
To plate the dish, place the couscous on a plate. Top with the cauliflower, spooning any juices from the tray over the top.
For more of our recipes and ideas click here.
|