Creative Cooking with Christmas Leftovers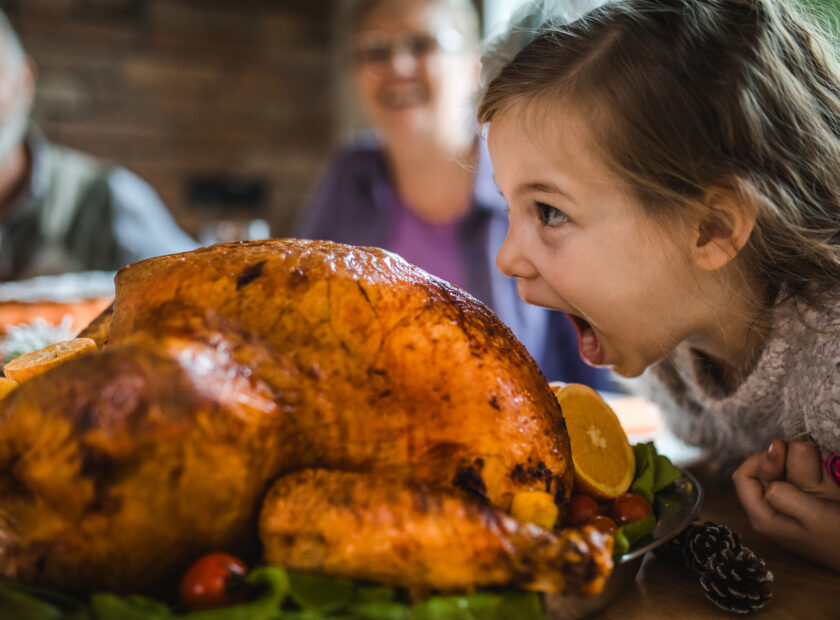 Christmas can be a wasteful time as we get carried away at the supermarket, overfill our plates and just cook too much.  Here are some recipes you can try with your leftovers but it's all about getting creative and coming up with your own ideas! These recipes were shared at out online event Creative Cooking with Christmas Leftovers on 10th December 2020.
 Potato skin soup
Don't throw away your potato peelings but save them to make soup instead!
Start by laying them out on a baking tray and sprinkle some crushed garlic and herbs, like rosemary, and drizzle olive oil over them. Roast them in a hot oven (220-250°C) for 10-15 minutes until they have some colour. Why not take advantage of the oven being on to toast some (stale) bread for croutons too?
Slice onions and soften in a frying pan with a bit of oil for a few minutes. You could add other leftover cooked vegetables, such as parsnip at this point. Add the potato skins then cover with vegetable stock and boil for 10 minutes until the potato skins are soft and then blend the soup. Season to taste and you could add cream if you prefer. Top with croutons.
 Brussel sprouts Asian-style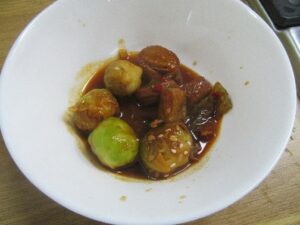 A good way to use-up leftover brussel sprouts is by adding Asian flavours. Start by frying garlic and chilli in hot oil (sesame oil is good). Fry your cooked sprouts (or sliced raw sprouts). If you have any pigs in blankets leftover, then these can be added now too!
Now add tomato puree, vinegar, soya sauce and sugar to taste. Add a splash of water and bring back to the boil until the sauce thickens. Taste for seasoning and get the balance of salt and sugar you like.  Grate some lime zest into the pot and stir, then transfer the vegetables to a bowl. Decorate with sesame seeds, coriander and squeeze some lime juice over your finished dish.
Click here for a detailed recipe.
Christmas parcels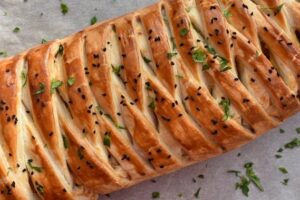 With a packet of puff pastry in your fridge, you can use up any Christmas dinner leftovers. Just cut your pastry to the size you want – bite-size canapés, turnover-style or make a meal with a pie! You can use leftover vegetables, cooked turkey, cranberry sauce, stuffing, chipolatas and even cheese or gravy, in any combination you want.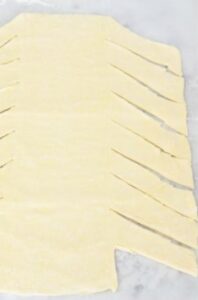 Start with a dry ingredient like nut roast or stuffing so the base of the pastry doesn't go soggy.  Place in the middle of the cut pastry and then pile other ingredients on the top. You could use a simple samosa-style and fold into a triangle or to get a lattice effect, watch Iain's demonstration video on our website.
Cut diagonal strips on both sides of your filling like the example in the photo and lift each strip to cross over the top of the filling. Place each parcel on a non-stick baking tray then brush with an egg wash and bake in the oven at 200°C for approximately 20 minutes (time will depend on the size of your pastries).
Any leftover pastry can be rolled into a ball and frozen to be rolled out when you need it.
 Mince pie ice cream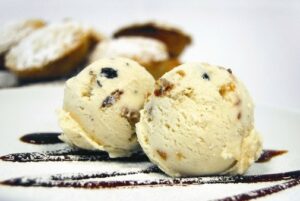 Crumble up your leftover mince pies then mix with soft scoop ice cream (or take ice cream out of the fridge for 15 minutes). Line a loaf tin with greaseproof paper then add a layer of nuts and fruit or other sweet leftovers you might have. Pack the ice-cream in a loaf tin. Put in the freezer 2-3 hours and then turn the tin upside down and serve as a sweet treat!
|