City Walks – A Means of Discovery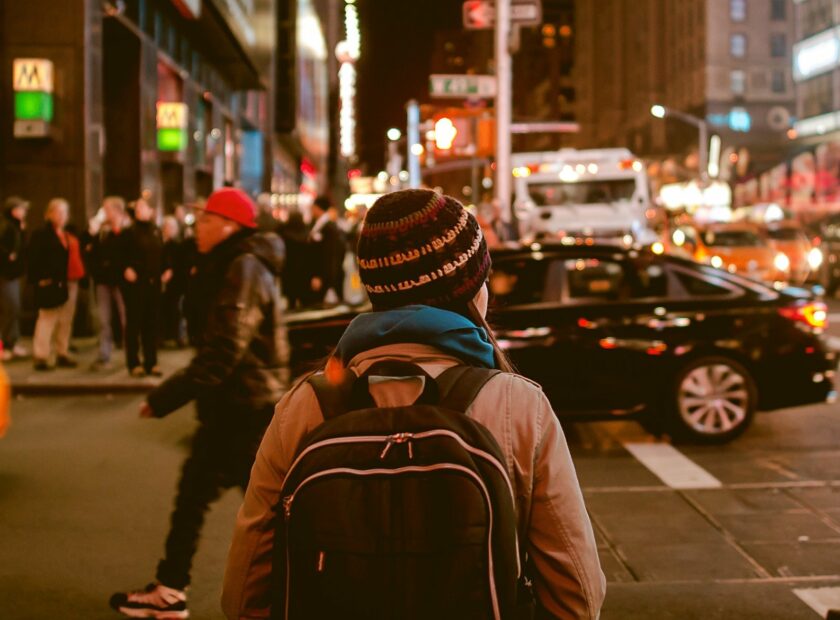 Climate Champion Alecia celebrates the joys of city walking and making new discoveries close to home.
 In the "Before Times," as I've taken to calling them, I travelled quite a bit. I prefer exploring wide-open spaces, high mountains, lush forests, and wind-whipped seasides, but sometimes I still found myself in a city for a few days at a time. Sure there are the "must see" city attractions listed in every guide book, but after the first few times of cramming into a cathedral or jostling around a museum, I found myself skipping them entirely. Instead, I would walk, either with a destination in mind or not. It wasn't glamorous or show stopping, but I found myself surprisingly pleased and relaxed at the end of my days.  
 Walking around a new city feels like getting to know a new friend. Remember that feeling? Usually it happens when we're younger, maybe in university, and you chat and chat about things you like and don't like, your experiences and your hopes. I'd find myself smiling at a beautiful archway, admiring a quaint corner park, or stopping inside a wee alley-café that smelled too irresistible to miss. And let's be fair, there was the unpleasant to be discovered too: an abandoned building full of shattered windows, a dumped over trash bin, or a sketchy looking street.  
By the end of my daily wanderings though I felt closer and closer to having gauged the spirit of a place. We had had a long chat and I knew how best we got along. If I still had time to spend I could go back to my new favourite park bench or grab a delicious coffee at that hidden café. Not only did I find myself returning to new favourites, but I could keep exploring and become better acquainted with my new city-friend.  
 This unexpected enjoyment of a city wander has come in handy more than I could have ever imagined. I used to think of it as a holdover skill for when I was "stuck" in a new city, town, or village. The end goal was always to get back out into nature and get walking, where I really belonged.  
 Cut to 2020 – Travelling somewhere for a walk, in the countryside or to a different city, has become essentially impossible. Maybe you're lucky enough to live somewhere with nature a short jaunt from your front door. If that's your situation I salute you and say, "keep on wandering through that glorious landscape!" but if you're like me and you live in a city, these are trying times. Now more than ever, I have found myself appreciating my city walks and the way they make me feel. 
 It's only natural that when you live somewhere you stop seeing every element around you. Life becomes a tunnel vision of getting to work, doing work, leaving work, picking up the shopping, making dinner, and finding a present for that distant relative's unexpected birthday party invitation (in the "Before Times" at least). You're not looking for a new favourite park bench or a tucked away café; you're looking to get daily life done. When there is extra time the thought is often, where else can I go for an adventurous walk?" because why would you be exploring where you live? You know where you live. Or do you? 
 One of the small but great joys I've discovered in 2020 is exploring my own city. I found myself looking at the city map and realized I hadn't seen hardly any of it. There were cities abroad that I new more intimately thanks to past walking explorations. Now I consciously choose to walk down streets I'd normally pass by in a hurry. I find myself smiling at an adorably arranged garden or laughing at a store with a cute pun for a name. Was it always there? I make a mental note to visit it when shops reopen. And I'll have to walk past this garden in spring as I can only imagine how wonderful it will look in full bloom.  
 Instead of taking the bus to run errands, I've been choosing to take the extra time to walk, for both my health and my enjoyment. Streets that normally looked perfect mundane and forgettable were transformed. Beautiful, impressive architecture looked down on me. I could not believe I hadn't looked up before while walking down this street. I thought I had a new favourite building until I found the next striking one and it too was my favourite.  
I have made a point to range wide with the city parks I visit. They may not be sweeping countryside views, but they are green and lovely and worthy of a wander. I discovered that I enjoy the smaller parks even more than the larger ones.  
If you're like me and currently can't set out on a beloved countryside walk, consider a stroll through your own city, town, or village. Maybe you'll find yourself falling in love with where you live again. You can eagerly look forward to the future when you can pop into that adorable pub you've only just discovered or go shopping at that hip looking store that's tucked away in the alley. A good city walk can unlock all sorts of wonders. 
This post is one of a series of walking blogs by our Climate Champions to promote our Winter Walking Festival. You can find a number of great Kirkcaldy walks with downloadable routes in our Kirkcaldy Winter Walking Festival Programme. You can also take part in our walking photo competition to win a £30 Kirkcaldy Gift Card – click the festival link above for details.
If this blog has inspired you to explore our own town, you may find our Kirkcaldy Walking Guide guide useful.
|