Meat-free Cooking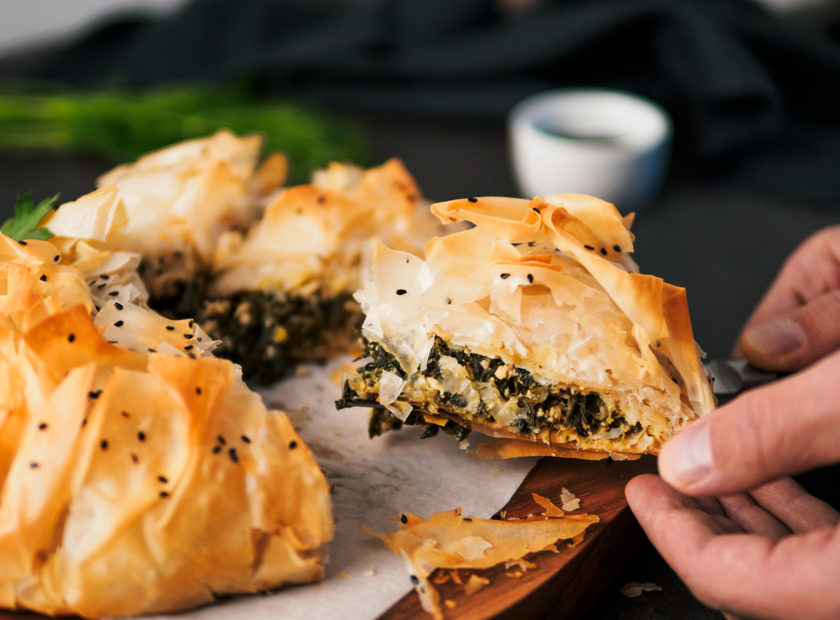 The latest in our "How To Make" series from our Community Chef Iain is meat-free recipes. Iain will take you through step by step how to make these tasty dishes.
There are many ways to reduce the amount of meat we eat, whether we look for substitutions for our favourite meat dishes or make classic vegetarian food. Whatever we choose, meals can be cheaper, healthier and tastier meat-free, as well as being better for the environment, especially if we buy local and seasonal vegetables. These recipes are to give an alternative to a familiar dish but cutting out the ingredients that have a high environmental impact and still packed with flavour.
Lentil Bolognese
How much protein you are in taking can be a concern when removing meat from your diet. Lentils are a great substitute and contain about 1/3 of protein in beef mice, what it lacks in protein it makes up for in fibre making you feel fuller for longer. Lentils also contains vitamins and minerals and only trace values of fat.
A dish like this would often have some parmesan cheese to finish but if you are taking a vegan approach it is worth getting a good extra virgin olive oil to finish the dish.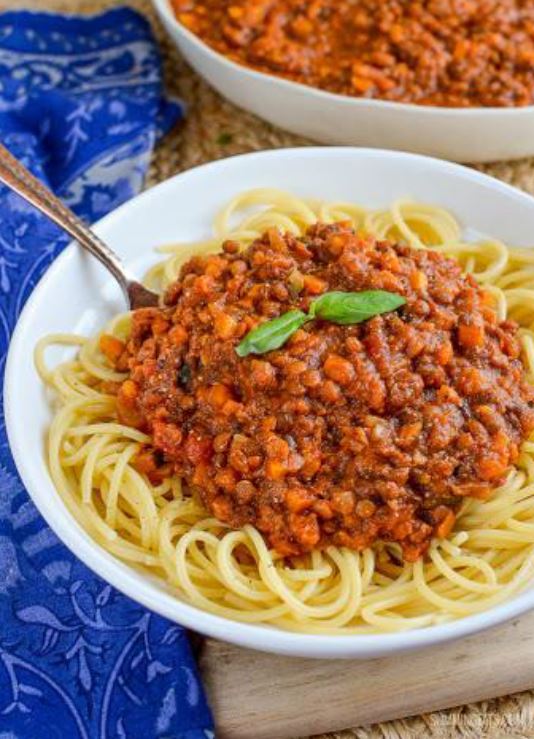 Ingredients:
1 tablespoon oil
2 onions (diced)
4 garlic cloves (crushed)
1 carrot diced or grated
1 teaspoon fresh or dried herbs and a pinch of smoked paprika.
200g red lentils
1 400g tin of chopped tomatoes
2 tablespoons tomato purée
400ml vegetable stock
½ teaspoon of yeast extract (optional)
Method:
In a large frying pan heat the oil and add the onions and garlic
Add grated carrot and other chopped vegetables if you have any, like courgette or mushrooms.
Add a pinch of smoked paprika and fresh herbs like rosemary, thyme or basil (or dried mixed herbs)
Cook for 2-3 minutes until the onion has started to soften then add the lentils and cook until browned.
Add the tomato purée then tinned tomatoes and vegetable stock and add herbs to taste. Add yeast extract (optional but recommended!)
Bring to the boil then leave to simmer for 20 minutes until thickened
Taste for salt and pepper
A dish like this would often have some parmesan cheese to finish but if you are taking a vegan approach it is worth getting a good extra virgin olive oil to finish the dish. Hard cheese like parmesan have a high carbon footprint, it takes 16 litres of milk to make 1 kilo of parmesan.
Mushroom risotto
A good risotto is a great meal, it takes a little practise to get it right but when you do it is a great eat!. Rice is a good food to include in your diet as you can add many different things to a risotto for a tasty treat. Some good things to include in a risotto are squash, mushrooms, leeks and cauliflower. These are all things that are in season and that helps a lot towards the environmental impact as local and seasonal is a great way to help.
A classic risotto is made with a fair bit of butter and parmesan cheese, and although reducing meat in our diet is good there are any other foods that have a big impact……dairy being one. To make a risotto a little more friendly to the planet you can use an olive spread instead of butter and finish with a good extra virgin olive oil instead of the cheese. Squeeze of lemon goes a long way to add a "tang" you get from the cheese.
Ingredients:
Vegetable oil
2 onions, chopped
4 cloves of garlic
100g butter or olive oil spread
200g mushrooms
Rosemary, tarragon or thyme
Salt
150g Arborio risotto rice
White wine (optional)
1 litre of vegetable stock
Parmesan cheese
Method:
In a large frying pan heat the oil and add the onions and garlic. Fry for 4- 5 minutes on a medium heat until the onions are soft
Add two tablespoons of butter or olive oil spread and fry onions for another minute
Add chopped mushrooms to the frying pan and some fresh herbs like rosemary (or dried herbs). Add salt to the onions and mushrooms and cook for two minutes
Add Arborio risotto rice and mix with vegetables until the grains of rice turn translucent (add white wine if you have any)
Add about 200ml of the stock and cook until the liquid has absorbed then add another 200ml of the stock until that has absorbed again. Cook on a low to medium heat (you do not need to keep stirring the rice).
When the rice is nearly cooked, taste for seasoning, add some black pepper, parmesan cheese (or a dairy-free option) and some more butter (or spread) and fold into the rice.
Harissa cauliflower steak with couscous
Cauliflower has to in my top 3 vegetables, they have a fairly long season and Scotland produce really good quality cauliflowers. It is pretty high in fibre but it contains almost all the vitamins that your body needs, and is an amazing source of vitamin c. My favourite way to cook cauliflower is to roast it, this really intensifies the flavour and is a distant memory from the boiled overcooked cauliflower we probably all can relate to……revisit the cauliflower with this recipe!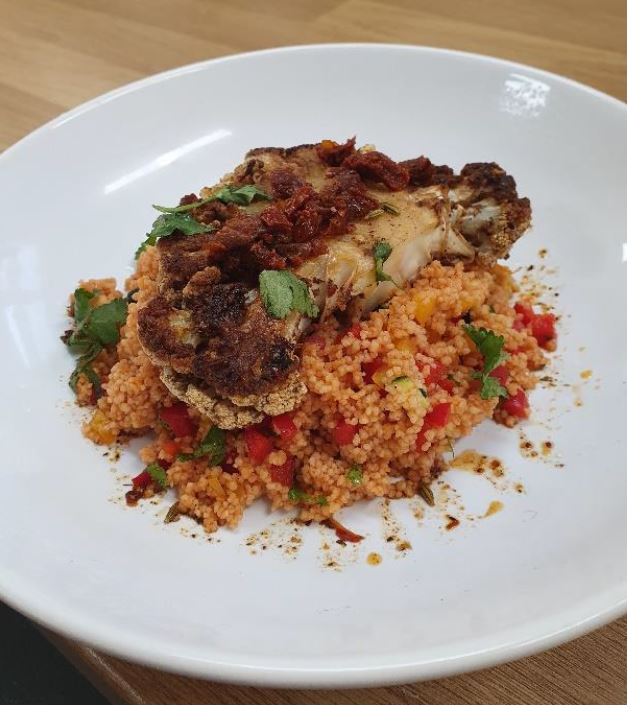 Ingredients:
1 thick cut slice of cauliflower from the centre
Marinade- 70ml Olive oil, 1tbsp harissa paste, lemon zest, salt, black pepper, 1tbsp smoked paprika. (Quantities can vary according to taste).
½ cup of couscous
½ cup boiling water
1 red onion diced
1 green pepper diced
½ courgette diced
1 tbsp tomato puree
1 Tbsp smoked paprika
1 orange zest
Olive oil
Chilli (optional)
Method:
Cut a thick slice about 1 ½ inch from centre of cauliflower (use remained for soup or roasting)
Coat well with the marinade and leave for 2-3 hours, turning occasionally
Put the couscous in a bowl and mix the tomato puree, olive oil, orange zest and smoked paprika and mix well to coat the couscous
Add the boiling water, mix then cover for 10 mins
To finish the couscous add the diced vegetables and glug of olive oil and taste for seasoning. If the couscous is still a little hard and a splash of boiling water and microwave for 30 seconds. The couscous should be light and fluffy
Preheat an oven to 180c
In a frying pan (on a medium heat so not to burn the spices), sear the cauliflower steak being careful not to break it.
Gently turn so that both sides have started to colour.
Transfer to an oven tray and place in centre of oven for 10-15 mins, turning carefully occasionally.
The cauliflower is ready when push a knife through centre of the stalk easily.
To plate the dish, heat the couscous in the microwave for 45 secs and place on a plate.
On top, place the cauliflower and spoon any of the cooking oil from the tray over the top
You can now watch the event in full on our YouTube channel.
If you are interested in making another Cauliflower dish then check out Roasted Cauliflower with Satay Sauce.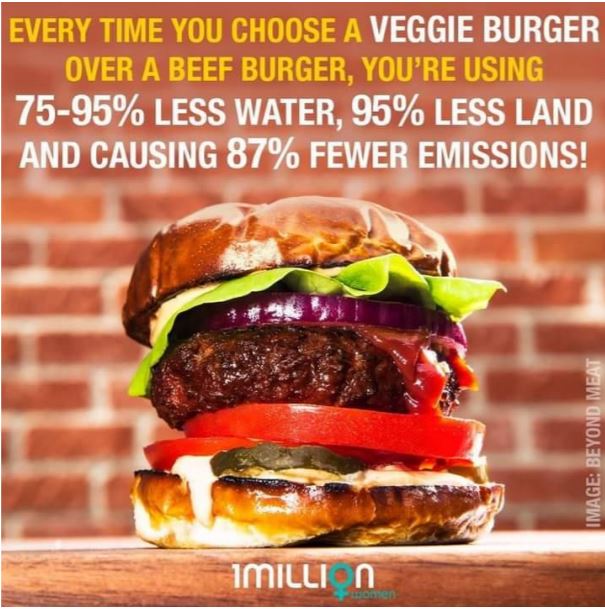 |