Roasted Cauliflower with Satay Sauce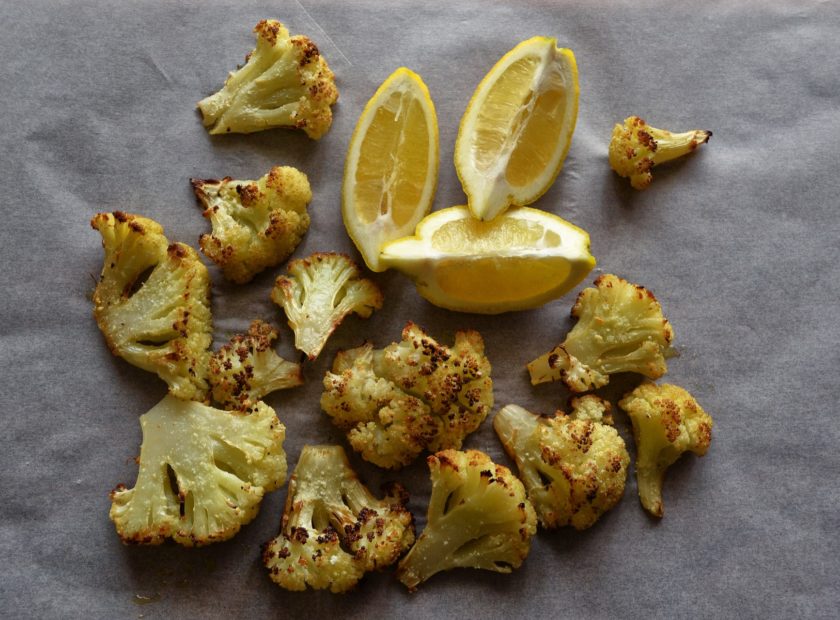 The latest in our "How To Make" series from our Community Chef Iain is Roasted Cauliflower with Satay Sauce. Iain will take you through step by step how to make this tasty dish.
Cauliflower is at its best at this time of year, they are usually larger and firmer and work well roasted. Roasting cauliflower intensifies the flavour and also adds a nice crispy texture, you can also add extra layers of flavour when roasting cauliflower. For this recipe so lime zest and juice over the cauliflower gives it a tangy edge to go with the rich sauce.
Ingredients
1 large cauliflower
Toasted Sesame oil or Vegetable oil
2 limes
1 large onion
Garlic –  3 Cloves or Tablespoon paste
Ginger – 1 Tablespoon chopped or 1 Teaspoon paste
Chilli – 1 small green chilli or more if you like it spicy
Soy Sauce – 3 Tablespoons or to taste
Coconut Milk  – 1 Tin
Peanut Butter – 2 Heaped Tablespoon, you may need more depending on the peanut butter. I prefer crunchy peanut butter for texture and some whole peanuts to finish the dish
Fresh Coriander – Small bunch chopped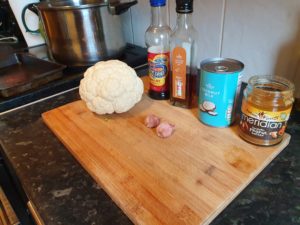 Method
Turn your oven on to preheat to 170c. Begin by preparing your cauliflower, you want fairly large pieces to roast. You can cut the core out and use large florets but keep the core it also roasts and is very tasty.
Place your prepared cauliflower in a bowl season with a large pinch of salt and drizzle 3-4 Tablespoon of oil, grate the zest of a lime and squeeze in the juice. If you like it spicy add some chopped chilli at this stage. Toss well to coat all the cauliflower
Transfer to a roasting tray and put in the middle of the oven, turning every 15mins
The time it takes for the cauliflower varies but usually about 45mins. When you turn the cauliflower you may need to drizzle a little more oil so that the cauliflower doesn't dry out, it is ready when you can push a knife easily through the stalk and has a nice dark golden colour. When ready keep it warm till sauce is ready
To make the sauce chop the onion garlic, ginger and chilli as fine as possible then put 2 Tablespoon oil in a medium-hot saucepan and add the chopped ingredients
Keep moving ingredients with a spoon adding a little more oil if it starts to stick when the onions start to get a little colour on them add the soy sauce and mix well
When all combined add the coconut milk and mix well making sure not sticking to the bottom of the saucepan.
Increase the heat and bring to a simmer, you want to reduce the sauce till the consistency looks like double cream. At this stage add the peanut butter you will need to keep stirring until the peanut butter is well incorporated
You now need to taste the sauce adding more salt, soy sauce or peanut butter depending on taste
To assemble the dish, heat the roasted cauliflower then spoon over some sauce sprinkle some fresh coriander and some whole toasted peanuts and serve with fluffy rice.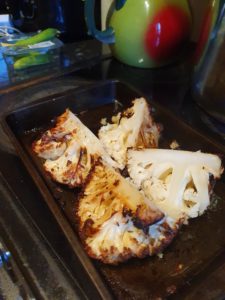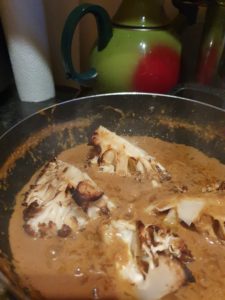 |