Alternatives to Black Friday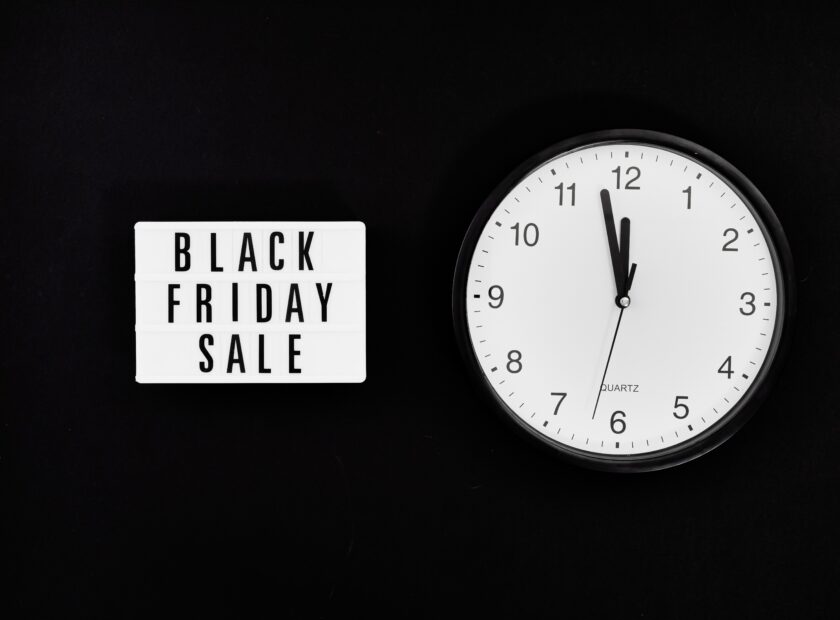 Media Volunteer Bryan gives alternatives to Black Friday in his latest blog.
It's that most wonderful time of the year again. People hang up their Christmas decorations, companies flog Baby Yoda toys (or toys depicting 'The Child", to appease any Mandalorian fans reading this article) and everyone gets excited about the latest John Lewis weepathon.
It's not even December yet. We still haven't mentioned that most hallowed of traditions – Black Friday.
It's a retail sales phenomenon originating from the USA, where shops offer promotions the day after Thanksgiving. In 2010, Amazon introduced the concept to the UK, and we have been cursed with it ever since.
You've seen the photos and videos — people fighting over TVs, massive queues waiting outside shop doors like zombies…it's a controversial concept. Are people really getting a good deal? How is it affecting the environment? 
Environmental and ethical concerns
There are some eye-watering stats on Staveley Head's website which explains how Black Friday increases the demand for logistics across the UK.
For example, a lorry leaves an Amazon warehouse every 93 seconds during busy periods. 81% of online Black Friday purchases include a home delivery service rather than click and collect.
This undoubtedly causes a spike in CO2 emissions.  Although the current global pandemic and lockdown restrictions may result in fewer people travelling by car to shops, the increase in online shopping causes more diesel lorries on the road.
There are also ethical issues surrounding retail events like Black Friday, as it contributes to a higher production of electronic products.
An Amnesty report exposes serious breaches of human rights in the Democratic Republic of Congo, where children as young as seven are mining for cobalt, a substance used for rechargeable batteries. Companies were found to be negligent with their due diligence when buying cobalt from certain suppliers.
That's not to mention the environmental impact on electronic waste, a subject Greener Kirkcaldy have discussed on this site and continue to combat it.
You may not even be getting a good deal. A recent report from watchdog Which? found that some of the Black Friday offers were cheaper at other times of the year. Some companies even host Black Friday deals throughout November as well as promote 'Cyber Monday', so the concept has arguably become farcical over the years. 
So what are the alternatives? And is it environmentally friendly? 
The alternatives
The simplest solution is to buy nothing on that day. #BuyNothingDay is an international day celebrated by various groups — those who simply despise consumerism, and those who see it as an opportunity to change lifestyle habits.
MAKE SMTHING is an event which encourages people to reuse materials and make something creative, with the intention of making you more conscious next time you buy a product from a shop. 
You'll be surprised how many shops reject the concept of Black Friday. There's a collective in France called Make Friday Green Again consisting of over 900 retailers who don't participate on the day and instead ask consumers to review their consumption habits.
If you're not taking part in #BuyNothingDay, then there are good alternatives that are environmentally friendly and ethically sound. If you visit a Revolve certified shop, you can buy quality second-hand goods (to find your local shop, use the postcode checker here).
The website ethicalsuperstore.com offer Black Friday discounts which in turn provide items to Newcastle West End Foodbank. On a local level, you can raise donations for Kirkcaldy Foodbank while shopping online by visiting their Easy Fundraising website. When you make a purchase with a participating retailer, it sends over a donation.
If you're uncomfortable buying from large companies like Amazon for ethical reasons, they are other alternatives. Hive and bookshop.org for example raise funds for local bookshops with every purchase made.
It's not just for Black Friday!
Although some of the above tips would result in an 'alternative Black Friday,' in reality it's an alternative way of shopping in general – it can be applied all year round in most cases.
So whatever you during this time of the year, think before you shop! 
|