Why repair your tools?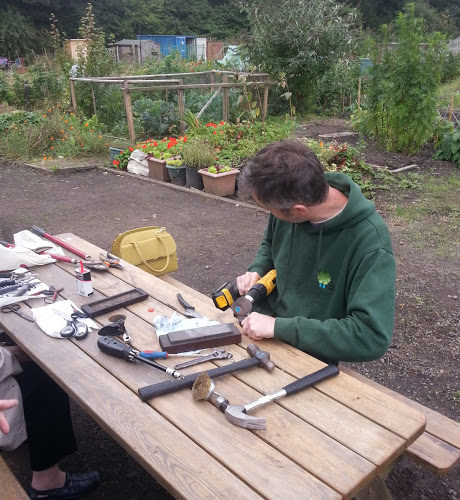 Greener Kirkcaldy along with the Ecology Centre will be running a Tool Repair Workshop on Saturday 22nd April between 10am and 12pm at Ravenscraig Walled Garden.
You will be able to bring gardening and woodworking tools which need some TLC along and get them fixed. No booking is required.
It is often seen as being easier to buy replacement items rather than repair what you have got. But it is much better for the environment as well as your pocket if you do repair instead of replacing, and it's really not that hard once you learn how.
Millions of tonnes of waste goes to landfill each year; by repairing and recycling more this will be reduced. You will also benefit from saving the money that you would have spent on the replacement item and the time that it would have taken to go out and find it. Also by repairing your tools you will be able to keep using the tools you like for much longer.
It is quick and easy to learn how to maintain and repair your garden and woodworking tools. The experts from the Ecology Centre will show you how to do it yourself while they are repairing your tools. There are also good websites available to help you be able to look after your equipment (e.g. http://www.fixitclub.com/yard-garden-repairs/garden-tool-repair/)
The Ecology centre also run a Tool Shed Project at their site at Kinghorn Loch. You can donate unwanted tools and there is also a workshop that helps you develop your skills and help others learn too. They sometimes have second hand tools sales too.
|