An Introduction to Smart Meters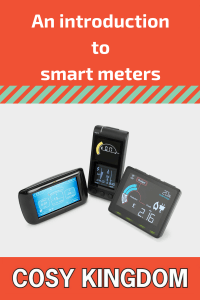 Smart meters are the new hot topic in the energy industry right now. They are going to play a huge part in the future of our energy market and in how we, at home, manage our energy consumption. We already have smart TVs and smart phones, smart fridge-freezers and smart thermostats. So what exactly makes a gas or electricity meter smart?
Every home in the UK should be offered a smart meter by then end of 2020. However you are under no obligation to accept one if you choose not to. Energy Advisor Michael explains what Smart Meters are and how they can help you control your energy use in his blog.
What is a smart meter?
A "smart" meter is named so because they will automatically be able to share how much energy you are using with your energy supplier. This will bring an end to estimated energy bills.
They will function in the same way traditional meters do, by recording your energy consumption, but will also be able to transmit it using radio waves the same way your car keys or radio works. You can choose how often you send your meter readings – in intervals of 10 seconds to 1 month, so it is up to you how much information your supplier gets.
The in-home display
You will also get an in-home display with your smart meter, which will allow you to view your energy use in real time. This will be able to show you in kWhs, and pounds and pence, how much energy you are using at any given time. You will also be able to look back at your history and see what energy you have used in the past.
The display will be provided free of charge at the same time a smart meter is installed. The installer should also demonstrate how the device works.
What are the main benefits of a smart meter?
The main benefit of a smart meter, if you currently have to submit meter readings, is that your bills will always be accurate without you having to physically submit readings. This means no more crawling into cupboards to read a display and then phone your energy supplier each month.
Smart meters will also help you to become more energy efficient – you will be able to work out how much energy each appliance is consuming and adjust your usage accordingly.
In the future, switching suppliers will also become easier, as will switching between "credit" mode and "prepay" mode. However currently, due to compatibility issues between different suppliers, when switching a smart meter may lose the "smart" functionality. This will eventually be resolved when the next generation of smart meters are installed.
More information
Smart Energy GB is the voice of the smart meter rollout; it is their job to help everyone in the UK understand how they can use their new meters to get their gas and electricity under control.
Cosy Kingdom is a free and impartial energy advice service available to anyone in Fife. If you're unsure whether a smart meter is suitable for you, or for help using your smart meter to be more energy efficient, you can book a visit with one of our energy advisors through our booking form, or give us a call on 01592 858458.
|