Getting started growing your own food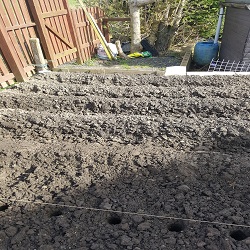 It's that time of the year again. The clocks have gone forward, the weather is getting better (well hopefully anyway) and people are getting back in their gardens and on their allotments. I've been up at my dad's allotment helping him start planting his own food.
As always for my Dad, he planted his potatoes first. The types of potatoes he planted are:
Roosters (see below)
Charlottes
Maris Piper
The first piece of advice he gave me was plant your potatoes in a different space than last year. Crop rotation is very important to avoid nutrient depletion in your soil and also lessens the need for pest control.
He prepared his garden for planting potatoes by turning the soil over in the winter months. Once the soil was ready, he used a Dibble (also be known as a Dibber or a Dibbler) to create holes for the potatoes – see below.
To make sure your holes are in a straight line, you can use a piece of string (like shown in the photo below) which is attached to two pieces of wood stuck into the ground. Once you enter the potatoes into the small holes then you turn the soil over the potatoes and leave them until they are ready to be dug up. You don't need to turn over the soil straight away, it can be done later, but if you do it straight away then it can be an easier process as the ground will be harder if you leave it.
My Dad's potatoes are his first priority, but he will move on to plant other vegetables in the next few weeks. The vegetables he plans to plant are:
Turnips
Beetroot
Parsnips
Onions
Cabbage
Carrots
When planting vegetables that comes from seeds, he runs a piece of string across the soil, makes a hole right across where the string is, then sprinkles seeds into the gap. He will plant his cabbage just like you plant a flower in the garden. He will start off planting his cabbages in the space in the photo below, and then move them to his greenhouse.
He has also planted a few strawberry plants in his garden this year.
It is important to have some water storage at your allotment. Luckily my Dad managed to get a fair bit stored up over the winter months (as shown below), which will come in handy when we go through any periods of not having much rain.
He has also been collecting compost ready for the growing season. If you have a place to store it then why not start collecting for next year's compost heap.
If you want to know more about growing your own food, Greener Kirkcaldy will be running a range of Grow Your Own workshops on different topics throughout the year. The next workshop is 'Introduction to Organic Growing' on Saturday 20th May, 10am – 4pm at Ravenscraig Walled Garden. The workshop is suitable for beginners and those looking to learn a bit more. No equipment is needed, but booking is required. To book your place, call us on 01592 858458, email  info@greenerkirkcaldy.org.uk or drop into our High Street Hub, 254a High Street, Kirkcaldy, Wednesday to Saturday, 10am – 4pm.
|