Volunteers getting hands on in the kitchen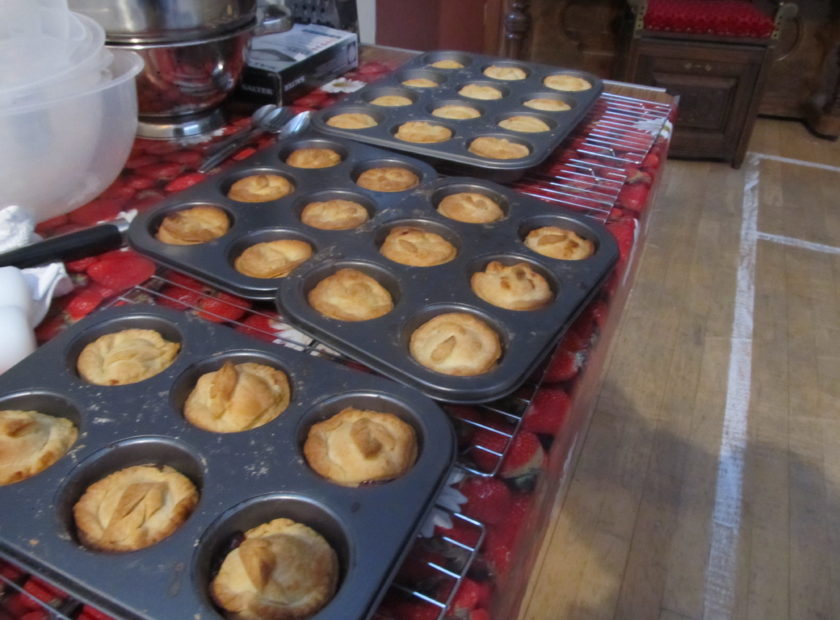 Greener Kirkcaldy runs cooking classes with volunteers looking to develop or improve their employment prospects through food preparation and cooking skills and who are ready and willing to get their aprons and oven mits on. The sessions are held every Friday from 10:30am – 1:30pm at Dysart Church. The cooking is often served to Greener Kirkcaldy's gardening volunteers who trek up from greener Kirkcaldy's garden allotment after their Friday morning volunteer session.
We plan our recipes together, taking advantage of the very locally grown produce from Greener Kirkcaldy's allotment at Ravenscraig Walled Garden. There is mixture of meat and veggie, savoury and sweet options on the menu – with sometimes both. Spicy food such as curry's, chilli's, tagines, are perennial favourites and often make an appearance. Pies, muffins, scones, and soup are also favourites amongst the ever faithful volunteers.
The cooking volunteers are forever on the look out for new tasty recipes to explore and try out – so don't hesitate to offer some new ideas!

Jordan, Sandy, Ger and Gary helping to prepare the Lasagne. We made two versions, a traditional meat version, and one with spinach and ricotta cheese
The pièce de résistance of greener kirkcaldy's cooking experiment – the Christmas Lunch! As you can see, we had such a grand time making this, we forgot to take any pictures. It was turkey breast rolled with sausage meat, cranberry sauce, and served with the full trimmings – roast potatoes, Greener Kirkcaldy's own brussels sprouts, pigs in blankets, and two types of stuffing.
The cooking has continued into the new year and still meets at Dysart Church same time, same place. Friday 10:30-13:30. If you're interested in learning cooking and food prep skills and want to develop your employment prospects, see our Community Food Volunteer page or get in touch by emailing geraldine@greenerkirkcaldy.org.uk or calling 01592 858458.
|