Volunteering in the garden with Greener Kirkcaldy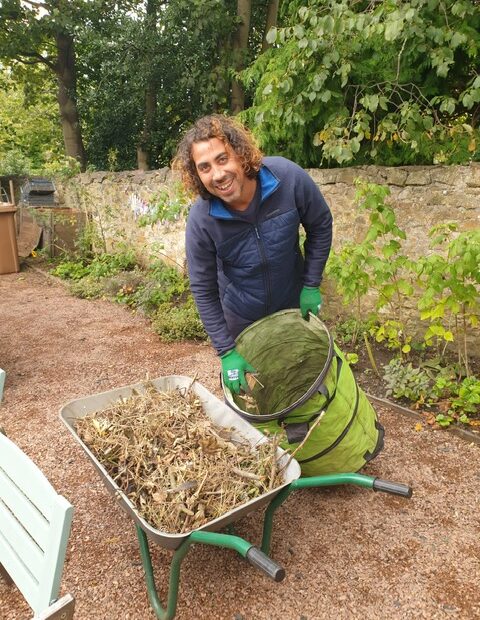 My name's Ronny and I'm from Uruguay. I moved to Kirkcaldy in February 2023 to live with my wife who's British.
I go to English classes but my English is still very basic, so it's been difficult to meet people and start to feel independent here. But my wife saw an opportunity to help as a volunteer in the garden at Greener Kirkcaldy and I thought it would be a great activity to get involved with, since it would help me to meet people and I'd be getting good exercise too!
From my first day, everyone in the garden was really friendly. My level of English didn't seem to be a problem for them, and everyone wanted to talk to me and find out where I was from. It was a fantastic feeling to know I was helping out, and it has really made me feel part of the community.
I've always enjoyed doing practical tasks so all the digging and paving tasks I've completed in the garden are right up my street. If the gardening session ends before I finish a task I working on, I'm disappointed and want to stay a bit longer and have to be persuaded to leave it until next time!
Now, when I walk around Kirkcaldy, I see people I've met in the garden and when they say hello, I feel like I really belong here now. It has also given me the confidence to speak to other people I see around town when I'm walking my dog.
At Greener Kirkcaldy everyone says hello to me every week, and I love the tea breaks when we can all have a good chat. A man in the kitchen even remembers that I'm coeliac and brings me wheat-free pancakes to have with my tea!
Volunteering has also opened up the possibility of work for me now too, because everyone sees the things I've done in the garden and can give me references. I'm so glad I got involved!
Ronny Torres, Gardening and Growing Volunteer
Volunteering is a great way to feel part of a community, meet people and learn new skills. Find out more about our volunteering opportunities.  
|