Trying out an E-bike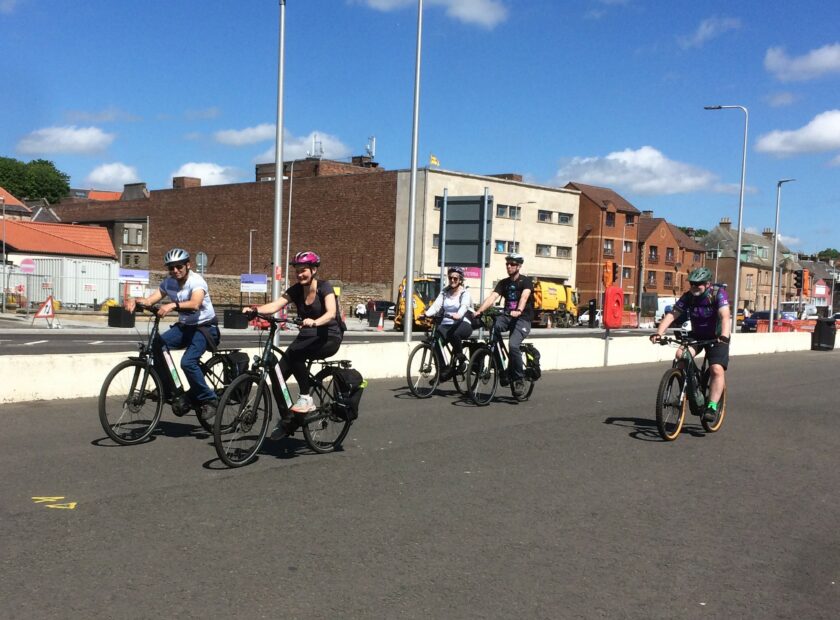 My experiences with e-bikes haven't been great in the past, but I haven't been on one in a few years, so I thought it was time to try again. I went along to Greener Kirkcaldy's E-bike Try Out event in June, and I was pleasantly surprised.
When I'm cycling, I like to feel in control. However, previous attempts on e-bikes found that the electric assist kicked in very quickly, meaning that – out of nowhere – I was suddenly going a lot faster. I found this disconcerting, and it put me off e-bikes. However, my experience on this ride was completely different. There were several different settings of assist, from Eco all the way up to Turbo. Using the Eco setting, I wasn't aware of any boost at all. There definitely wasn't the unexpected surge of speed I had experienced before – this clearly only happens with certain types of e-bike.
When pushing the bike into position, it was obvious how much heavier it was than a regular bike. However, once I was cycling, I wasn't aware of this at all. I cycled effortlessly along the Prom, more aware of the fact this bike was more upright than my own bike than of the fact that it was electric.
It was when we reached the hill from Pathhead Sands up to Ravenscraig Park that the e-bike showed what it could do. I have cycled up that hill many times, and it is hard work – I always stop at the top to get my breath back and have a drink. As it started to feel like hard work, I increased the level of assist all the way up to its highest setting, Turbo. After that, the hill was a doddle. I reached the top quickly and effortlessly, and was not hot or out of breath at the top.
I thoroughly enjoyed the ride, and it was only when I got on my own bike to cycle home that I realised how much of a difference that the electric assist made, even on its lowest setting.
Whilst I have no need for an e-bike at present, I fully understand the benefits for people who want to cycle longer distances, make journeys they wouldn't have time to on a regular bike, or who would struggle to get up hills otherwise. Or even for people who are perfectly capable of cycling to work but don't want to be sweaty when they arrive, particularly if there aren't any showers there. Whilst the electric assist means that for equivalent journeys, you get less exercise than on a regular bike, people often find that they enjoy the experience so much that they find themselves cycling more often, and further.
If you are considering buying an e-bike but would like to try one first, why not borrow one from Lang Toun Cycles.
|