September at Ravenscraig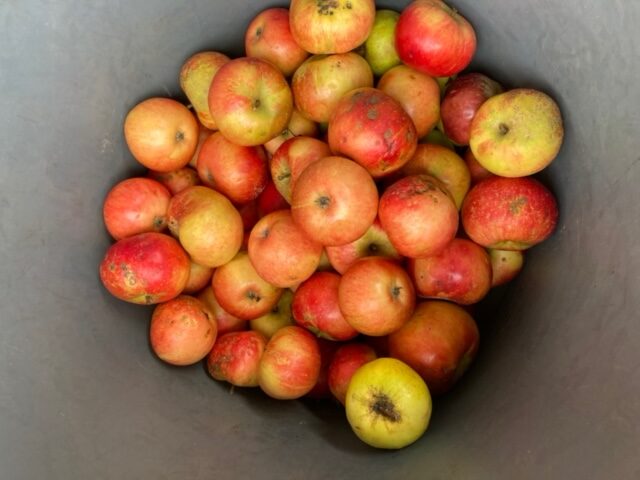 Jackie V from the growing team gives us the latest from Ravenscraig Community Garden.
As we get towards the end of September, we can start to feel the changing of the seasons. We've now passed the autumn equinox and the days will start to get shorter with darkness falling a little earlier each day. We've had a good bit of late summer sun over the last few weeks, and this has helped extend the season for some of our fruit and veg at Ravenscraig. It's also enabled our pumpkins and squashes to ripen and develop a thicker skin, this means that they will keep for longer when harvested.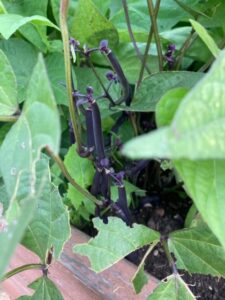 We've had a bumper crop of French beans this year, both the traditional green beans and a lovely purple variety. The plants will continue to produce more beans until it gets colder, so we're encouraging our volunteers to make the most of them and eat plenty! We've also had lots of tomatoes and aubergines, grown by George in the polytunnel. The courgettes keep coming, although they have slowed down a bit and will stop soon as they don't like the cold. We're harvesting potatoes every week and have started to pick carrots and leeks from the raised beds. The onions and garlic we stored in July are hanging under the canopy and will keep for a few more weeks outdoors.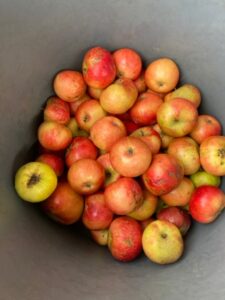 We've had a decent crop of autumn raspberries, both red and yellow varieties and the brambles on the site have started to ripen. But most importantly at this time of year, the apples and pears in our orchard are plentiful and ready to harvest. We've been picking up windfalls for a few weeks now. The early apples such as Discovery need to be used fairly quickly as they don't keep too well. The later varieties do though, and we'll be able to store some in our cabin for use over the winter. We plan to get our apple press out to press fresh juice and make the most of this fabulous crop.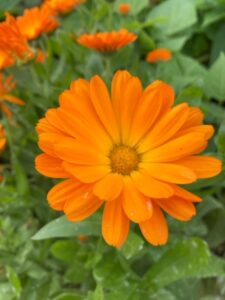 A group of our volunteers have been working on the landscaping in the orchard and around our cabin. They have cleared the paths and topped up the bark, trimmed the hedgerow and weeded around the entrance to our site. They cleared out and re-stacked the log pile and tidied up the area around our compost bins. It's all looking much tidier.
This month's recipe uses the best of the autumn fruit and can be adapted to use any type of fruit you have available. It's a great time to get out and pick some brambles, and local or homegrown apples and pears are delicious cooked in this way. Try this served with ice cream, custard, or fridge-cold cream.
Autumn crumble (serves 4-6)
500-600g fruit (apples, pears, brambles, raspberries, plums are all good)
50g sugar
1 tsp cinnamon (optional)
1 tsp all spice (optional)
Preheat the oven to 190 degrees C.
Peel, core and chop apples and pears, and check brambles and raspberries for any stalks or husks. Plums should be halved and stoned but leave the skin on. Place the fruit in an oven proof dish and sprinkle on the sugar and spices. Bake for 5 minutes.
Meanwhile, make the crumble topping.
180g plain flour
90g sugar
90g butter or margarine
40g porridge oats
Place the flour and sugar in a mixing bowl, then rub in the butter or margarine with your fingertips. It should look like fine breadcrumbs but it's fine to have a few larger lumps of butter. Don't over mix it as this can make the crumble a bit heavy. Stir in the oats.
Remove the fruit from the oven and sprinkle the crumble over the top. Return to the oven and bake for 20-25 minutes until lightly golden.
|