Third Kirkcaldy Cycling Festival hailed a success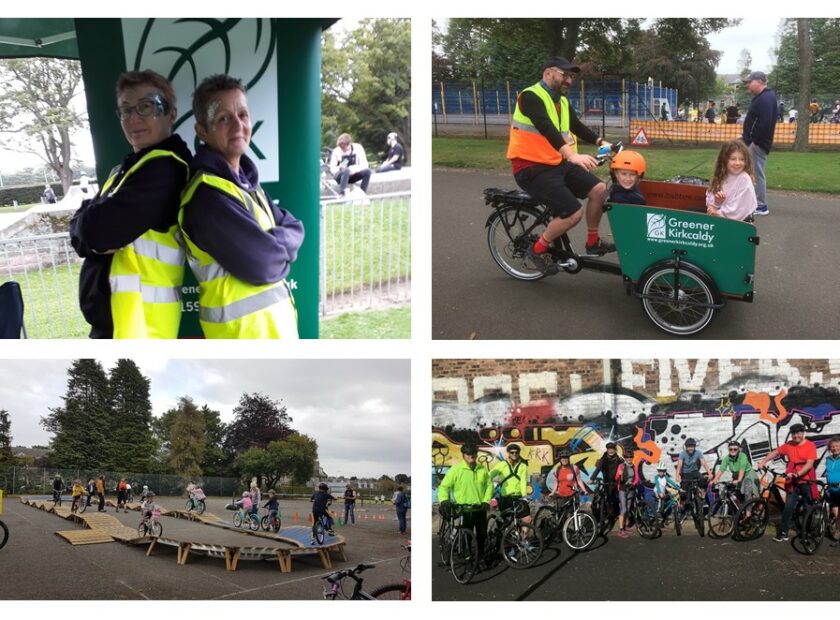 The third annual Kirkcaldy Cycling Festival came to a close on Sunday, after a week of fun-filled activities.
Co-ordinated by Greener Kirkcaldy, the festival highlights the joys of all things bike-related. The week kicked off with Bikeability Games for primary school children, where local children had some fun improving their cycling skills. The week went from strength to strength, with a combination of led rides and bike maintenance classes peaking with the Family Fun Day on Saturday 4th September.
Over 300 people visited the event in Beveridge Park, where the sun shone down on an array of activities for all the family. People enjoyed racing each other on Peachy Keen's pedal-powered scaletrix, or taking rides in the electric cargo bike. Lang Toun Cycles helped get 25 bikes back in working order, and visitors enjoyed a range of games, craft activities and glitter tattoos.
As before, the bike track was the highlight of the day, with 90 children enjoying the challenge of the two different courses.
The festival finished off with a well-attended bike ride round the town's three main parks, which was enjoyed by adults and children alike.
"I am thrilled with how popular the festival was this year," said Susan Jeynes, the festival's coordinator. "We are keen to encourage people to replace short car journeys with cycling, to help tackle the climate emergency. However, cycling can offer so much more than being a green form of transport, and the festival has been a great way to highlight the pure joy of getting on a bike."
This is part of a wider programme of activities run throughout the year. You can find details of regular rides and bike maintenance classes here.
|