Transport Day at COP26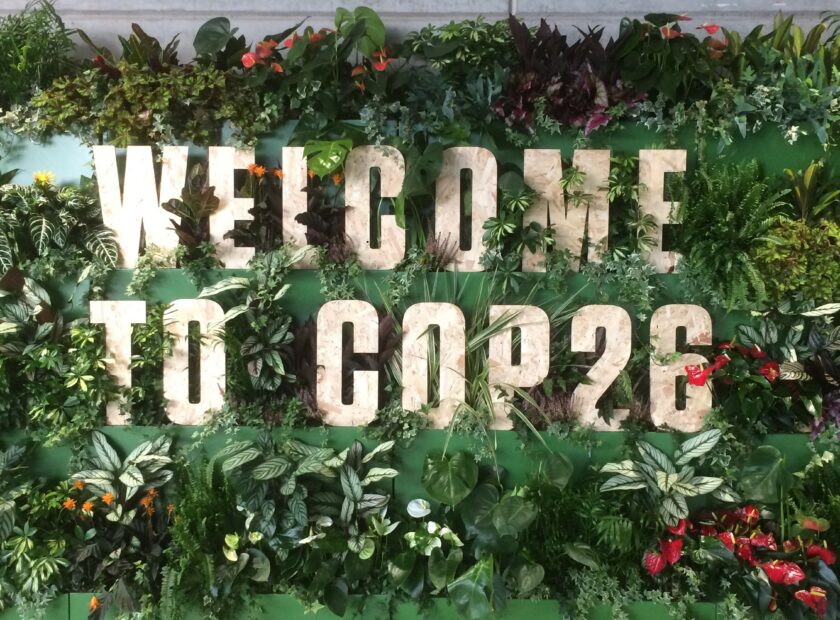 Susan Jeynes, our Active Travel Development Worker, tells of her experience at COP26's Transport Day.
I was excited to visit The Green Zone at COP26 on the summit's Transport Day, to get inspiration from what is happening elsewhere to reduce transport emissions and make sustainable transport options such as cycling and walking more mainstream.
In the UK, there have been no reduction in emissions from transport since 1990, despite significant technological advances. Whilst the official discussions appeared to have a strong focus on the move towards electric  vehicles, community organisations and charities working in the field were clear that this will only ever be part of the solution, and that a greater focus on walking, cycling and public transport is also key.
Bernadette Kelly, the UK's Permanent Secretary for the Department for Transport, acknowledged that in order to reach the required reduction in carbon emissions from transport, we need to reduce the amount that we travel by at least 20%. This is echoed by the Scottish Government's target to reduce car miles travelled by 20% by 2030.
A key message from the day was the importance of addressing transport issues in a way that is fair for everyone. Whilst replacing diesel and petrol vehicles with electric ones will reduce emissions, they do nothing to address the wider issues. Not everyone has access to a car. Some people can't drive for health reasons; some people can't afford a car; some choose not to own one for environmental reasons; and children, obviously, are not allowed to drive. Any strategies that focus solely on replacing the types of vehicles that we drive ignores this issue. If we are to enable everyone to travel to where they want to get to, it is vital that we provide a variety of other transport options.
With this in mind, it becomes clear that reallocating road space away from cars (e.g. narrowing a road to create a segregated cycle path) isn't about penalising drivers, it is about fairness.
In the 20th Century, towns and cities were designed around the car, with public space focussed on allowing people to drive places, rather than on creating streets where people stay, walk and play. As a result, over half of public space is typically occupied by cars.
However, it was inspiring to hear what some cities are doing to address this. In Barcelona, a project is underway that will reclaim 1million square metres of public space that used to be dedicated to cars. This will include pedestrianizing one in three streets by 2030. They are also implementing measures to cut traffic on key roads every Friday, to encourage more children to cycle to school.
Closer to home, Glasgow is working towards becoming a Net Zero City by 2030. This will include making sure that everyone lives near to good cycle paths that connect different parts of the city. The council is also developing a Liveable Neighbourhoods Plan to reduce the dominance of cars.
It was great to hear what is being achieved in different countries to reduce carbon emissions from transport in a fair way that helps all parts of society, and not just car owners. I see no reason why these can't be replicated in Fife, and I continue to hope for a future filled with quieter, greener, safer neighbourhoods, where people are prioritised over cars, and where walking and cycling become the most convenient and attractive means of transport for short journeys.
It was fantastic to hear that a last-minute intervention by an EU delegate also led to the inclusion of more sustainable forms of transport in the final COP26 agreement:
"We recognise that alongside the shift to zero emission vehicles, a sustainable future for road transport will require wider system transformation, including support for active travel, public and shared transport, as well as addressing the full chain impacts from vehicle production, use and disposal."
|