Happy First Birthday to Lang Toun Cycles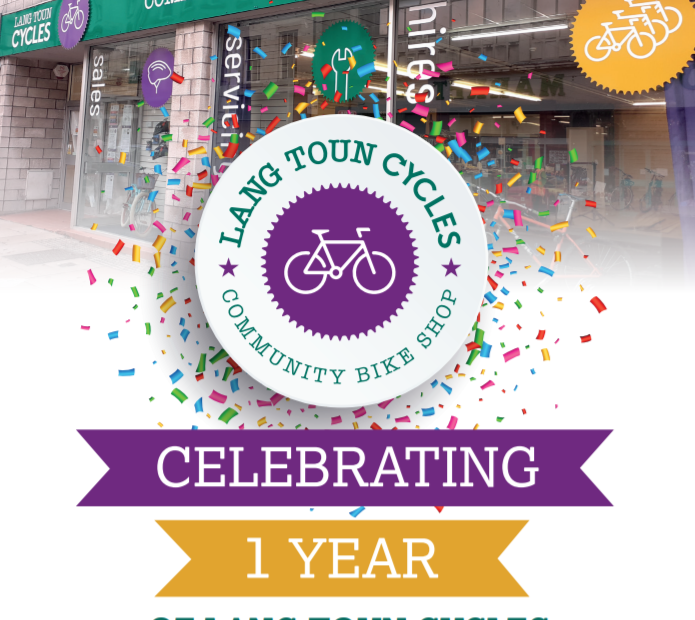 Lang Toun Cycles, the community bike shop and social enterprise on Kirkcaldy's High street, opened in November 2020. What a year it has been!
The purpose of the bike shop was clear from the beginning – it filled a gap in the market; Kirkcaldy had no bike shop in the town centre. It offers good quality, affordable bikes for sale, repairs, and servicing in an easy-to-access town centre location.
We upcycle donated bikes that would otherwise go to landfill or for scrap, or languish in people's sheds forever, and give people opportunities to volunteer – learning new skills and gaining work experience.
We also have courses and workshops teaching people cycle maintenance, and we run a bike loan scheme and free Dr Bike checks across Kirkcaldy.
The activities in the shop are closely linked to GK's wider cycling projects; including cycle training and led rides to build up confidence for new cyclists or people returning to cycling.  All about encouraging people to cycle as alternatives to short car journeys.
The project started up during lockdown and there were some challenges.
The main one was in finding premises. We wanted to be based in the town centre.  Town centre regeneration is important to Greener Kirkcaldy, and we also see it as a matter of fairness – we wanted the shop to be easily accessible to people who don't have a car.  Therefore, the High Street was the obvious choice.  Last spring and summer, many of the estate agents were on furlough, so there were long delays in getting to view properties we fancied.
The team – ever creative – started trading from a spare room within GK's headquarters building on East Fergus Place, and we finally secured this shop on the High St last October.  After a paint job and fit-out – and a lot of DIY from the team – we opened at the start of last November.
The enterprise has been more successful that we had dared hope. Despite the challenges COVID has brought to the project, it has been a good time for cycling – more people have been on their bikes than in years.  The shop is busy and it is exceeding its financial targets.
Just as importantly, it is fulfilling its social aims.
Lang Toun Cycles is located at 245 High Street, Kirkcaldy (opposite the Indoor Market). The shop is open Thursday – Saturday, 10am – 5pm.
If you're interested in volunteering with Lang Toun Cycles, give them a call, or email david@greenerkirkcaldy.org.uk for more information. 
|