October at Ravenscraig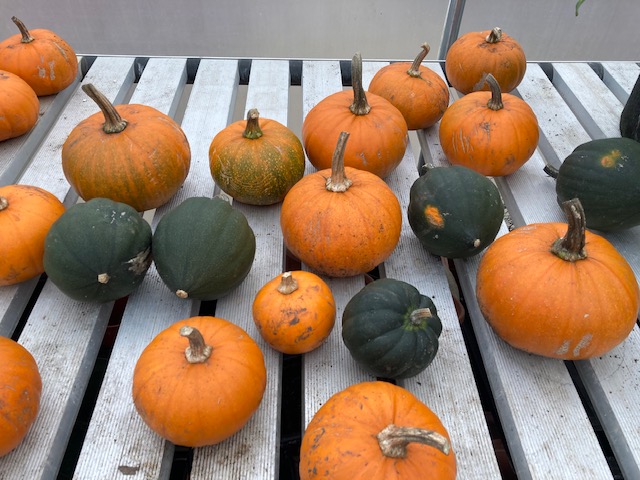 Jackie V from the growing team reflects on what has been a fruitful October at Ravenscraig.
Autumn us definitely with us now, and the leaves are falling from our orchard trees. The colours are beautiful with shades of orange, red and brown. We still have fruit on some of the trees, mostly the late varieties that will store for a bit longer. Red Devil apples are sweet and delicious, and just ripening now. We also have a cooking pear called Catillac that's ready to pick – these are large pears that shouldn't be eaten raw but are delicious when cooked (perfect for a pear tart!).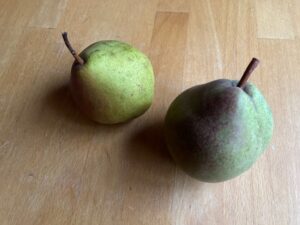 We had a couple of juicing days for our volunteers at the start of October. At the gardens, we have a great apple press that makes light work of the process and had fun preparing the apples for juicing and then watching the juice flow out. We filled many bottles, and the juice was delicious.
As we move through October the jobs at Ravenscraig become more about winding down for the end of the main growing season. We're tidying up the spent plants and harvesting remaining crops. Our pumpkin harvest has been fab this year and they are now in the polytunnel hardening off so that they'll keep for a few weeks more. We uprooted the remaining bean plants, and they are also drying off in the polytunnel. The beans will ripen, and we hope to dry some to store for use over the winter. The borlotti beans have done well despite a late start.
Our almond tree was planted out earlier this year and it has produced a small crop of almonds. We picked these recently and will now dry them out until they are ready to eat. Hopefully there will more in years to come.
Our herb spiral is filling out nicely, this had become very overgrown and a little neglected so earlier in the year we completely refreshed it. The herbs we planted are spreading out and growing well. As expected, the mints are growing at a fast pace and will need to be kept under control. However, the different varieties and scents work well together, attracting many insects, which is great for the plot. The team have done some attractive landscaping around the spiral, including planting some lavender and rosemary bushes around it.
Recipe
This month's recipe makes use of the autumn squashes that are plentiful at the moment. You can use pretty much any kind of squash or pumpkin in this.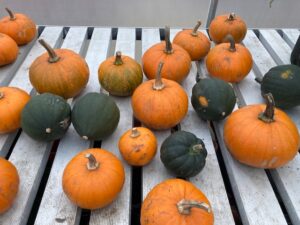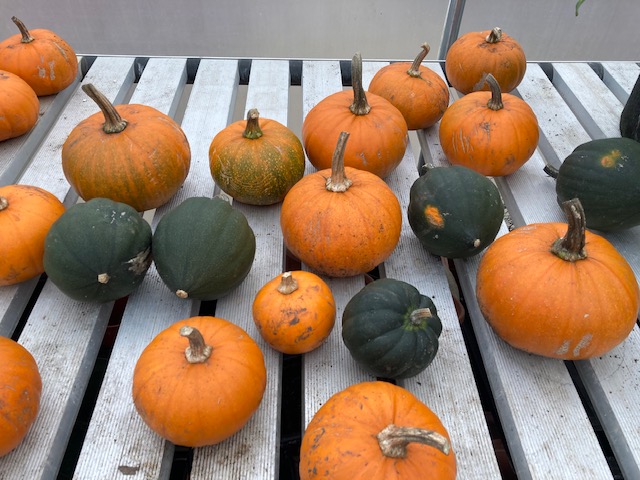 Sicilian squash and chickpea stew
1kg squash or pumpkin
1 tin of chickpeas
1 tin chopped tomatoes
2 onions
1 tsp cinnamon
1 tsp chilli flakes (or more if you prefer)
1tsp ground cumin
50g olives (stones out)
500ml veg stock
Peel the squash (a veg peeler is good for this) and remove the seeds. Cut into chunks of about 3-4cm.
Finely chop the onions and cook them slowly in a tablespoon of olive oil for around 10-12 minutes until soft and golden. Add the cinnamon, cumin, chilli flakes, salt and pepper and cook gently for another 2-3 minutes. Add the chopped squash, the tin of chickpeas, the tin of tomatoes and the olives and stir well. Pour on the veg stock and simmer for around 30-40 minutes until the squash is soft and the stew is lovely and thick.
Serve with couscous and a spoonful of natural yoghurt.
Enjoy this blog, why not learn more about our Food and Growing Projects.
|