Preparing Your Garden for Winter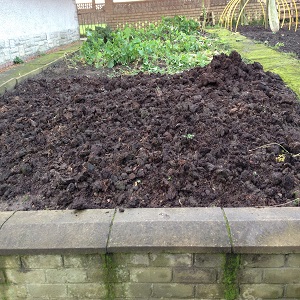 It's that time of year when the dark nights have rolled in and the colder weather is on its way. It's also the time of year when it's time to start preparing your garden or allotment for the winter months. Spring time will creep up on us in no time and it is important to keep your garden or allotment in a good condition in preparation for the this coming. Below are some tips on how to keep your garden best prepared.
The thing to do in your allotment over the winter months is to turn over the soil and put horse manure over the soil so that it is ready for planting in the Spring. A couple of images below illustrate this. The best time to do this is when it is dry. If you try when the soil is wet it could destroy the soil structure. Another tip to keep your soil in good condition is not to step all over it. If you can, it is good to create some sort of a path so you can access all the areas you need to.
At this time of the year your garden might be full of leaves that have fallen off the nearby trees, so it is a good idea to rake the leaves up from your lawn and other areas and then compost them. If you feel you don't have enough leaves for a compost then try asking your neighbours to see if you can use their leaves. Also make sure you have a cover to put over your compost heap.
As far as your grass is concerned it is best just to leave that alone until the spring time when the new growth appears. What you could do is look for any weeds that may have appeared and get rid of them.
Another good idea over the winter months is to start gathering a water supply for when the spring and summer arrives. We do live in Scotland so the chances of rainfall at this time of the year will be high and leaving buckets out to collect the rainfall could prove valuable over the summer where there may be a little less rainfall. In my last Growing Your Own Food blog, I mentioned that you could install a gutter on your shed to catch more rainfall. The images below shows how much water could be caught using this method.
If you find yourself with nothing to do in your garden over the winter then another idea is to spruce up your shed or fence. A fresh coat of paint will give a cleanness to your garden for when the spring time comes around.
One more useful tip that could come in handy over the coming months is to upgrade your garden equipment. There might be some wear and tear on your equipment and it could be an idea to get those items repaired so you are going into the spring with your equipment being in the best condition it can be in.
|