Greener Christmas – You don't have to be a Scrooge to save energy & money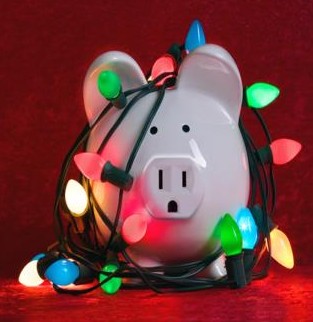 It's that time of year when we are all starting to think about Christmas and dusting off all the old Christmas decorations from the attic.  Energy use over the festive period increases as we all put up lots of decorative lighting around the house, spend more time at home over the holidays and cook lots of festive treats.
Here our Energy Advisor Brian explains how you can reduce your energy use and costs over the Christmas period but not have to compromise on all the bright lights and festive cooking.
Christmas Lights
We have all experienced the frustration of putting the Christmas lights up on the tree and around the house only to find out that half the lights are not working and you need lots of bulb replacements. According to the Energy Saving Trust an extravagant display can cost as much as £170 to power throughout December – producing enough carbon dioxide to fill 140 telephone boxes.  To avoid this and save energy and money each Christmas why not consider replacing your old inefficient Christmas lights with LED Lighting. LED lights use up to 90% less electricity than traditional incandescent bulbs and last up to 20,000 hours meaning you're not going to have to replace burnt out bulbs every year when you pull out your decorations. LED Christmas lights come in all shapes, sizes and colours as well as having all the same features as the old lights such as different settings for the light sequences.
Many of us forget to turn the decorative lights on the tree or outside off when going to bed. A good way to manage this is to put a timer switch on the plugs of all your lights so that they will go off at a set time saving you money.
In the Kitchen
Today's kitchen appliances use about 50 percent less energy than those built just a decade ago. Despite this, when holiday time rolls around your energy bills can rise considerably, what with your  oven, and dishwasher running overtime, and the door to your refrigerator standing open frequently as family members search for hidden treats. These simple tips to follow will help keep your energy costs to a minimum.
Don't overwork your dishwasher: All those extra dishes will need to be cleaned but it's more efficient to wait until the dishwasher is fully loaded. Go another step further and use its Economy setting.
Stuff more than just the turkey in the oven: Cooking several items at once in the oven is more efficient, just make sure you leave enough room for the air to circulate around each dish. Also opening the oven door unnecessarily lowers the temperature inside – by as much as 25 degrees – which increases cooking time and wastes energy.
Keep your head out of the fridge: It's tempting to keep going back to the fridge for all those festive treats but every time you open the door the cold air escapes leading to more energy being used to constantly cool down the fridge. Help your fridge and freezer operate efficiently and economically by keeping the doors closed as much as possible so the cold air doesn't escape. However, leaving the door open for a longer period of time while you take out the items you need is more efficient than opening and closing it several times.
Other useful Tips
Wear the Christmas jumper your grandma knitted you: Wearing your winter woollies will keep you warm and save you from turning up the thermostat.
Swap the electronic devices for board games:  Christmas is a great excuse to dust off all those old board games and get together with all your family and friends . Turning off all those new gadgets and the TV will keep power consumption to a minimum.
Block up your unused Chimney: Your unused chimney can be a source of draughts but also allows a lot of heat to escape. Using a chimney Balloon will ensure heat doesn't escape and can be easily removed when you need to use the fireplace. Just remember to leave a note for Santa to use the front door.
More Green Christmas Tips
Get more tips on saving energy and reducing waste, alongside a Christmas jumper swap shop and fun and festive Christmas crafts, food and drinks at our Green Christmas Fair on Saturday 5th December, 11am – 2pm at Hunter Hall, Kirkcaldy.
|