Autumn Apple, Sultana and Cinnamon Crumble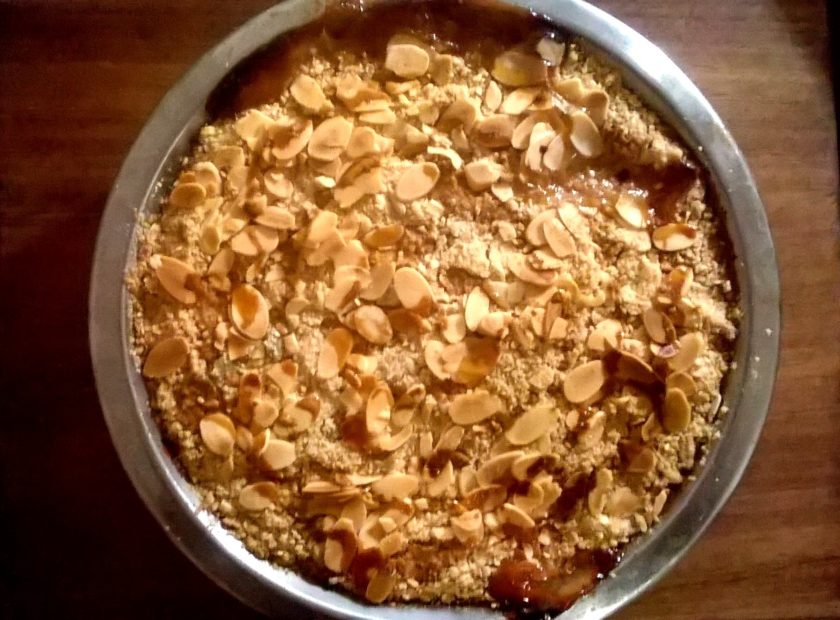 Warm apple and sultana crumble on a cold autumn day is a wholesome and classic comfort food. It can be easily whipped up in the evening, and re-heats and freezes well. This is a great recipe for using up old apples, too, that are too soft to eat fresh. Any extra apple or crumble mixture can be frozen and used at a later date.
Ingredients
For the crumble topping:
250g of flour (either plain, or a mixture of plain and wholemeal)
125g unrefined brown sugar, such as demerara
150g butter, cubed, and softened to room temperature
50g oats
10g of omega seed mix (sunflower seeds, pumpkin seeds, linseeds and sesame seeds)
Flaked almonds (optional)
Drizzle of honey, syrup or a sprinkling of sugar

For the filling:

450g apples (either cooking apples, such as bramley, or eating apples) peeled, cored and cut into pieces
50g demerara (reduce to 40g if using eating apples)
50g of sultana
1 tsp lemon juice



Method
Pre-heat the oven to 180oC
Mix the flour and sugar in a large bowl. Add the cubed butter and rub into the flour mixture by hand. Keep rubbing until the mixture resembles breadcrumbs. Make sure your hands are cool and dry by running them under cold water first, helping to make the mixture breadcrumb-y and prevent it becoming sticky. Add in the oats (and seeds, if using) and mix in well with a dinner knife.
Add the apple pieces to a large saucepan with a teaspoon of lemon juice, half a cup of water, and sultanas and cook on a medium heat, adding in the sugar and cinnamon. Cook for 5 to 10 minutes until the apple has softened, but not lost its shape and texture.
Lightly grease a large oven-proof dish. Add the cooked filling, then sprinkle the crumble mixture on top. If using flaked almonds, sprinkle these on top of the crumble topping, then lightly drizzle with honey or golden syrup or a sprinkling of sugar.
Bake in the oven for 40-45 minutes until the crumble is browned and the fruit mixture bubbling.
Serve with plain natural or Greek yoghurt, cream or custard.
With the exception of butter all the ingredients used in this recipe can be found in our Eco Shop and through the Fife Food for Fife Folk project

|