Planting the Orchard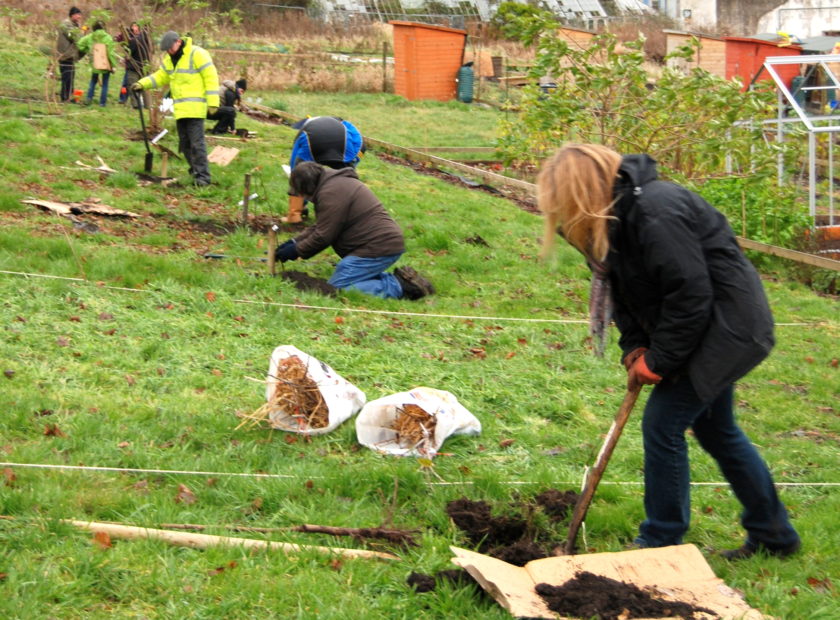 Thursday 6th December marked one of the most exciting days of the year for Greener Kirkcaldy. After 8 months of preparation at Ravenscraig Walled Garden staff and volunteers planted 50 apple, plum, pear and quince trees to create a brand new community orchard for Kirkcaldy.
Since April our award winning volunteer team have battled 4 foot high nettles and thistles, pot holes, buried walls and wasps nests so it was no surprise that the cold wet weather proved no deterrent. Andrew and Margaret Lear supplied the trees from their nursery in Highland Perthshire despite a nervous few days earlier in the week when the ground was too frozen to dig them up for transporting.
The morning began with a demonstration of how to properly plant a sapling to give it the best chance to grow into a productive, fruiting tree within 4 years, and soon the very first tree in the orchard was planted – a Discovery Apple. By coffee break 33 trees had been planted, as the volunteers demonstrated yet again how much can be achieved with enthusiasm and care. The Lears kept a watchful eye as the trees went in – James Grieve (desert apple), Czar (plum), Lady of Wemyss (cooking apple), Bloody Ploughman (eating apple) ….. the list goes on. All varieties have been chosen for the Fife climate, including local, heritage varieties.
The rest of the trees were planted by lunch time, and an excellent morning's work was rewarded with soup and baked potatoes cooked in the fire pit. An area of grass is now peppered with twiggy saplings and we can't wait till the spring when this new orchard starts to bud for the very first time.
There are more photos on our Facebook page. We always welcome new volunteers and hold regular volunteer sessions at the orchard. We offer training and support to the volunteers – no gardening experience is necessary, but skilled gardeners are very welcome!
|