Christmas Present Amnesty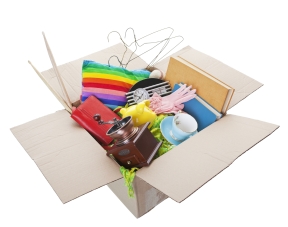 Saturday 12th January 10am – 4pm at the Greener Kirkcaldy Offices (First Floor, 252a High St – above the Advice Centre)
De-clutter after the Christmas gift-spree. Bring along your unwanted items to our 'free shop' and if something takes your fancy you can have it – FOR FREE!
At Christmas we all get presents that maybe we don't really want or need.  If you get two Peter Kay DVDs or a top that really isn't you, don't let them go unloved, bring them along to our Free Shop on Saturday 12th January for someone else to have, and maybe swap it for something else that takes your fancy.  You don't need to bring something along to visit the Free Shop, if you're on the High Street hitting the January sales you won't find a better bargain than here!  Come in, browse and see what we've got on offer.
Its estimated that an astonishing 99% of stuff we buy is no longer being used 6 months later – help make a difference to this number by making sure stuff you don't want finds someone who does.
|