'People, Community and our Planet'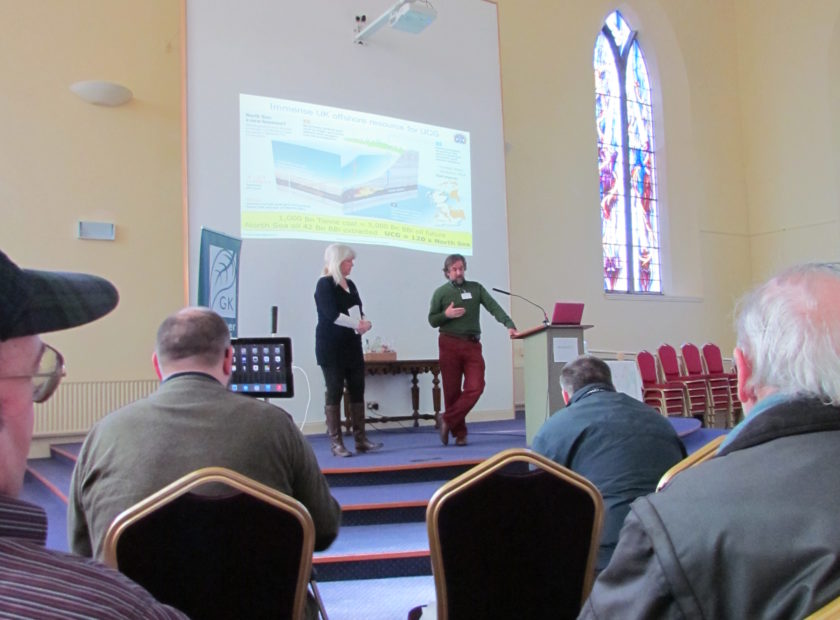 We held our 2015 Annual Gathering and AGM on Saturday 21 February. Thank you to everyone who came along. Our event's theme 'People, community and our planet' gave us a great opportunity to engage and inform the local community about our work as well as wider 'green' issues.
Updates from our team
We kicked off by celebrating our success and impact over the past year followed by updates on new projects starting soon.
Suzy Goodsir, Development Manager, spoke about our energy projects being at the core of what we do, reducing our community's carbon footprint, and helping to tackle fuel poverty. 'Cosy Kingdom' works with households who have homes that are hard to heat, have inefficient heating systems or worry about the rising cost of gas and electricity. This service helped over a thousand people in 2014. A handyperson service also makes energy-saving home improvements for people in fuel poverty – it helped over 200 households, with draught-proofing or low-energy light bulbs. These services will continue to be a priority for us in 2015 and beyond.
We're also keen to see more community-owned energy generation. We have been carrying out a feasibility study into a community solar energy project – putting solar panels on the roofs of large community buildings. We should be able to report back on that later this year.
We carried out a major community consultation into our idea for a Community Food Hub in 2014. Since then we have developed a business plan for the project, and are now seeking premises and funding to take forward the vision.
Two new projects for 2015 are the 'Green Works' project which will offer work experience and accredited training in horticulture at our two community garden sites. 'Living Well on a Budget', will support people across Fife to take more control of their household budgets: energy use, food expenditure, and wasting less food.
Suzy finished by thanking 'our wonderful staff team and our great volunteers, funders including the Lottery and the Climate Challenge Fund, and partners such as Fife Council, Citizens advice and Rights Fife and Kirkcaldy Community Gardens and Allotments'.
Geraldine O'Riordan, Senior Development Worker, told us that around thirty volunteers contribute their time on a regular basis with many achieving 100-300 hours of volunteering already.
As a former volunteer herself, Geraldine outlined her reasons for getting involved, with similar ambitions shared across all volunteers, "We have one common purpose – doing our bit to help our local community and the environment together. But most importantly it's fun".
Some volunteers work behind the scenes for example the voluntary management committee and a very productive team of media volunteers or 'bloggers'. Each blogger contributes one blog per month covering GK events and campaigns, environmental issues, 'going green', and much more. One of the blogs was recently picked up by the Scottish Government's Greener Together website and shared nationally.
Greener Kirkcaldy volunteers are also very successful at winning awards. Latest accolades include: David Ramsay being shortlisted for Fife Voluntary Action's, Active Volunteer Award for an individual who has demonstrated outstanding contribution in a physically active role; and Ian Stirton winning Board Trustee/Member Award for carrying out exceptional work whilst serving on the committee of an organisation.
Ronnie Mackie, Community Gardener, spoke about 'What a community gardener does?'. Ronnie works mainly at Dunnikier Country Park in partnership with the park's Development Group, Fife Council, local businesses and groups in the local area. The aims of this project are to increase bio-diversity and develop community use of the park. The park includes semi-natural landscape, woodland, gardens and a golf course.
Working very closely with local schools and group, the project is having an impact on pupils and local residents, and their attitudes towards using the park. One of their first tasks was to create a shelter belt of trees and shrubs around the areas being developed. Next came the planting of edible trees, bushes and ground cover. These activities are having huge educational benefits too for example schools gathering in the hay, learning about growing meadows and how this benefits wildlife and bio-diversity. Primary school pupils spotted 3 deer at their initial session, a first for many of the young people. More recently work at the park has developed further with 1000 snowdrops planted, a nesting box for barn owls fitted and more trees being planted in the coming weeks. So, what does a community a gardener do? He helps to grow communities!
Jackie Vural , Orchard Development Worker described 'a year at Ravenscraig Walled Garden' . Over 70 varieties of trees (Scottish where possible) have been planted in our community orchard, 50 of which are varieties of apple, with the rest including pears, plums, cherries and nuts. Two volunteer sessions take place every week to maintain it and our training allotment.
Starting in Spring, volunteers grow all plants from seed, from choosing the varieties, sowing and planting out.
Summer is a busy time of helping the plants to stay healthy and protected from bugs and hungry pigeons! As crops are beginning to ripen, there's an opportunity to eat what's been grown at our volunteer's barbecue.
Autumn is harvest time. Highlights in 2014 were 30 kilos of potatoes and bumper harvests of cucumbers, French beans and courgettes. Everything is shared with volunteers.
Winter remains busy as volunteers focus on keeping the training plot going with some winter crops and preparing for a new growing season. Jackie applauded the volunteers for their hard work and fantastic commitment. A final slide reflected on the why people volunteer at the gardens, and the passing on of the Greener Kirkcaldy Golden Welly Award to David Ramsay  for outstanding contribution.
Kitty O'Connor, Development Worker described the 'Development of the High Street Hub' which launched last October 2014, in what was our old Advice Centre on the High Street. Local community engagement is at the centre of our work and feedback told us that the old Advice Centre wasn't welcoming. The new Hub has been designed to draw people in with display boards illustrating the themes we work on. We've found that people who previously passed by the Hub now feel free to come in and find out who we are, what we do, how they can get involved. The importance we place on giving energy advice, encouraging people to drop in for information or to book a Home Visit, has not changed. And our Eco Shop, stocking local, Fairtrade and organic products as well as Ecover refills, has expanded in size and scope.
Building on the reputation we've already established, we feel we have brought together all the various strands of our work to engage the local community – in effect to create a Hub at the heart of our projects.
Our guest speakers
Two keynote speakers were invited to cover the 'community and our planet' themes. With a lot of discussion locally about the future energy landscape and how this might affect us, we invited Prof. Stuart Haszeldine from The School of GeoSciences, University of Edinburgh,to speak at our event on the topic of 'Unconventional Gas '. He covered two methods Fracking and Underground Coal Gasification (UCG) and their relevance to Fife, Scotland and the planet.
You can watch Prof. Haszeldine's presentation here.
Journalist, broadcaster and commentator Lesley Riddoch, spoke about local dimensions of community empowerment and what this means in practice, linking with
Stuart's presentation in particular around control and ownership of local renewables and energy supply.
You can watch a film of Lesley's presentation here as well as read and listen to some further discussion on our event from Lesley Riddoch:
http://www.lesleyriddoch.co.uk/2015/02/can-gas-be-light-green-.html -Scotsman article
http://www.lesleyriddoch.com/2015/02/is.html  'Is gas Green?' podcast (about 11 minutes in).
Our event was followed by Greener Kirkcaldy's Annual General Meeting. We look forward to planning another event next year.
|