Penne al'arriabiata: a simple, store-cupboard supper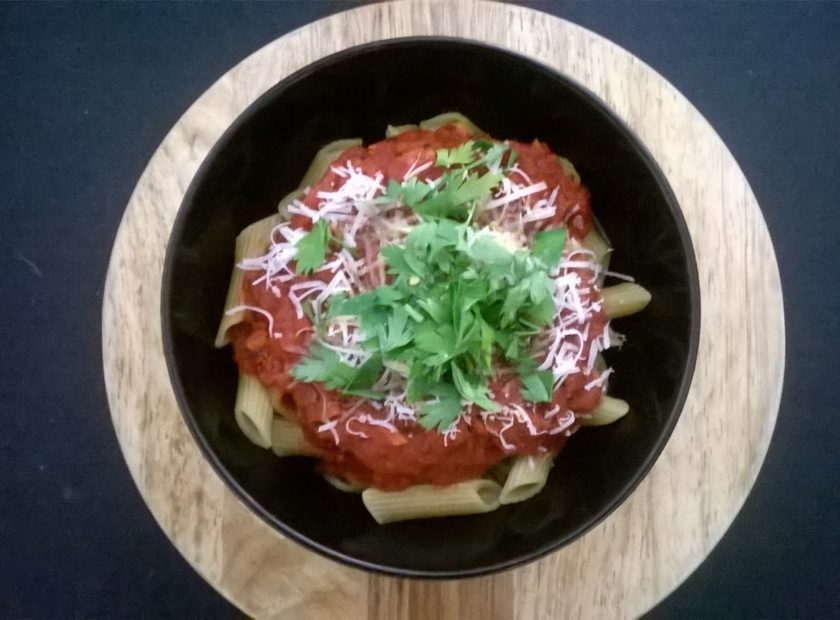 Warm, nourishing and rich in flavour, penne al'arriabiata makes for a simple and speedy store-cupboard supper. Essentially comprised of 4 key components – pasta, tomatoes, garlic and chilli – it's perfect for a quick midweek meal as this recipe can be made in under 15 minutes. The sauce can also be used as the basis of a number of different dishes, such as bolognese and cottage pie, so can be made in larger quantities and used later, when required.
Since the dish is so simple, the key is to use really good quality basic ingredients and make sure you take your time stirring the sauce as it thickens on the heat – a burnt sauce from sticking to the bottom of the pan will detract from the flavour!
This recipe makes 2 portions and can be scaled up or down to suit. I like to be generous with my servings of sauce, so you may find you actually need less than than the recipe states. I made this using ingredients from our EcoShop and calculated a cost of 84p per person, making it cheaper than a similar shop bought ready-meal, but much more satisfying.
Ingredients
 200g dried penne pasta
1 tinned of good quality, preferably organic, tinned tomatoes (buy the best you can afford as this is the key ingredient, or alternatively use fresh, over-ripe tomatoes, skinned, de-seeded and chopped)
1-3 cloves of garlic, chopped
1 medium fresh chilli, chopped, or a sprinkling of dried chilli flakes
1 teaspoon of good olive oil (for cooking)
salt and pepper to taste.
Optional: a handful of fresh basil or parsley or grated hard cheese
Method
Heat the olive oil in a heavy bottomed saucepan and add the chopped garlic and the chilli or chilli flakes, stir and reduce the heat to medium, cooking for around 2 minutes.
Add the penne pasta to a pan of boiling water than reduce the heat. I will often add a tablespoon of bouillion to my pasta water, but this is optional and to taste.
Add a tin of chopped organic tomatoes or plum tomatoes to the pan with the galic and chilli
Cook both the pasta and sauce for around 10 minutes (or to taste), stirring both regularly.
Take the pasta off the heat. Add a ladleful of the pasta water to the thickened sauce and continue to cook for a further minute or two.
Serve, topping with grated hard cheese, basil or parsley to taste
|