A day in the life of a Greener Kirkcaldy energy advisor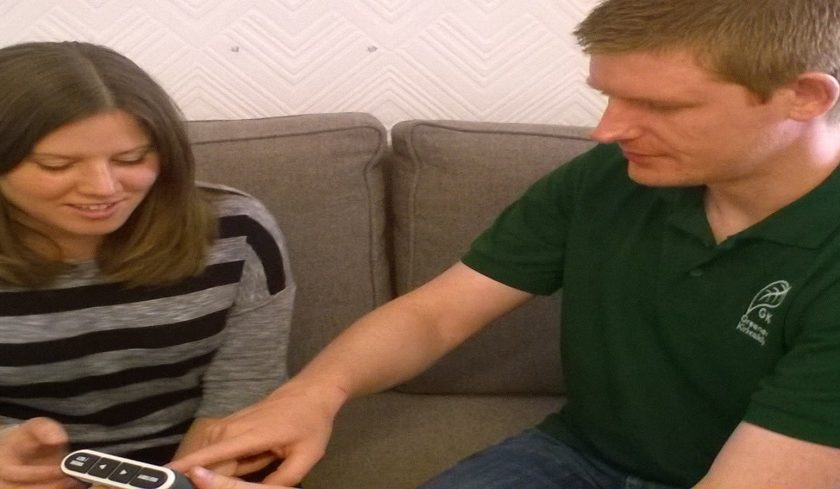 Greener Kirkcaldy have been providing a free home energy advice service since 2009 and have helped over 3,000 Fifers reduce their energy use, bills and carbon footprint. Today we have a team of three expert energy advisors who are working fulltime to help local households understand their energy use, improve the energy efficiency of their home and change behaviours towards energy use. This is done through our Cosy Kingdom energy advice service where we can come to your home and give you one to one free impartial advice on a wide range of domestic energy issues.
Each energy advisor usually conducts anything from three to five home visits a day. Visits are arranged with the householder to suit them and are booked by emailing or calling the office, popping into our High Street Hub or by chatting to one of our advisors at the many events we attend around Fife.
Here, Brian describes what a home energy visit usually involves and shares a case study.
So what happens on a free home energy visit?
The advisor asks a series of questions designed to identify any areas in the home you may need help and advice in, such as how to heat your home efficiently, how  to understand your bills and getting the best energy deals, and how to reduce your energy bills through no cost behaviour changes as well as advice on available energy schemes and grants. The advisor will do a visual walkover of your property, looking to see if your heating controls are set at the optinum settings, and will identify any areas in which you are using too much energy , giving advice on how to mitigate against this.
For example did you know that simply setting your thermostat to 22 C, not 21 C, could add £75 a year to your annual energy bill? An energy monitor can be lent for a month to you free of charge  which will give you up to date information on your energy use and will help you identify areas in which you are using excess power. Many people have issuses with their energy supplier and our advisors will ring up the supplier during the visit with most issues being resolved there and then.
Case Study of a home energy visit
Mrs McGee is retired and living in a large converted surgery built in the late 1800s. During the visit she mentioned that she had been receiving frequent calls from organisations informing her of the need to change her boiler in the near future.  After investigating, the advisor found that the boiler was an efficient 8 year old condensing combination boiler meaning it should not need to be changed for some time. This was a weight lifted from her mind as she said she was getting anxious about changing the boiler.
The advisor took some time to discuss her fuel bills – what each part of the bill means and how to understand the tariff. After the advisor explained the fuel bills and the tariff Mr Jarvis felt much more confident in understanding her energy usage and costs.
To help Mrs McGee save as much money as possible the advisor explained certain ways in which she could save energy and money. The advisor noticed that her TV was left on standby and explained that this would be costing her money on her electricity bill. The advisor decided at this point that she would benefit from borrowing an energy monitor for a month to help her to remember to turn appliances off standby before leaving the home. The advisor explained how the monitor worked and gave out some useful information on how to reduce her energy use.
She informed us that she was surprised at how much energy her appliances use, such as the kettle and shower, and after the home visit is much more aware of her energy use and has seen a reduction in her energy bills as a result.
Who can get a free home energy Visit?
The service is open to everyone, whether you're living in a small two bedroom flat or a large five bedroom bungalow, we all use energy in the home and there are opportunities to save in every type of household. The service is open to and has benefited private tenants, council tenants, housing association tenants and private homeowners.
Greener Kirkcaldy can help
Our Cosy Kingdom service offers free and impartial home energy advice. One of our energy advisors can come to your home and give you one to one help and advice.
For more information or to arrange a free home visit get in touch by calling 01592 858458, emailing info@greenerkirkcaldy.org.uk or pop into our High Street Hub, 254a High Street, for a chat Wednesday to Saturday, 10am-4pm.
|