National Walking Month – try active travel this May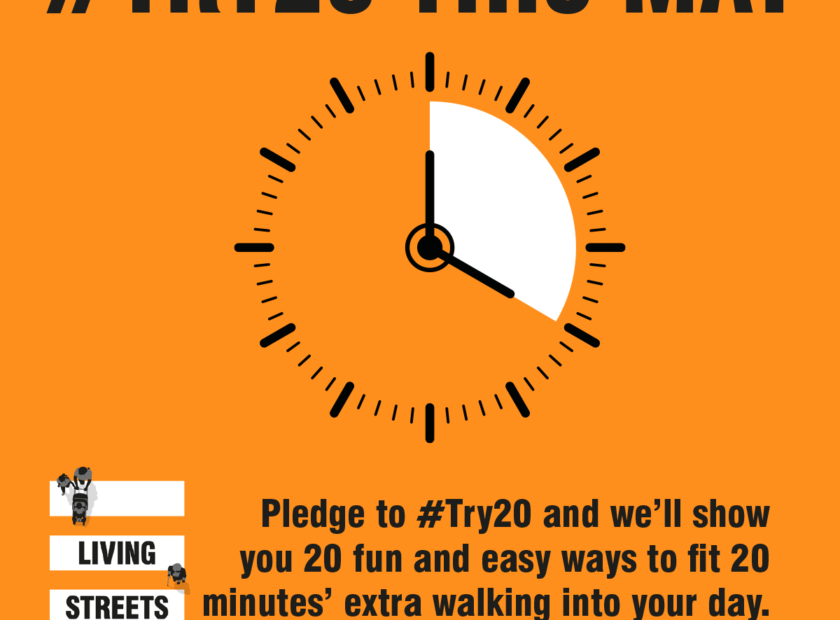 May is National Walking Month! This month people are asked to try and fit 20 minutes of walking into their everyday routine to encourage the public to keep physically active. Adopting walking into your routine can have positive benefits for both your own health and the environment.
Walking can be a great way to keep physically active as there are plenty of opportunities to add it to your daily routine. Sustrans has some suggestions of how you can fit walking into your routine:
For shorter trips to work or the shops leave the car and walk instead
Instead of sitting at a desk during your lunch break why not go for a short walk
You could make it a family activity and help encourage all the family to stay active
Plan your exercise, gradually introducing it into your routine by starting with 10 minutes a day and increasing your time and distance over time.
Physical exercise can have several positive benefits for your health. Adults are recommended to participate in 2.5 hours of physical activity a week. However, in the UK levels of physical fitness are low with only 40% of men and 28% of women meeting these recommended levels of exercise. According to Sustrans, physical exercise can help to considerably lessen the chances of many serious illnesses such as:
Heart disease
Asthma
Diabetes
Cancer
Keeping active has also shown to improve other areas of physical health and wellbeing, for example bad backs and mental health.
If your reduce your car use and start to travel active, this can also benefit the environment. At the moment, UK Transport CO2 emissions are expected to continue to increase up to 35% between 1990 and 2030. So in order to meet emissions reduction targets it is important to make changes in the way we travel. The department of transport has stated it could be possible to reach a 60% of CO2 reduction in the UK's domestic transport sector by 2030, with early changes in travel behaviour. One such change to help reduce CO2 emissions is trying to reduce long car journeys. Sustans advises that forward planing can help to decrease the amount of long car journeys you take:
If the journey to your work is a long drive (too far to cycle or walk), try public transport or try and find someone to car-share with
When going shopping plan what you need so you can buy in bulk rather than having to do numerous journeys
Try and use public transport – CO2 emissions per passenger for train and coach are on average, six to eight times lower than car travel
Cycling is also a healthy alternative, as it is a good source of exercise and a nice alternative to a car when traveling short distances. You can also take your bike on the bus or the train for longer journeys! According to Why Cycle? there are variety of benefits to cycling:
If you cycle regularly it can improve your fitness level, help to reduce the risk of heart disease and make you happier!
Also (after the initial cost) a quality bike can last for many years and at most can cost up to £50 a year to maintain (it will cost even less if you fix it yourself), add the costs of MOTs and insurance to your fuel costs and using the car works out much more expensive.
Maintaining your bike doesn't have to be difficult either. Bring it along to one of Greener Kirkcaldy's Dr Bike fix-it events and get it checked out and repaired for free. You can even learn skills to maintain it and fix it yourself at the upcoming bike maintenance workshops.
Dr Bike will be at Kirkcaldy Farmers Market this Saturday 28th May, 9am – 1pm, at the Rabbit Braes and Linton Lane Centre Gala next Saturday 4th June, 12pm – 4pm outside the Linton Lane Centre. The next bike maintenance workshop is Saturday 18th June, 10am – 12.30pm at Hunter Hall.
|