May at Ravenscraig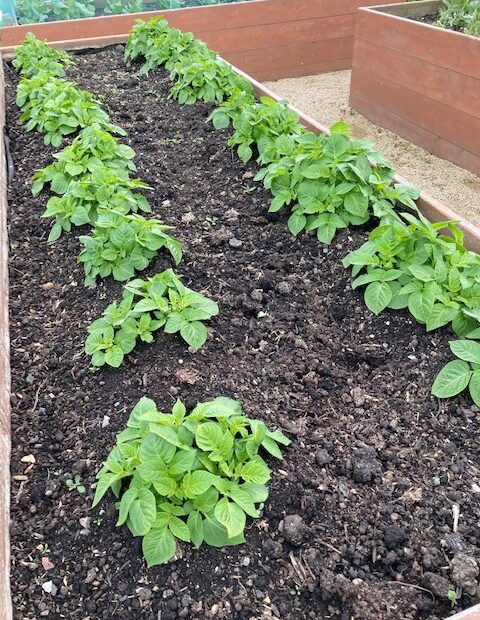 Our Sessional Worker Jackie talks about what goes on in May at Ravenscraig Walled Garden in her latest blog. 
Everything at Ravenscraig is lush and green. The recent rain has been great for lots of our veg and fruit. The potatoes are sprouting nicely in the raised beds, the broad beans are flowering, and the garlic is looking healthy.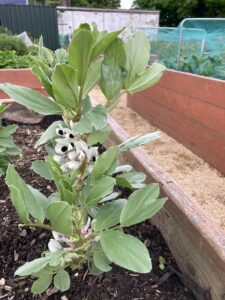 The soft fruit bed behind our building is doing really well this year. There are red and white currants, blackcurrants, gooseberries, Japanese wineberries and rhubarb in this strip of rough ground in front of the old council buildings. We didn't have high hopes of anything growing here but the fruit bushes seem to love it! There are wild strawberries and mint growing around the base of the bushes, these keep the weeds down and look good.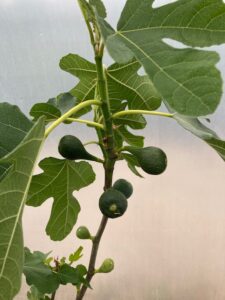 In the polytunnel, our figs are growing well, with lots of small fruit starting to develop. We've planted out some tomato plants and we're nurturing courgette and squash seedlings. They've still got a bit to go before we can plant them outside, but it's been fairly cold overnight so they will benefit from a couple of weeks more inside.
In the orchard, the apple trees are still in bloom with lovely pink and white blossom. The pears are developing well this year and seem a bit further ahead than usual. Over the last few years, our plum trees have been hit hard by greenfly and it looks like this might happen again this year – we're still looking for a solution for this, so all ideas are welcome.
May is a great time of year for fresh herbs. Our perennial herbs such as oregano, rosemary, sage, chives, fennel, and mint are growing well. We've also sown lots of basil, coriander, dill and parsley and hope for good results. We're doing some work on our herb spiral – we started to make changes last year, but recent events delayed things a bit. So we're hoping to get back on track with it this year and return it to its former glory.
Fresh herbs are versatile and can be used in many different recipes. They lift a pasta dish, they can be added to omelettes and sprinkled on pizzas. Try some mint tea or add a sprig of mint to some sparkling water for a refreshing drink.
This month's recipe is a fresh herb sauce to use all of the lovely soft herbs from the garden. It can be served with pasta, grilled fish or chicken, roasted veg, or boiled new potatoes. You can adapt it based on the herbs you have, so feel free to try different combinations.
Fresh herb sauce
1 large bunch of soft fresh herbs such as flat leaf parsley, basil, mint or dill (or a mix of these)
1 clove of garlic, peeled and chopped finely
1 tablespoon of capers (optional)
2 teaspoons of mustard
4 tablespoons olive or sunflower oil
1 tablespoon red or white wine vinegar
Salt and pepper
Roughly chop the herbs on a large chopping board, add the garlic and capers (if using) and keep chopping and mixing together until everything is smooth and combined.
Scrape this mixture into a bowl and add the mustard, oil, vinegar and seasoning. Mix well and then taste. You can add more seasoning, oil or vinegar until it's just right.
You can read what happened at Ravenscraig in April here.
|