Asparagus season is now upon us!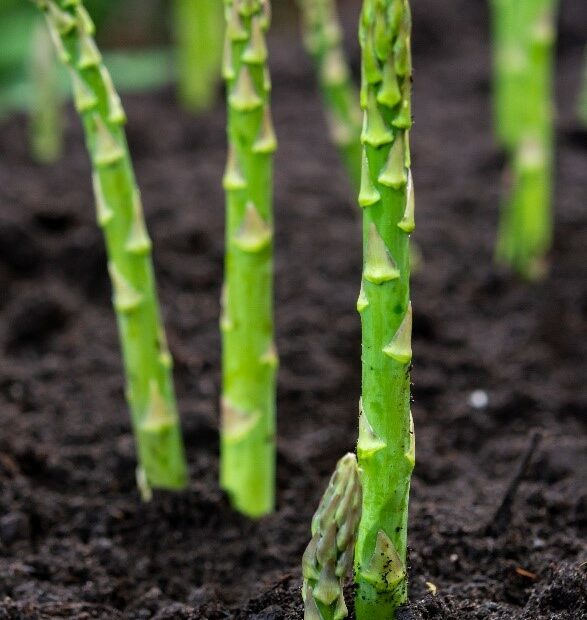 Our Community Chef Iain shares what you can do with Asparagus in his latest blog. 
The season for asparagus is very short and is grown widely in the UK including many Scottish producers. Asparagus has a reputation for being bad for climate change (https://www.nationalgeographic.com/culture/article/the-surprisingly-big-carbon-shadow-cast-by-slender-asparagus) but this is only due to asparagus being flown in from China, Mexico, Peru or the USA causing high CO2 emissions from food miles. In fact, asparagus has a very low carbon footprint (and water footprint) so, the best time to eat it is when it is in season and local!
This delicious vegetable is packed with essential minerals and vitamins and can be cooked in many ways. "Fresher the better" is a phrase often used, but with asparagus, it is important to get the full flavour and nutritional benefits. When you buy it have a good feel of them, they should be firm and a bright colour.
To prepare the spears it is better to remove the woody part of the stalk. To do this hold the spear at the very bottom and about 3 inches up and bend the spear will snap at the point where the stalk becomes woody. You can use the parts you break off to make a stock that is great for risottos and soups.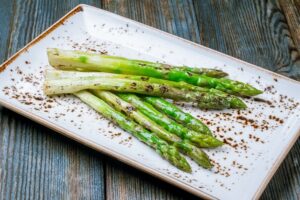 To cook asparagus keeping it simple is a good way to treat it. You can cook in salted boiling water and dress with olive oil and lemon juice, or chargrilled (great on BBQ) again with olive oil and lemon. It is a good idea to blanch the spears in boiling water for 1-2 minutes and refresh in ice water. This makes it easier to chargrill and stops the outside of the spear from drying out under high heat. Enjoy warm with dips or through salads.
|