Let's Celebrate the bike and cycling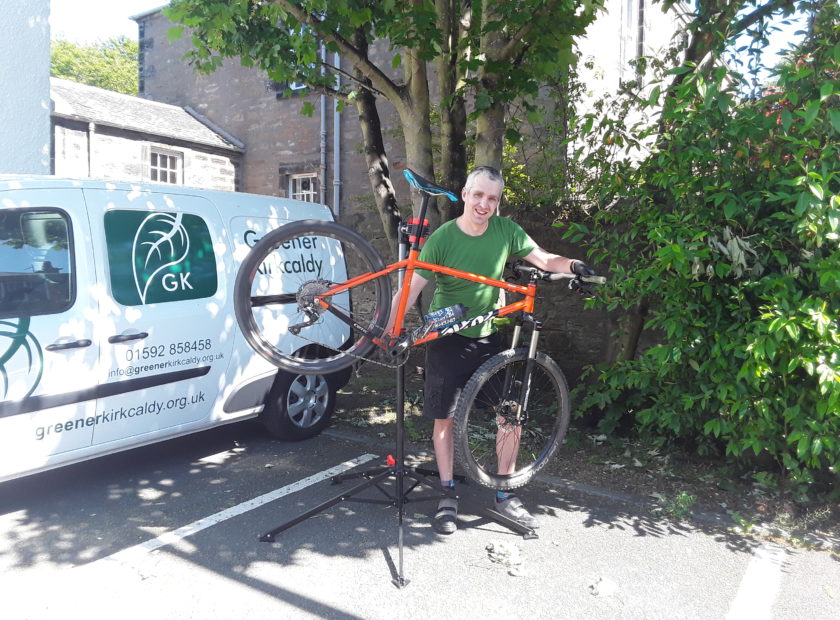 Bike Week UK is an initiative of Cycling UK to celebrate cycling and the joy of riding a bike.  This is a good time to let you know about our newest project.
Lang Toun Cycles – Coming soon!
We're working on a new project – Lang Toun Cycles funded by the Scottish Government's Climate Challenge Fund and Path for All's Smarter Choices, Smarter Places. Lang Toun Cycles will be a new Kirkcaldy community cycle shop, offering cycle servicing and repairs, bike maintenance workshops, sales of refurbished bikes, and a small range of accessories. We're looking for new town centre premises for the project, but for the time being are operating a temporary Cycle Surgery from the Greener Kirkcaldy building at 8 East Fergus Place.
The Cycle Surgery is running FREE bookable Dr Bike sessions every Monday in June. At Dr Bike sessions, our new Cycle Workshop Coordinator, David Glover, who is an experienced cycle mechanic, will safety check everything on your bike from wheels, brakes, gears and tyre pressure to lights, racks, pedals, saddles and more. Any minor adjustments that can be made to the bike will be done there and then. For anything that can't be fixed on site, we will let you know exactly what needs doing, and an estimate of the cost, in a "Dr Bike health report", which will be emailed to you afterwards.
Greener Kirkcaldy Volunteers are being given priority access to the Dr Bike session on Monday 22nd June. To book on, please follow this link. Be quick! Previous sessions have filled up within 24 hours of being advertised!
In the near future, Lang Toun Cycles will be offering regular bike servicing and repair options out of the Cycle Surgery at East Fergus Place at a very reasonable cost to anyone needing a bike service or repair. Longer term, once we have a larger location, we will offer bike maintenance workshops, and will also be looking for donations of old bikes that can be repaired and refurbished to then be sold from the shop. So if you have any unused bikes that you would be willing to donate please bear us in mind. A collection service will be available.
All money generated from Lang Toun Cycles will be fed back into the project to get more people in Kirkcaldy cycling. For more details about Lang Toun Cycles please get in touch with David Glover, Cycle Workshop and Retail Coordinator, by emailing: david@greenerkirkcaldy.org.uk.
|