Kirkcaldy Walking Festival: Finding your path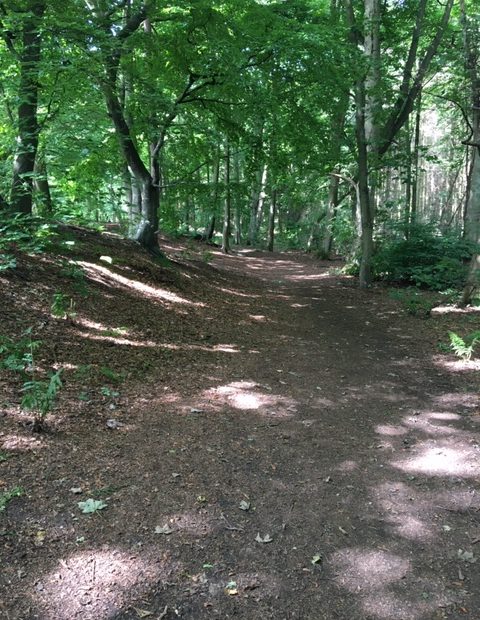 During lockdown I have been making the most of being outdoors. In Kirkcaldy, we are really lucky to have some beautiful parks and coastal walks. I have also used this opportunity to find out more about, and explore Fife's Core Paths. These paths are local paths and trails and cover the whole of Fife. Some of them are well known and others are not. I think a lot of them are old farm tracks between townlands and old roads people may have used in their local area. Sometimes it's not so clear why they are there but I like to make up my own stories about those ones – where they come from and where are they going.
All the core paths in Fife are gathered together in one place online and are easy to navigate with a little patience. You can print the maps you want off too. Follow the links to find a path or a set of linking paths near you. As it's the Kirkcaldy Walking Festival I tried a new one on Monday linking a few paths together. I used Map 53 to take me a on walk from Bennochy Road through Criagarter Plantation and Sunnybrae Plantation, to Oriel Road. It gave me the most glorious view of Kirkcaldy, The Lomonds, Largo Law up to the East Neuk, and across to Bass Rock, Berwick Law and East Lothian in one whole vista on the approach to Rabbt Braes. It was worth going up there for the view alone. I then walked through dappled shade in woods, and stopped to forage some wild raspberries while taking in the view up to Torbain Tower before heading back in towards Kirkcaldy. Here is the path I took:
Path 433: Starting on Bennochy Road where the old Maternity Hospital is, I headed up Bennochy Road. It's worth taking a moment to pause at the renovations being made at the old hospital site. Some listed buildings in the complex are bring repointed and reroofed. It's great to see old buildings being brought back to life. When you reach The CO-OP, turn tight and keep going. I paused on the way to Rabbit Braes to take in the whole view of Kirkcaldy

Keep following Bennochy Road around to Wester Bogie Road. Cross over towards Torbain Road. Before you get to the turn off for Torbain Road, you will see an old iron gate with a Fife Council Core Path marking pole (purple triangle). Go through the gate – you are now entering onto Path 826 at this point. Follow the obvious path through the woods. There is a lovely collection of painted stones forming in the woods.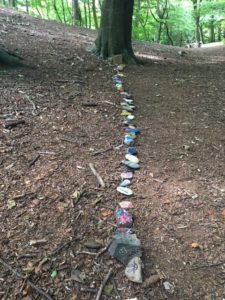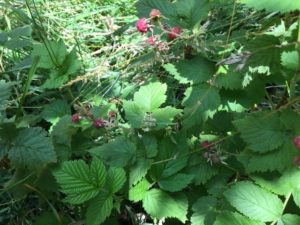 Keep following the marked poles until the path starts to go downhill to join path 436. You will now be going downhill and through Craigarter Plantation towards Sunnybrae Plantation. I paused here and there to admire fields of corn through the trees and forage for wild raspberries.
The only sounds I could hear were the wind rustling the leaves and birdsong. The path got a bit confusing as I came onto open ground- see image.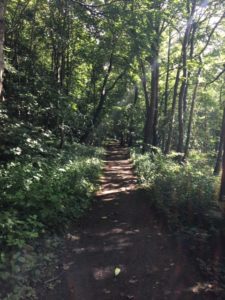 The path seemed to take me uphill or to the back of a house, but eventually I found the right path. On the path that seems to head towards the back garden of a house, there is a few trees on a very small rise or incline. If you look beyond the trees there is a path heading uphill. Take this path which will bring you around and down through woods at the back of house. This is path 436 continued. Keep going until you meet a tarmac road. Turn to your right and following the road until you a see sign pointing to a private road (Raith House). Opposite this road there are clear marked poles leading back onto path 436. From here, this path will bring you all the way back to Oriel Road through Sunnybrae Plantation. You'll pass lots of homemade dens that people seem to have enjoyed playing with.
All in all this walk took me 2 hours door to door with breaks for snacks and snacking on wild raspberries. It took me from the centre of Kirkcaldy through woods and cornfields, back into the urban hub of Kirkcaldy. If you wanted to make it a more circular path you could cross over Oriel Road and join path 435 on the opposite side taking you through Long Braes plantation back up to Rabbit Braes. I am going to save that one for another time!
Walking the core paths takes a little bit of planning but is well worth it. Always check the paths online and follow the links. Some paths may have temporary diversions or could have become grown over. Enjoy!
|