Kirkcaldy After Lockdown – Community Survey Results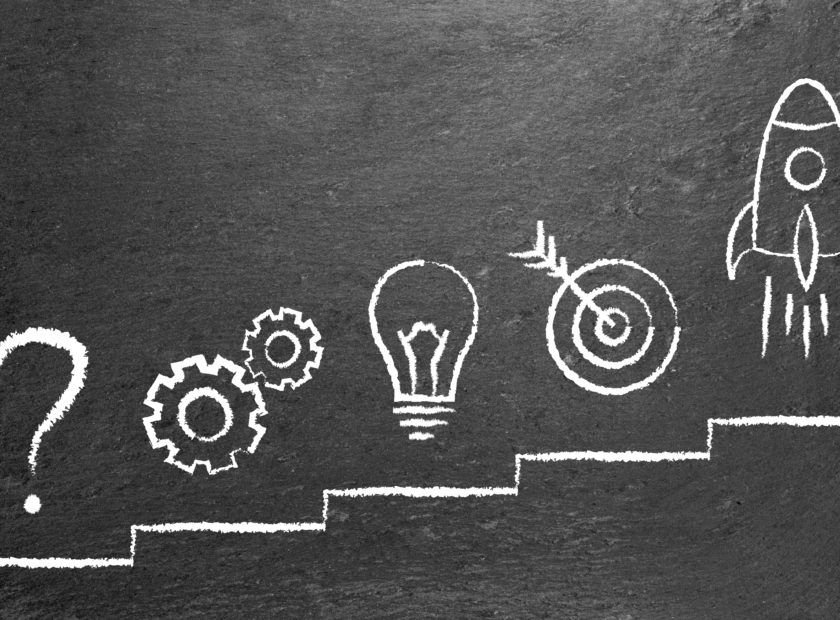 At our Kirkcaldy After Lockdown event in July, we started a conversation with around 60 people asking what post-lockdown Kirkcaldy should look like, and how Greener Kirkcaldy should get involved (read the results of this conversation here).
We followed this event with a community survey to gather your thoughts and ideas. We asked you:
What do we love about Kirkcaldy (now)?
What should our future ambitions for Kirkcaldy be?
What changes need to happen in Kirkcaldy for these ambitions to happen?
What should our top priorities be? What part should Greener Kirkcaldy play?
150 people responded to our survey with lots of positivity, passion and ideas – showing there's a lot of love for Kirkcaldy and a desire to work together to make it better. Thanks to everyone who took part, we're using your feedback and ideas to update our Strategic Plan for the next few years. We'll publish this over the summer. Here's a summary of what you told us.
Community Interests
As a community:
91% of you are interested in town centre regeneration
86% in our local environment
70% in cycling and walking
69% in local food and growing
65% in community development and empowerment
64% in tackling poverty and inequality
59% in solutions to climate change
59% in waste reduction
50% in local renewable energy
What do you love about Kirkcaldy (now)?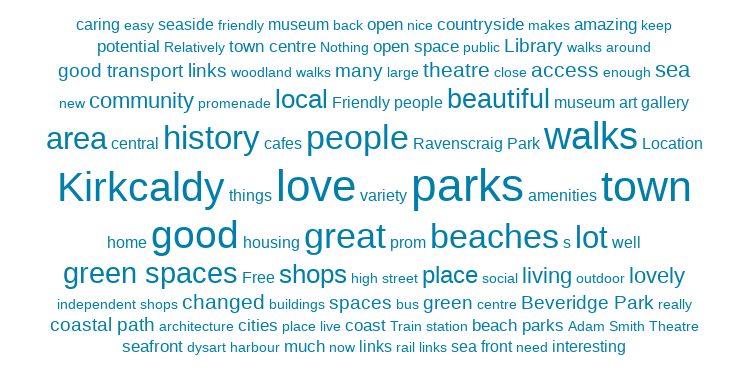 You told us the things you love about Kirkcaldy are… the green spaces, parks, beaches, and the seafront… the friendly people, the community spirit, community projects and support… the history and heritage… the transport links, the culture, the businesses, the amenities, the location… the creativity, the innovation… and the potential.
What should our future ambitions for Kirkcaldy be?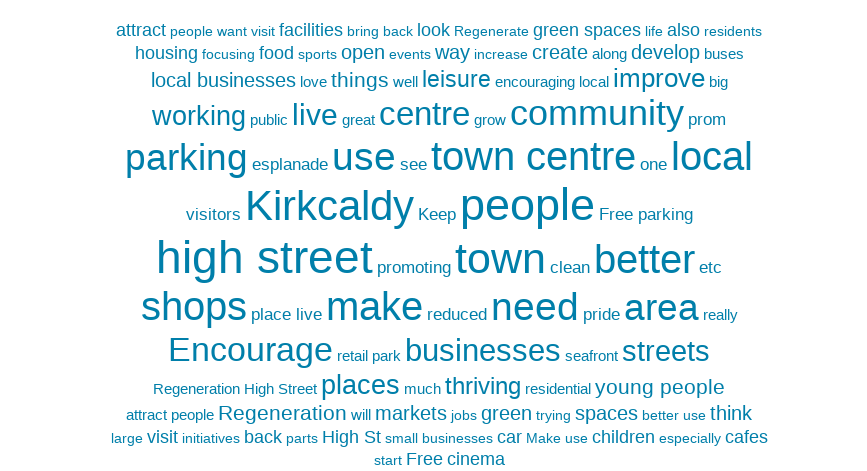 You gave us lots of inspiring visions for what Kirkcaldy could be like, but the main themes that arose were:
A thriving, vibrant, re-energised regenerated town centre, with a high street worth visiting, where people can shop local, meet and engage in leisure/recreational activities
An inclusive town centre with something for everyone, and more for young people
A town centre that attracts investment, visitors and local tourism
A more resilient town
A 'greener', sustainable town
A walking and cycling-friendly town centre, with less cars
A bottom-up, collaborative community approach, involving everyone in decision making
Raise civic pride and sense of community
What changes need to happen in Kirkcaldy for these ambitions to happen?
You also had lots of ideas for specific projects to regenerate the town – from creating artist hubs in empty properties, community gardens in the town centre and renovating town centre units into residential properties, to community energy projects, more pedestrianised areas and on-street bike share schemes. We'll consider all of these ideas. Here are the main changes you think need to happen:
Involve local people in designing community solutions to community issues
Bring all players together to work in partnership – create a 'regeneration committee' for genuine cooperation
Ambition, drive, determination and breakaway from old thinking
Change attitudes – more positivity, pride and sense of community – make people feel part of Kirkcaldy – celebrate the local and make more of our history
Improve cycling and walking infrastructure in the town centre and connecting to surrounding areas
Re-think the high street, new ideas for empty properties, more spaces to bring people together, more leisure, changes to parking etc.
Attract and support businesses and investment
Empower/educate the local community
More community-led activities
Learn from the changes that have happened in Kirkcaldy, and from what's happening in other towns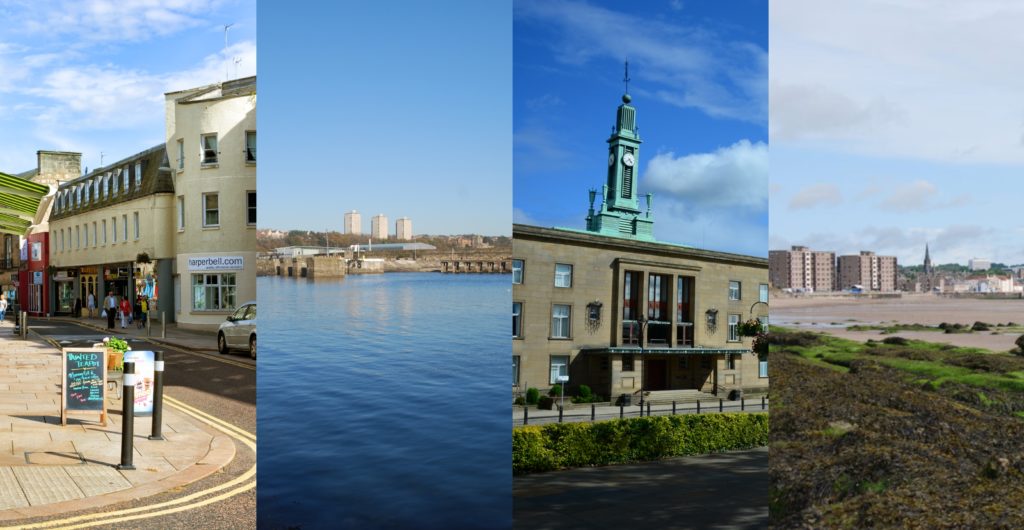 What part should Greener Kirkcaldy play?
Take a leading role and be a key partner in regeneration projects
Be the starting voice, bring people together, facilitate conversations, link up the community, businesses, the council etc.
Engage and consult the community
Use our expertise to encourage sustainability and environmentally friendly projects – ensure this is on the agenda
Education, promotion and support
Next Steps
Thanks to everyone who took part in our survey and our online public meeting. We'll combine everything you told us and use it to update our strategic plan for the next few years.
We're also going to be working very closely with the new Love Oor Lang Toun group and we'll pass all of your idea and feedback on to them.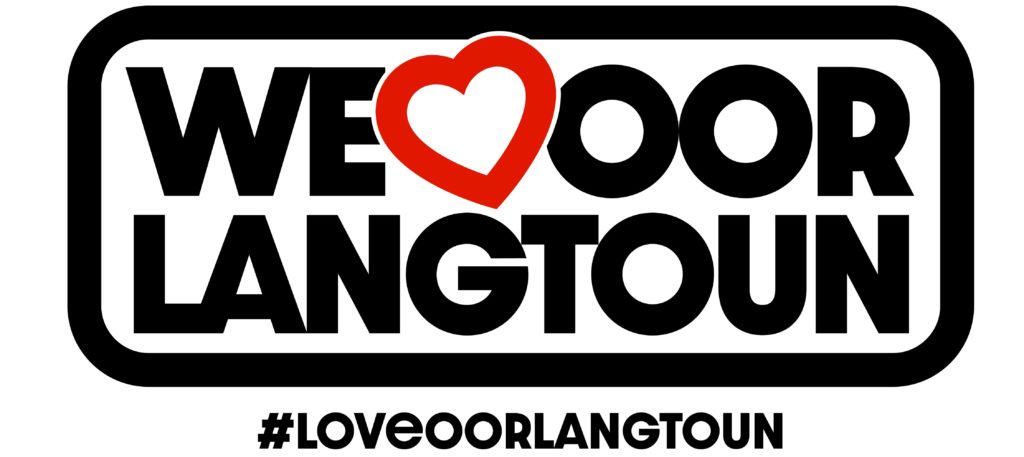 We'll hold a follow-up event to continue this civic conversation in the autumn. Watch this space.
|