Kirkcaldy After Lockdown – Event Report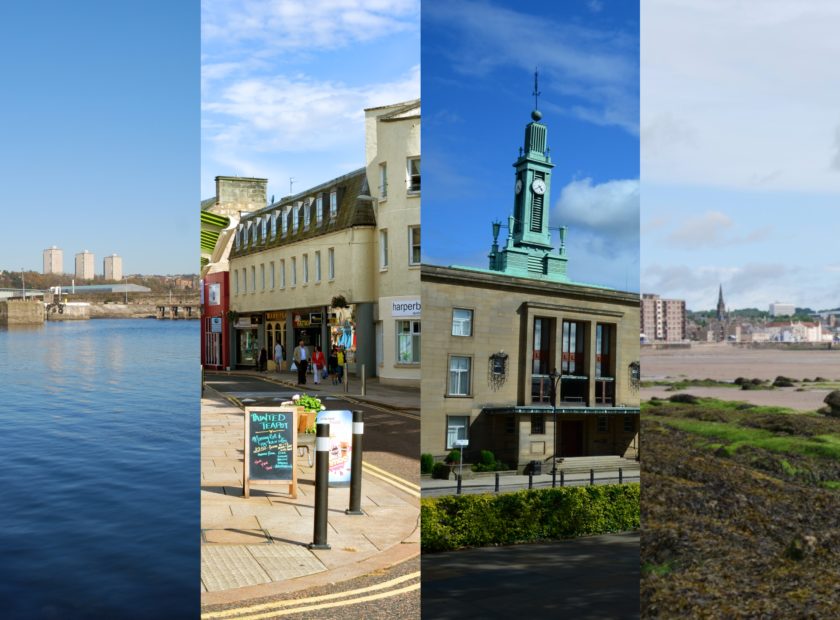 Thanks to everyone who joined us for our Kirkcaldy After Lockdown event on 7th July. Around 60 people joined us to listen to our speakers, discuss what they love about Kirkcaldy, share their ideas on how Kirkcaldy should look post-lockdown and tell us how we should be involved. The evening was a great success with lots of positivity about the future of Kirkcaldy. Read Allan Crow's write up of the evening in the Fife Free Press.
Our Chief Executive Suzy kicked off the evening urging people to take part in the conversation – "Let's act as if we own the place". We then heard passionate talks from local speakers – Christine May, Chair of the Greener Kirkcaldy board, Cara Forrester from Love Oor Lang Toun, and Allan Crow, editor of the Fife Free Press and creator of their new 'Civic Conversation' series – on what they think Kirkcaldy's 'next normal' should be.
We were also joined by guest speaker, Matt Baker from Midsteeple Quarter, a Community Benefit Society in Dumfries, who spoke about their innovative and exciting regeneration work, enabling local people to help shape a prosperous, compassionate and vibrant Dumfries town centre for the future.
Following our speakers, participants took part in small group discussions where they had the chance to share their thoughts and ideas. Here's a summary of what people told us in the groups:
What do we love about Kirkcaldy (now)?
Assets

Green and open spaces – parks, volunteers green, memorial gardens, town square
Beach, coast and esplanade
Cultural assets – strong diversity of music groups, artists, galleries, library, theatre etc.
Good transport links
Great architecture
Long term businesses
Good schools

Great community and people

Community spirit
Community resilience and perseverance
Positive attitude
Ideas and community activism
Volunteer community
Events driven by local people e.g. Half Marathon, Highland Games
Lots of small local projects making a difference
Good local leadership

Potential to grow and expand
What are our future ambitions?
A new town centre

Shift from retail to leisure, relaxation and social mixing
More evening activities
More local businesses and activities e.g. artisan market
More places for people to mix outside
Regenerate high street – replicate Midsteeple Quarter ideas
Empty units – use spaces differently e.g. artists' showcases, community gardens, knock some buildings down
Create an investible town centre with jobs

Focus away from cars

Improve non-car transport links
Improve cycling routes in the town centre and between villages
On-street bike share scheme

Make Kirkcaldy more accessible and diverse e.g. improve disabled parking
More for young people and more youth training
What needs to be done to get there?
We already have everything we need to succeed, we just need to be more self-sufficient
Bottom-up approach

Involve and consult the community
Include all demographics – multiple voices, shared identity
Needs community ownership

Make people feel part of Kirkcaldy – foster a sense of community

Not just housing estates for commuters
Celebrate local history and heritage, walking tours
We need to talk the place up – help people appreciate it

Raise self-esteem and confidence – quick win project for this
Do a skills audit of people in Kirkcaldy and bring together people with different expertise
Identify the appropriate partners and make sure we are co-operating not competing: this will include a mix of organisations and key individuals
Learn from others e.g. Midsteeple Quarter, projects that mix regeneration with sustainability and ecology etc.
What part should GK play? What are the priorities?
Facilitate bringing the community together, consulting them and getting their ideas to make the plans
More of these sessions – more speakers and chat in small groups
Bring cohesion
Identify appropriate partners and facilitate conversations e.g. with businesses/council
Create a group to take this forward – based on tonight
Include everyone. Get all groups involved
GK should definitely be involved at some level in any future town planning, but, depending on the project, that could either be as the lead or, like tonight, as a facilitator
GK should take a lead in town centre regeneration, alongside the new civic group and Fife Council (joint approach)
Keep environmentalism as our key motive – don't lose that core
Next Steps
We've created a community survey to continue this conversation and give more people a chance to share their ideas. Have your say here.
Your ideas will play a key role in informing our future planning – we'll be updating our 5-year Strategic Plan this summer. We'll also pass them on to the new Love Oor Lang Toun group to feed into their plans.
|