House Planting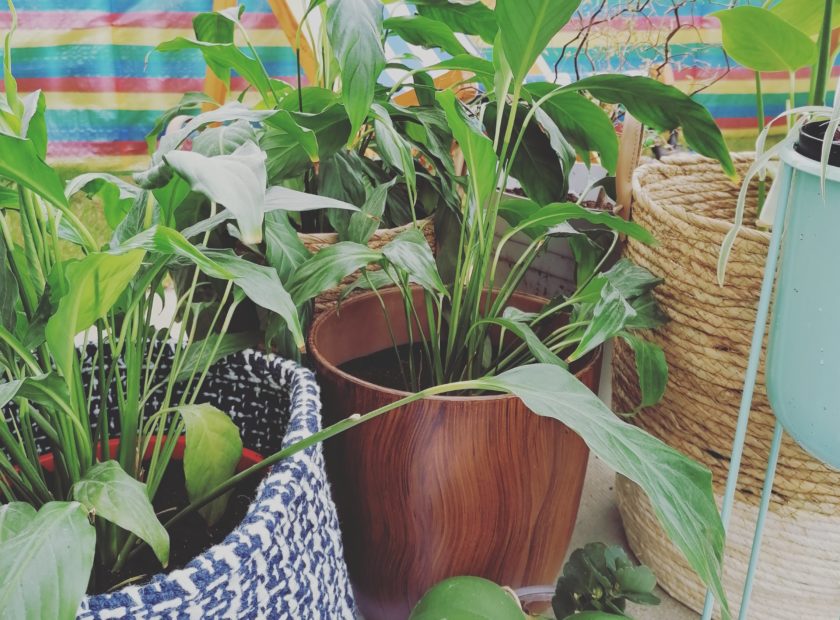 In this blog, are top tips on keeping your houseplants in good condition specifically a Peace Lily from our development worker Gemma.
Social distancing measures mean that we are all, in general, spending much more time at home.
I now find that I have the time to catch up on many things that I had been putting off because I was always so "busy".
One of the things that I had been putting off was tending to my houseplants. In particular, I needed to tackle a giant peace lily (Spathiphyllum wallisii) which had clearly outgrown its pot! It had become so congested that some leaves were turning yellow as they competed for light in my semi-shady living room. Houseplants are great at improving the air quality in your home and so they deserve some TLC every now and again.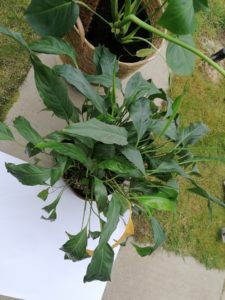 This weekend, as the sun shone in the window, I also caught sight of the dust that was beginning to gather on the leaves of all my houseplants and so I decided to get them all a clean too.
As many of our local businesses are closed, to keep staff safe, I decided to only use what I had around the house and garden.
To complete this job I looked out;
Secateurs
Hand Trowel
Knife (May not be required)
Bag of General Purpose Compost
Old Plastic Pots
Washing-up Liquid
Disinfectant Liquid (This is optional)
Drip Trays (To catch water from under pots, old saucers and Tupperware would work the same.)
Basin of warm water and a clean cloth.
I started with my peace lily, it had recently flowered, so it is the perfect time for me to divide it up into smaller plants. If yours hasn't recently flowered then it may be safer to put this job off until winter to avoid causing the plant too much stress. Dividing a plant feels like quite a brutal job, but peace plants are quick to recover from the shock if left alone.
Many other plants cannot be treated in this way and it's best to seek out individual aftercare techniques for each of your plants at home.
I set up space outside to work as division gets messy!
Here is a quick step by step guide to dividing a peace lily;
1. Gather a few pots (with drainage holes in the bottom) and wash them in hot soapy water.
2. Rinse the pots in a basin of clean water – I added a splash of disinfectant to the rinsing water. This is optional, but good practice to avoid the spread of pathogens which could result in an infection in your recovering plants.
3. Once the pots are dry fill them up halfway with compost. There are many compost varieties out there which say they are specifically for houseplants. However, any well-draining general-purpose garden compost will be fine under the current circumstances. And I happened to have a few bags at home.
4. Remove your plant from its pot and have a look at the roots and base of the leaves. Once you have done this prepare to work quickly to stop that lovely network of roots from drying out.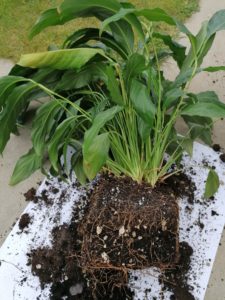 5. Luckily I was able to split my plant by hand as the roots weren't too pot bound. I just dug my thumbs into the base of the roots whilst simultaneously pulling them apart – working upwards until I reached the base of the foliage. I managed to tear mine into three sections with relative ease.
6. If you struggle to unravel the roots then you can use your knife to cut through the root ball. Again start cutting the bottom of the root ball in an upwards motion until you reach the base of the foliage then pull apart gently. No matter what way you do it you probably will cut/damage roots. But, your little bundles of plants should recover quickly.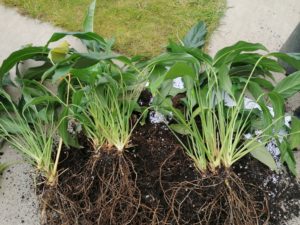 7. I placed these plants into their new pots and topped up with more compost, firming them in gently with my thumbs.
8. Water generously and leave to recover. They will wilt with the shock for a few days but, then perk up.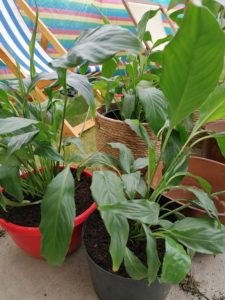 9. I took this opportunity to cut out any dead, dying and diseased leaves (of all my plants) and gently wiped the dust off them using warm water and a cloth.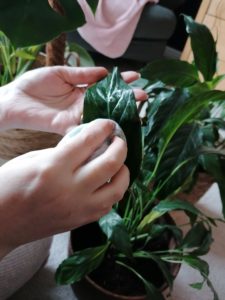 10. I then placed the plant pots into "outer pots" for decorative purposes. At home, I have a selection of hessian bags and ceramic pots that I use. Be careful to place saucers and drip trays under them first if needed!
What a satisfying job I now have 2 more plants than when I started, all the pots have had a good clean and all my big leaved beauties are dust-free! I will be able to do the same again to this plant in about 3-5 years which is one of the reasons that a peace lily represents great value.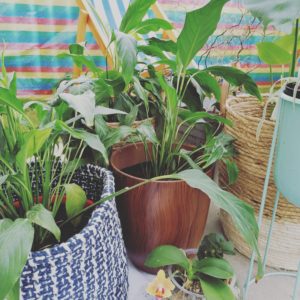 Top Tips for Peace Lily Care
Don't overwater. I water mine when they start to wilt – which is obviously a good indicator!
Feed once a month when they are actively growing. Stop in winter.
If your plant doesn't flower, try moving it to a sunnier position in the house.
Don't put plant in direct sun though!
Divide every 3-5 years.
Remove dead, dying and diseased leaves regularly.
The very tips of peace plant foliage tend to be brown, this doesn't indicate disease so don't worry!
Don't let your plant sit in stagnant water, remove and clean drip trays regularly.
Lots of this advice is good practice for several types of houseplants. However, remember to check for guidance online (and in books) for individual plant care. 
|