Sausages with Bubble & Squeak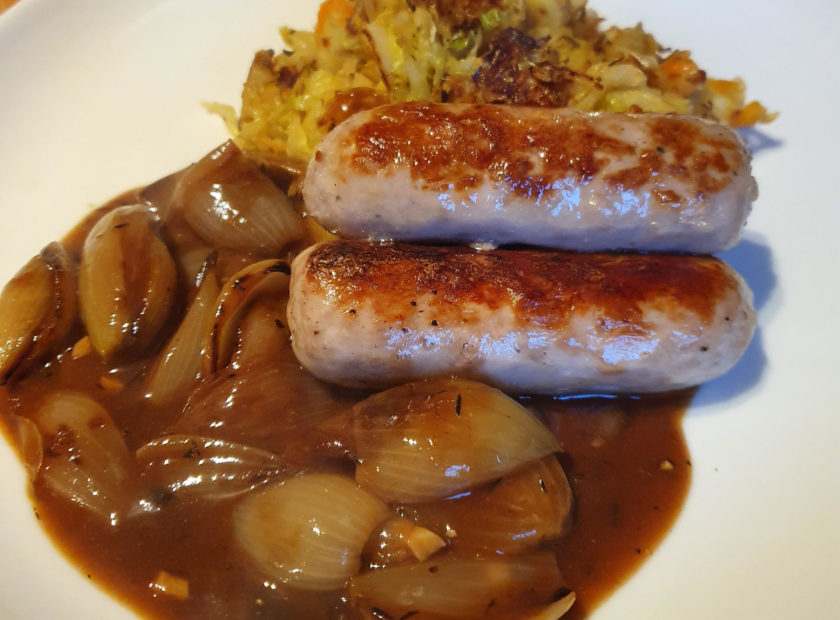 When there is a limitation on the food we can buy, it pays to be clever about what you choose, like buying food that can be used for different meals of the day. Sausages are a good example of this – great for breakfast and a lunch snack but can also be used for an evening meal.  Our Community Chef, Iain McLellan, shares a recipe for sausages with Bubble and Squeak and gravy.
Bubble and Squeak is a great accompaniment with chicken, pork or fish and also on its own with a fried egg. You can use whatever you can get your hands on!
It is important to include a healthy amount of vegetables in your dishes – what vegetables you use is up to you, and depends on availability, but don't be scared to substitute! In this example, I have used savoy cabbage, carrots and onions. The frying of the cabbage and carrots in this dish is where a lot of the flavour comes from. Garlic and herbs can also be added at this stage to boost flavour. Leftover shredded cabbage and carrot can be easily made into coleslaw with the addition of mayonnaise, mustard, lemon juice… or whatever you like maybe chilli sauce.
Bubble & Squeak with Sausages and Gravy
Ingredients
Sausages – whatever you can get or your favourite – Pork is good
Savoy Cabbage – shredded as fine as possible
Carrot – coarsely grated
Potatoes –  cut into large chunks
Onions- halved if small, or cut into large chunks
Gravy granules – use enough to thicken gravy, if it goes too thick, just add water to fix
Garlic, herbs (rosemary or thyme), if using
Other flavourings e.g. mustard, Worcestershire sauce, Soy sauce, if using
Method
Preheat the oven to 160°C.
Put the potatoes in a pot and cover with water. Add a tablespoon of salt and bring to the boil.
When the potatoes are just cooked (when you can put a fork in and they feel soft), drain and sit in the colander for later.
Make the gravy – peel and cut up your onions – small onions halved are best, but any onions will do as long as you leave in large pieces.
Place onions on a roasting tray, drizzle with oil and season with salt and pepper. Place in the oven and check after 20 minutes.
When the onions have started to change colour, add garlic and herbs (rosemary or thyme), if you have any to hand. Try to turn the onions over, keeping in whole pieces.
Put back in the oven and increase the temperature to 200°C for 15 minutes, until well coloured.
Heat a small saucepan on low heat then add the roasted onions and any flavourings you want. Suggestions include: Mustard (any type), Worcestershire sauce, Dried Herbs, Soy sauce, Thickening granules (chick or beef both work).
When the onions and flavourings are together, add some water, then thickening granules until you have a nice gravy consistency. Taste, then adjust to your taste (soy sauce is a good addition as it enriches the flavour and colour of your gravy!) Simmer on low heat for 5 minutes.
Reduce heat in the oven to 160°C.
Heat a frying pan on medium heat, add some oil, then fry the sausages (follow cooking instruction timings). Keep turning the sausages so that they colour all the way around, also prick the sausages to release some fat.
When the sausages are coloured, transfer to a tray and put in the oven.
Using the same pan, put it back on medium heat, then add the cabbage and carrots and fry until they are a light golden colour, about 15 minutes
Crush the potatoes into the vegetables, add 2 tablespoons of butter, then increase the heat in the frying pan and gently fold the mixture every few minutes till there is good colour, about 6 to 8 minutes. Season well with salt and pepper.
Remember, this recipe can be adapted to use what you have available.
If you're trying new recipes and ways of cooking at home, why not share your creations with us?
|