Get gardening with help from our Eco Shop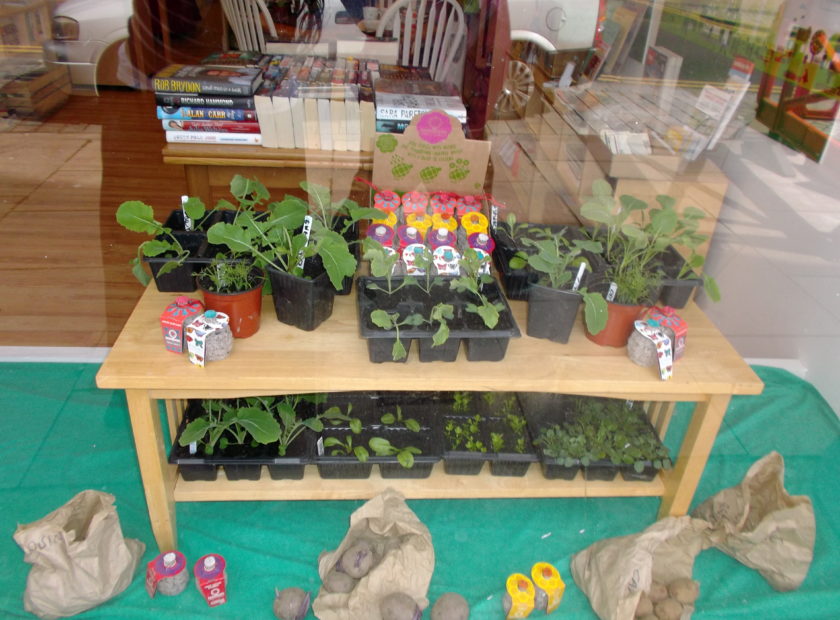 Spring is here, and with it seedlings from our community gardens at Ravenscraig. We've been very successful with our veg and herb sowing this year, yielding a bumper crop of seedlings, so we're giving you the opportunity for your gardens to benefit from the skills of our gardening volunteers! We've grown swedes, spinach, celery, land-cress, dill, and thyme seedlings, all available to take away – for a small donation – from our Eco Shop this Saturday. And if our produce has inspired you, you can find out more about our community gardening opportunities here https://www.greenerkirkcaldy.org.uk/volunteers-wanted-for-ravenscraig-community-orchard/
To help your edibles flourish, encourage bees, butterflies and birds to your garden using Kabloom wildflower seedboms. Made in Scotland from organic, recycled, biodegradable materials, these little seedboms are an easy way to add biodiversity to your veg patch or neglected spaces this May. Soak them, chuck them, then leave them to grow! (Or sow them traditionally.) Butterflyboms, Pollinator Beeboms, Winter Wildflower and Great British Bloomer seedboms all available from our Eco Shop. They also make great gifts.
To complement our gardening range, we also routinely carry Fairtrade natural rubber gardening gloves and gardening twine. Both products are ethically produced and versatile: the gardening gloves can double-up as household cleaning gloves and the coloured twine makes an attractive and environmentally-friendly alternative to the usual plastic-coated ribbons used in gift-wrapping!
Visit our Eco Shop to find out more about the ethical groceries, household goods and gifts we stock. The Eco Shop is open every Wednesday to Saturday, from 10am until 4pm.
|