Gardening for good – 21 tips we can all start today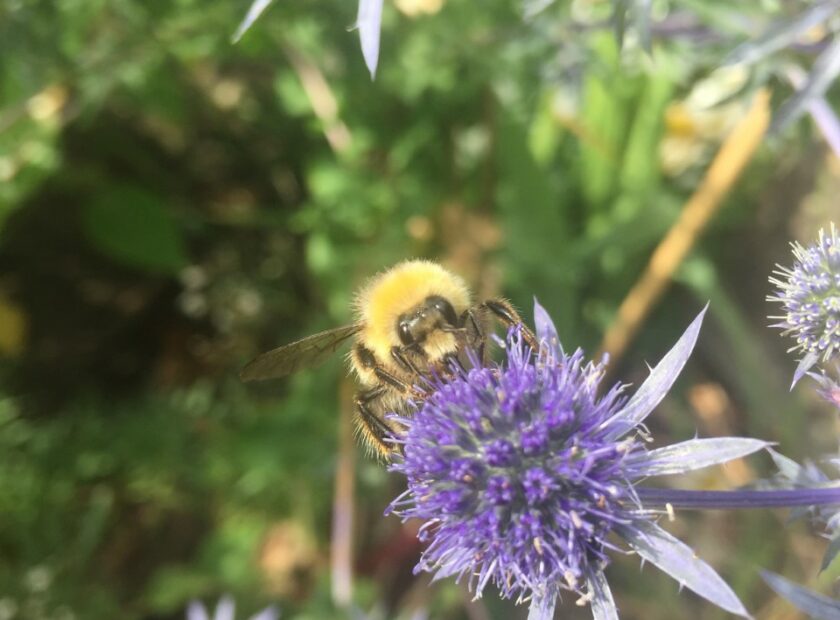 Make a difference to the planet with your own patch of garden – whether you have a few pots, a rolling estate or anything in between in our Media Volunteer's Audrey's latest blog. 
I used to make the (somewhat naive) assumption that all gardeners are naturally inclined to be eco-conscious. That was until I realised my own practices leave much to be desired. With a little self-reflection, I owned up to my own complete ignorance about anything from the use of peat compost to the harmful effects of weed killer.
I have to do better. Just because I love my garden and all the joy that it brings, it does not qualify me as some sort of nature loving eco-saint!
So, I asked some friendly gardeners on the 'My Scottish Garden' Facebook group for their tips and tricks. Whether you have a few wee pots, a rolling estate or anything in between – take a look at the ideas they shared and join me today in making better choices for our planet.
Go wild.
Many gardeners have quite traditional views of how gardens should look. Neat edges, trimmed hedges, and weed free beds. However, being a little less on top of these tasks is actually very good for nature and is becoming much more in vogue. If you are able to adapt your mindset, or perhaps combine some of the rough with the smooth, you'll be able to create your very own haven for wildlife. Here's how:
Replace stones or paving with a indigenous plants or wildflowers. Paving, monoblock, stones or artificial grass do little for wildlife, but of course, they do serve us with a practical purpose. Our gardens need to work for us too. Consider replacing some with plants to give insects a place to hide and feed.
Mow your lawn less often. This allows flowers such as daisies and clover to emerge, providing bees and other insects with pollen. Search #NoMowMay for more on the benefits of this.
Sow wildflowers in the bare patches of your lawn, or replace some of it with wildflower turf. Or dedicate an area to wildflowers. Cornflowers, Foxgloves, Borage, Oxeye daisy, Scabious, Yarrow are good examples – but there are so many.
When choosing plants, choose those that support native insects. For example, find bee friendly plants. Choose flowers that have an open centre so it's easy for bees and other insects to access it.
Don't be too tidy – Wildlife loves to live in the messy bits.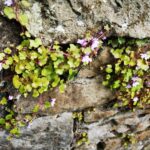 5. Leave the weeds a little longer or consider mulching (topping soil with leaf mold, bark chippings, rotted straw/hay) to suppress weeds, rather than digging them out. 'No dig gardening' improves soil structure. Mulching adds nutrients to the soil and keeps in moisture, and some (such as straw) discourages slugs or snails from getting to your plants.
6. Resist the urge to tidy at the end of the season. Let perennials die over and rot into the ground to deliver nutrients back into the soil. Leave autumn leaves for a bit.
7. Pile up sticks and garden debris to allow wildlife to set up home.
Go peat free.
I used to pour bags of compost into my garden with no idea that they contained peat. I'm horrified to learn that most composts contain peat and the impact this has on our planet. Peat compost requires the destruction of peat bogs. Untouched peat bogs absorb around a tonne of carbon dioxide per hectare each year. But their destruction can release up to 38 tonnes of carbon dioxide per hectare every year*.
*Source: Which? Magazine
Because of this, the sale of peat compost will be banned from 2024, but it's still so readily available in garden centres that it is vital for gardeners to change our ways before then.
8. Buy peat free compost. The quality is improving all the time, and they are available everywhere.
9. Make your own compost. Garden waste, grass cuttings, vegetable scraps all make beautiful compost. I made my own bin out of old fencing and I am slightly obsessed with just how satisfying it is to return the compost to the garden once it has rotted down. See this post by fellow blogger Wendy for tips.
10. Make your own fertilizer out of seaweed. Seaweed contains lots of beneficial nutrients for your soil. I haven't tried this, but I've read that it is really just as easy as soaking some seaweed in a bucket of water.
11. Source some well-rotted manure from your local farm. I've spotted some people sourcing this for free via gardening groups on Facebook.
Reuse, reuse, reuse.
Another low-cost, low-effort way to make a difference is to be creative with things you don't need.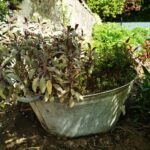 12. Re-use yoghurt pots or fruit containers to plant seeds or pot things on. Toilet roll tubes make perfect root trainers for planting sweet peas.
13. Have lolly sticks to use as plant labels. Or slice up yoghurt pots into lengths and use a permanent marker.
14. Get creative with your planters – old sinks, baths or wellies make great planters or even ponds.
15. Wash and store old plant pots to reuse. Or if you have too many some garden centres collect them for recycling.
16. Share cuttings and seeds, or divide plants and share with friends. If doing this please be careful not to accidentally share New Zealand Flatworms, or notorious weeds such as Bindweed, Japanese Knotweed, Ground Elder or Mares tail.
17. Gather rain water in a water butt. Plants prefer it and it saves using tap water when it's dry.
Avoid chemicals.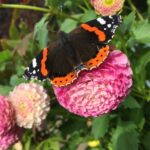 Garden chemicals are destructive by their very nature. So it makes sense that using them puts gardeners on the naughty step when it comes to making environmentally friendly choices. There are ways around things though.
18. Avoid using weed killers by mulching to suppress weeds. Or get the right tools to help you remove unwanted weeds properly.
19. Make friends with 'pests'. Many slugs and snails eat decomposing vegetation, and they provide food for lots of birds and animals. Accept all native insects as part of the circle of life and let them all keep one another in check.
20. Avoid slug pellets as the chemicals can enter the food chain. Instead use deterrents such as grit, coffee grounds or eggs shells around the base of the plants you need protect.
21. Make homes for beetles. Beetles like to eat slugs and snails, so welcome beetles in your garden. They like to live in shady places, under leaf litter, logs and stones.
Our gardens have to work for our own needs and be manageable too so some of these tips will work for some gardeners and less so for others. It's all about balance. If we can all think of ways to use our gardens to do something good for nature, we have the collective power to help change the course our impact humans have on the world. And it's fun too!
|