Food Waste and Leftovers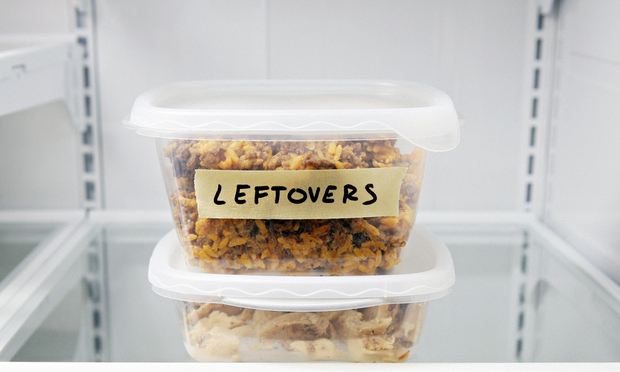 ​​Hi ​​and welcome to my very first blog for Greener Kirkcaldy.
My name is Wendy, I'm a trained chef and I love food!
I like to tell you a little bit about how much food we waste and more importantly how we can reduces these numbers, together!
You see ​every year in the UK 18 million tonnes of food end up in landfill!​. That is about 23 billion pounds worth of food! ​About 1/3 comes from households like yours and mine.​
Yes I throw away things as well.​ ​Sometimes there is no way around it.​ Or and I do not mind to admit I have left things to long and there is nothing I can do with it any more.​
​The first step to most things is to be aware that you are doing so.
We all throw away about 110 kg of food every year. This website has a great test to see where you can improve and reduce the amount you waste. For me a bigger freezer would help me a lot and I should make a list before going to the supermarket instead of buying what looks good. I always end up with to much, not to mention a higher bill.
A friend pointed out one of the main things that I fall for a lot is the 2 for less sales in supermarkets. Like 1 bag of apples would be £1,50 but​ ​two bags is​ ​£2.00. Most of us end up buying two. And do we really need them? Do we eat it or does it end up in the vegetable drawer and then in the bin?​ I fall for it a lot and I will try to stop that now that I am more aware of it.
Where can you save? Or do you have a good idea? Share it in the comments so we can help and learn from each other!
​​Now lets look more towards Scotland​. We​ ​throw away 630,000 tonnes of food and drink from our homes every year and most of this could have been eaten.
This waste costs us over £1 billion a year, or​ ​£470 for the average household.
Imagine what you could do with that ​​£470!
For my household that would be food for at least 2 months! ​Or one very nice romantic weekend away, depending on what you want ;)​
​So what can we do with this food we have lying around? Food that will spoil soon or things we have left over after a weekend with friends?​
Lets focus on the two main problems we face.
1) We cook or prepare to much.
I had a problem with making pasta. I always made to much. No matter how well I thought I checked the amount I always ended up with to much.
If you follow the eatwell plate and general guidelines you can find online you should eat 75g-115g of pasta for one meal.
Go to the kitchen right now, yes stop reading for a minute, and put what you think is say 100 grams in a bowl. Then take out your kitchen scale and tell me, how much was it really?
Below you see 3 pictures of 100 grams of pasta. Yes it is that little we need for one grown adult. I weight my pasta, mostly to make sure I do no longer cook to much. It always makes me doubt but after dinner I'm always full and happy about the amount I cooked.
So plan your portions! Need some help? Check out this helpful planner
2) We do not use it in time.
The simple solution here is not to buy to much like I explained earlier. Make a list and do not fall for sales you do not need.
Now where I feel the lovefoodhatewaste website offers a lot of good advice I very strongly disagree with their approach on when to no longer use food. I mean why throw away perfectly good milk when it is one day over the date? Use your eyes, nose and if needed taste to tell if something is still ok to eat.
Mould on food can be cut off, especially when you are talking cheese (which is a mould all on it's own already!) or vegetables! Of course with meat and other perishable food we should be more careful.
One of the biggest issues I think is the *sell by* or *display after* dates on food. It makes supermarkets get rid of perfectly good food! Luckily there are more and more great initiatives to help with this. One I support is places like The Real Junk Food Project. The Daily mail wrote an article on them last year that you can read that here. In The Netherlands, where I am from, these are a lot more frequent and they offer amazing food for a good price!
I would like to share my top 3 of what I do with my leftovers.
1) Bread
When it has gone dry and you can no longer eat it (but is is far from spoiled) I always toast it. Sometimes though even that won't do so I roast it in the oven covered with a little bit of olive oil. When it is done (10 minutes on about 200°C) I remove the crusts with a sharp knife and cut the middle bit into dice sized cubes. Those I put in an airtight container and store in a dry place. These are great for in soup or on salads and can be kept like this for about 2 weeks! The crusts go into my kitchen aid and I crush to use as a bread crumb mix for fish or chicken. Mix them with some panko breadcrumbs and lemon peel and it is amazing! This will last for about 4 weeks!
2) Leftover vegetables
Take a pot of water, about a litre for every 400 grams of vegetables you have. Now you can use all part of your vegetables here! The entire stock of the broccoli, the inside of your peppers, the leaves from the cauliflower and the roots from your leeks. The bigger the variety the better so perhaps do this after making a big Sunday dinner? Cut all the vegetables into big chunks and cook them, slowly, for about 3 hours. put it through a sieve and of course be sure to catch the liquid. This is a perfect base for any soup, sauce or gravy! You can freeze it in portions or keep it in the fridge for about 4 days.
3) Leftover fruit
Now you can only do this if you have the right kitchen equipment, but, I feel it's worth investing in.
vitality4life offer a great range, good service and most important explain you what the benefits of each machine is if you like to know more about them.
I juice my fruit. Lemons, apples and carrots is one of our favourite morning juice. No matter how brown an apple is or how soft the carrot has gotten, if it's not rotting you can still use it for juicing!
Below is a picture of my wonderful machine, it is a slow juicer and it makes sure there is minimal waste and maximum output of juice and fibres. No need to peel your apples, you can use the core as well and I use the whole lemon. I do peel oranges but only the top of orange, never the white of the skin. Try it out, mix and match. I always add apples, orange or pear to make sure the flavour does not go to sour but feel free to experiment and mix to you hearts content!
My 2 favourites:
So how do you use your leftovers and how are you doing on your food waste?
Please let us know your ideas!
Greener Kirkcaldy love visiting groups, organisations and events to raise awareness of how you can reduce and use food that is 'Too Good Too Waste'. Contact us if you would like us to visit by calling 01592 858458, e-mail info@greenerkirkcaldy.org.uk or call into our High Street Hub at 254a High Street Kirkcaldy Wednesday to Saturday 10am to 4pm.
|