Deer spotting at Dunnikier Park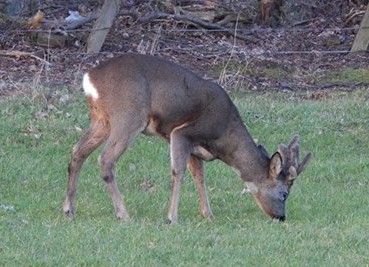 One of the great things about working outdoors is the opportunity to see wildlife. Spotting birds is one of the things that keeps me, and some of the volunteers, happy while working at some of the tasks that we carry out. The occasional sight of the fox in Ravenscraig Walled Garden is especially exciting but at the end of June we had a great display from one of the Roe Deer at Dunnikier Country Park. It came trotting down the edge of the cricket pitch then wandered through the Edible Landscape beds before entering the Pine woods on the east side of the park. It didn't disappear completely and we caught glimpses of it through the afternoon.
There is a healthy population of deer at Dunnikier and I often see them when I'm out with one of the school groups too. Even with 23 children we have managed to spot eight deer.
You can see the signs of deer all over the park where they have marked their territory by rubbing their forehead against young trees and stripping the bark off in the process. And, of course, they like to eat the bark and leaves of trees too – a bit of a problem when you are working on an Edible Landscape!
To help get our beds established we decided to build a rustic fence recently. The wood at Dunnikier has lots of tall birch trees that are ready for thinning so we decided to make use of this local resource. We needed about twenty trees to complete our 50m circular fence. Felling using a two-handed 'lumberjack' saw gave the volunteers plenty of exercise, as did carrying it to the site. After cutting to size and some axe work to make the joints, we were all very pleased with the finished result. We hope to fence off another bed later in the year.
|