The Only Way is Up-cycling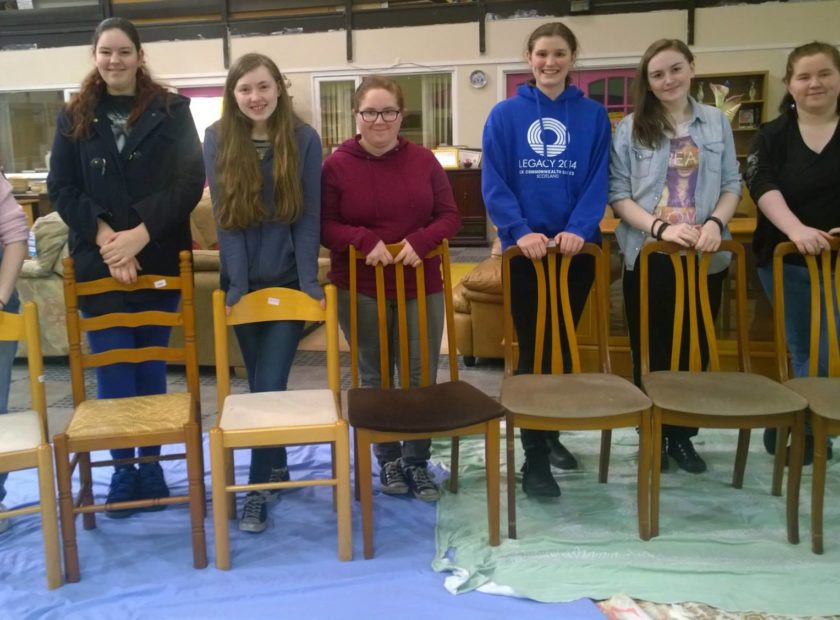 Recently, me and a group of fellow young carers went to an up-cycling workshop at Furniture Plus in Dysart, and after a rather "colourful" start to the day it shaped up to be an amazing experience, I transformed an old chair into a modern chair fit for any teenager and, best of all, I got to take it home!
A lovely lady called Claire took the workshop and gave us a rough idea of what we would be doing. Unfortunately after a step backwards she tripped over a box and fell into, rather ironically, a tin of red paint, but don't worry, after being cleaned up there was no actual blood loss and we carried on as if it hadn't happened. After the drama of that situation, we got to see the collection of bland, old, and worn chairs. It was clear from then that hard graft and elbow grease would be needed. The first thing we had to do was sand down the wooden chairs so we could re-paint them. This was harder than I expected it to be and almost took and hour to complete but it was worth it in the end.
Then came the fun bit, out came the paints, paint brushes and paint rollers all set to be creative and original. Many of us picked a really nice baby blue for our base colour but by the end the chairs looked nothing alike. As it was such a nice day, the chairs dried pretty quickly meaning we could crack on with a second coat and use different colours to make a design. Using lace and grey spray paint I created what looked like tyre tracks, and by the end of the painting process I was very proud of the transformation I made to a now cool and modern looking chair.
Another thing I got to do was reupholster the seat using fabric that Claire had brought with her. It was completely to my taste and worked so well with my colour scheme.
After this I put my chair together and looked at it as a final creation. It looked nothing like it had in the beginning, it was completely rejuvenated and I fell in love with it. The other girls' chairs were also totally different, original and extremely stylish. I was so happy with what everyone had done and learned so many other practical skills. My painting and decorating skills have improved immensely and I wouldn't think twice about up-cycling any of my old things.
This experience has taught me a lot and has also got me thinking about how easy it is to up-cycle and how much waste will be saved from the burning furnace that is landfill sites. If more people decided to regenerate their things instead of throwing them in the rubbish heap then just think how beneficial it would be to the environment. There's also the added bonus of injecting personality into your old items. As far as I'm concerned, the only way is up-cycling.
|