Apple Day Blog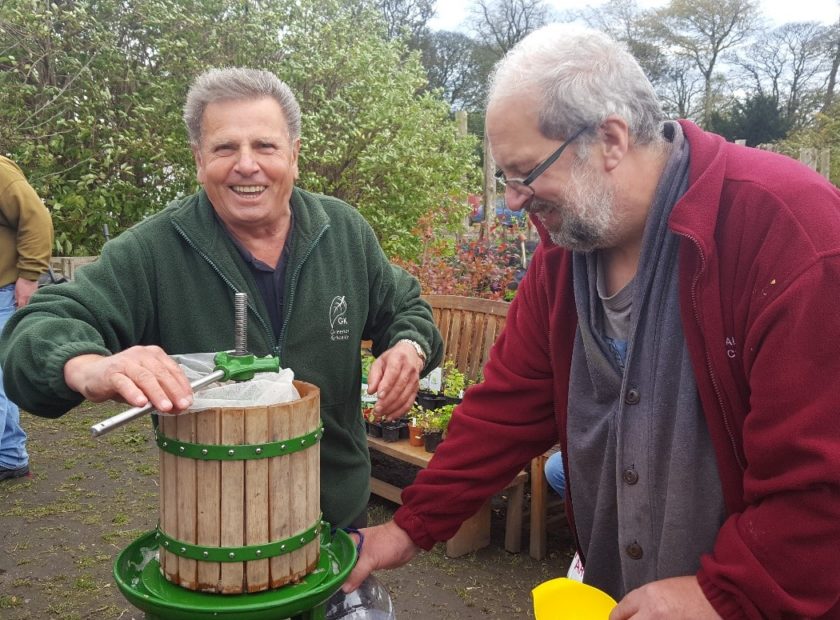 In October, I attended Greener Kirkcaldy's Apple Day. It was a bit on the windy side so a warm bit of apple pie did just the trick. It was baked in the outdoor pizza oven and it was utterly scrumptious. There were also apple muffins, an added bonus.
There were plenty of volunteers chopping up the apples – enough to probably feed the whole of Kirkcaldy!
Then came the making of the apple juice. Some handsome gentlemen took up their positions in front of the apple press and manually pressed all the apples, and some raspberries, to make lovely fresh juice for us all to enjoy.
Afterwards we took a lovely walk around the allotments and orchard, then headed under cover to hear all about apples from 'Appletreeman' Andrew Lear. He is very knowledgeable and interesting and I learned things such as that most Scottish varieties of apple never make it to the shops as they do not travel well so cannot always be transported to other areas without damaging them – therefore the apples you grow on your apple trees in your garden are quite unique and many people may not have heard of them or even tasted them.
I enjoyed my day learning and munching, you can't lose when warm apple pie is being given out – well in my book anyway.
I hope all who attended had a lovely day, and those who missed it I hope you can come along next year. Did I mention there was apple pie?
|