How can we communicate Climate Change to our communities?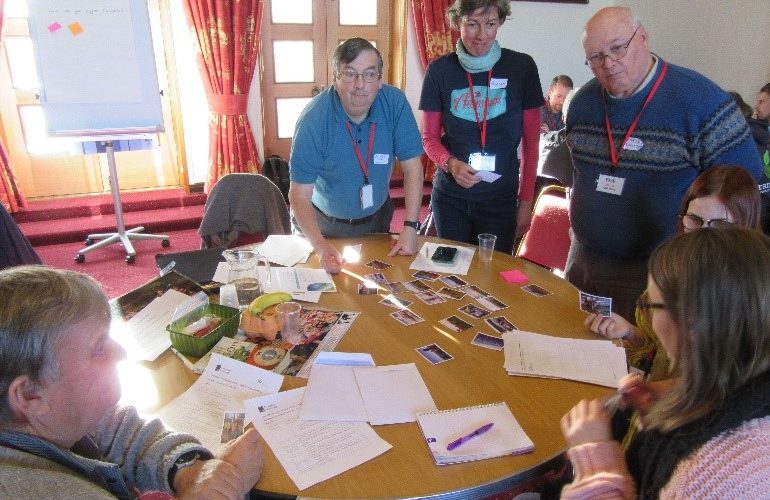 We all know that one person who likes to argue about climate change! Whether it's a relative who blames China, a friend who denies it is happening, or a mate in the pub who believes the world is supposed to get warmer. Greener Kirkcaldy, in partnership with the Fife Communities Climate Action Network (FCCAN), held an event for community groups from all over Fife at the Town House, Kirkcaldy on 10th November 2017 to look at 'How we can communicate Climate Change to our Communities?'
Over thirty people, representing different community groups from across Fife, met to look at this question of how to talk about Climate Change in our communities and what the challenges are in making it relevant to everyone. It was a great opportunity to find out how other local groups are bringing climate change up in conversation, and to get ideas for activities and conversation-starters that could be adapted for our own communities.
It was agreed that most people don't engage immediately with the topic, whether it's because they don't understand it, don't think climate change has anything to do with them, is the responsibility of industries, or even deny it all together. This practical event explored different ways of explaining the issues around climate change and inspiring people to look at their carbon footprints in engaging ways.
The key speaker, John Wincott, Sustainability Advisor for Fife College, (Fife College are committed to monitoring the environmental impact of their work and reducing their carbon footprint) asked 'why is it difficult to talk about climate change?' 'How can we get past that hurdle?' And 'what can we do to open out the discussion?' John showed how climate change is often portrayed negatively as a hoax, or natural in a range of media, and shared some helpful resources to overcome sticking points and challenge myths.
The event also heard from Ross Spalding and Carolyn Bell from Resource Efficient Solutions, Fife Council, who asked participants for feedback on how the Council can support community groups. They also outlined Fife Council's plans to develop a website to inform the community what the council is doing to reduce carbon, and encouraged groups to share their contributions.
This was a good networking event and a chance to meet other groups working in Fife, build connections, learn from each other's experiences and share resources. Donald Campbell, Chair of Fife Communities Climate Action Network invited everyone to join the network 'where we can support each other in tackling climate change'.
Julian Holbrook from Greener Kirkcaldy shared examples of activities he has run including film nights, a "climate couch" at the Festival of Township and Greener Kirkcaldy's Green Day, interactive games, and the use of tools such as photographs and objects to show the carbon cost of production and consumption. Overall, all of Greener Kirkcaldy's community engagement activities aim to raise awareness of steps that everyone in the community can take to reduce their carbon footprint. and how to do it or get involved. These cover home energy use, reducing waste, sustainable transport, food and growing, and volunteering.
Groups had a chance to practice using the Scottish Government's materials for 'Climate Conversations'  and explore how they could be used in communities in Fife.
Ewan Masson, from the Scottish Parliament Outreach Service that supports Scottish Parliamentary  Committees, commented on the great energy and enthusiasm he could feel in the room and how great it was to see so much community-based work around climate change. The new Climate Change Bill is being considered by Scottish Government ministers following stakeholder consultation. It's important that any changes to the Bill are informed by people with lived experience of engaging with communities on climate change.
Group discussions around the Scottish Government's Climate Conversations materials
Local groups from across Fife shared examples of what they are doing to stimulate climate change conversations and awareness raising. These included:
Using music to introduce themes of climate change
Refurbishing old projectors from Fife College to reduce waste
Fixing tools and giving them to community groups at the Ecology Centre
Outdoor play in the Methilhill community garden, which is encouraging contact with nature and growing and cooking locally grown food, and other activities
Transition University of St Andrews organise Skillshare sessions, such as workshops in growing food, making food and repairing
Church congregations like St Bryce Kirk in Kirkcaldy are looking at buying local, and investing in greener businesses
The Plant Group in Tayport run a community garden and will adapt the idea of a "climate couch" into a "climate bench" in the garden to start conversations about climate change
Cllr. Jan Wincott reported that Fife Councillors are meeting with Fife Council's Resource Efficient Solutions team
Adult Basic Education volunteers took part in the meeting and expressed interest in finding out more
Gordon Stevenson from Scouts Scotland emphasised the importance of young people engaging with climate change issues
Lothians and Fife Green Network Partnership shared information about their work and offered support to the community groups
On the topic of low carbon transport, participants were asked how they had travelled to the event and what the challenges are in Fife for car sharing and using public transport. Greener Kirkcaldy offered a low carbon route plan to everyone, and members of the Levenmouth Rail Campaign highlighted the need for more investment in the region.
Quotes from the day
"This has been an eye opener for me and I have been so inspired by today"
"Some of the information shared has been a wake-up call to what we are doing in our country and how much we consume"
"There are many creative opportunities for people to come together and talk about climate change, what it means for them and what they can do"
"I had no idea there was so much going on in Fife on tackling climate change.  And it is great to see people coming from all over Fife today and being so enthusiastic about sharing what they are doing"  
"Wow, what a buzz today!  It has been really great having the opportunity to meet with others, make new connections and to go away with things that I can actually try out in my own work to get people talking about climate change" 
More information
Fife Communities Climate Action Network (FCCAN)